When Bishop Cynthia Moore-Koikoi sought a way to inform her revitalization of the church from a global perspective, her research led her to the only Doctor of Ministry program that met her needs – at Wesley.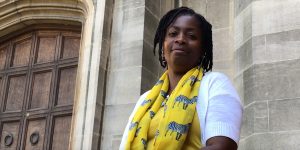 The United Methodist bishop of the Western Pennsylvania Conference (M. Div., 2007) remembered why Wesley was her seminary of choice then.
"I chose Wesley because of its reputation for diversity and academic excellence, and because its location allowed me to continue to work while attending classes," Moore-Koikoi said. "I had a very positive experience at Wesley while I earned my M.Div., and was blessed by the diversity of the student body and teaching staff at Wesley."  
Despite her busy episcopal schedule, she began exploring various Doctor of Ministry programs.
"The practice of ministry has changed so dramatically since I earned my M.Div.,"Moore-Koikoi said. "I realized that in order to stay relevant, I needed a more focused continuing educational experience than the occasional workshop or seminar could provide." All her research led her to the Wesley's Doctor of Ministry program, "Creative Ministry for Church Renewal in a Changing World," based at Wesley House in Cambridge, England.
"Wesley's D.Min. program at Cambridge stood out because it promised to allow me to benefit from the diversity of our global community," Moore-Koikoi said. And, for her, the program has lived up to its promises.
"The track that I chose has helped me grapple with the impact globalization has had on the church," she said. "This has helped me think more creatively about revitalization of the church and the leadership skills I need in order to help guide my annual conference and our denomination, in light of the ever-changing nature of our church and world. My Wesley D.Min. studies have done that and more."
The "more" includes the benefits of literally studying in the shadow of The University of Cambridge, on university grounds used since the Middle Ages.
"The international setting has allowed me to benefit and learn from the global nature of The United Methodist Church and the global Christian community," she said. "Having professors from Cambridge, other universities in England and around the world have been so valuable."
The bishop, elected in 2016 from the Baltimore-Washington Conference, said she was pleasantly surprised by the blessing of being taught by international professors.
"At times, their teaching styles were a challenge, but the challenge was well worth it," Moore-Koikoi said. "I learned more about myself and my peers than I did from the professors with teaching styles more consistent with my cultural context. I realized my U.S. mindset and approach to scripture, science, and religious structures have been challenged."
The bishop has often heard surprise when others learn of her D.Min. studies. How does she ever find time with an incredibly busy episcopal schedule?
"The structure of the Wesley D.Min. program has helped me to carve out specific periods of time that I can focus directly on my studies," she said. "I have been able to communicate clearly with my Episcopacy Committee regarding the requirements of the program and the time I will need to complete those requirements."
And, frankly, she admits being in a different time zone has aided her ability to be a student.
"Being in an international setting has allowed me to focus on my studies," Moore-Koikoi said "I have had an excuse to unplug from email and my cell phone so that I can be fully present." 
Whenever the opportunity comes up, Moore-Koikoi encourages clergy to consider the investment in their ministry of a Doctor of Ministry degree.
"Anyone who wants to further their skills for their practice in ministry in a diverse setting, and who is open to their previous learnings being challenged, should consider doing a Doctor of Ministry, and at Wesley," she said.
The bishop has no hesitation in recommending the Wesley program, particularly the programs in Cambridge.
"Wesley allows you to learn from the diversity of the professors and students," she said. "The program at Wesley House and Cambridge also provides for a time away from the typical demands of life and work so that you can focus on your studies. Wesley has provided for my unique needs because of the demands of my current work in the life of the church."
Moore-Koikoi looks forward to her next residency in Cambridge and says she never doubts her choice of the Wesley Doctor of Ministry program at Wesley House.
"I have enjoyed this experience tremendously. This was a good choice for me and my ministry." 
Editor's Note: Is now the time to start your Wesley Doctor of Ministry? A new Cambridge Doctor of Ministry program track, "The Winds of the Spirit and Ministries for a Changing World," will begin April 2019. Applications are now being accepted. The deadline is Oct. 15, 2018. Please learn more here or by contacting our Admissions Office at (202)885-8687 or by email at admissions@wesleyseminary.edu. Discover Wesley House in Cambridge and download our brochure.