For Irene DeMaris, associate director at Wesley's Center for Public Theology, embracing her call to the ministry of Deaconess in The United Methodist Church has been a long and winding path. In May, DeMaris will be consecrated into the Order of Deaconess/Home Missioner, marking her commitment to a lifetime of love, justice, and service as a laywoman in the church.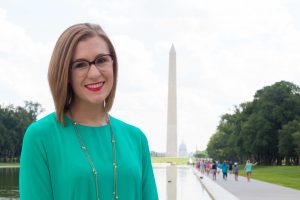 Her passion for walking with others as they recognize and grasp their God-given agency led her to Wesley. In her role at the Center for Public Theology, DeMaris works to create and implement academic programs that revolve around public theology and its application in the nation's capital.
DeMaris graduated from Seattle University's School of Theology and Ministry with a Master of Divinity degree, then moved to Washington, D.C. for a fellowship at Faith in Public Life. She focused on theologically integrating her social justice beliefs while working for her school and interned at the American Civil Liberties Union of Washington and the Methodist Federation for Social Action. She previously worked for The Pacific Northwest Conference of The United Methodist Church as the program assistant for Ministries with Young People. While there she was able to help equip and embolden youth and young adults in her home conference.
Along with her role at the Center for Public Theology, DeMaris is known for advocacy work in maternal health issues and laity inclusion within The United Methodist Church. In her spare time, she enjoys cooking for friends, taking spin classes, searching for the best coffee in D.C., and snuggling with her Chihuahua-Corgi mix named Leo.
E-Calling recently caught up with DeMaris and she shared with us the differences between the calling of Deaconess and those of ordained Deacon or Elder in The United Methodist Church.
E-Calling: What led you to respond to God's call to ministry as a deaconess, rather than as an ordained elder? What is the ministry of a deaconess in the UMC?
Irene DeMaris:  I always knew I was called to do good in the world, to make a difference. I just wasn't sure what that would look like. I began thinking about ministry in high school after attending Exploration 2002 in Chicago where the elder track was pushed. I left the event not seeing myself in the ministries that were promoted, but something stuck.
Starting in my first year of college I struggled to find my path and I ended up working post-college in The Pacific Northwest Conference of the UMC where I was again confronted with my calling.
The UMC has two ordination tracks: elder and deacon. Deacons do not administer the sacraments but, like elders, have the title of Reverend. Since I never felt the call to be a local church pastor, I thought I should be on the deacon track in order to be out in the world doing ministry, since vocationally my path seemed to line up with the work of the UMC deacon.  I later discerned that ordination was not the path for me and I wrote about my decision to leave the Ordination path for the Reclaiming My Initials blog: https://reclaimingmyinitials.com/2016/05/05/leaving-the-process-finding-authenticity/
Instead, I became drawn to the UMC Order of Deaconess/Home Missioner (DCM).  This order for laity within the church has been in existence for over a hundred years and is called to Love, Justice, and Service. The UMC Book of Discipline (BoD) describes this ministry like this: 
"Deaconesses and home missioners function through diverse forms of service directed toward the world to make Jesus Christ known in the fullness of his ministry and mission, which mandate that his followers: a) Alleviate suffering; b) Eradicate causes of injustice and all that robs life of dignity and worth; c) Facilitate the development of full human potential; and d) Share in building global community through the church universal." (¶ 1913)
The Order of Deaconess/Home Missioner is an official order of the church and falls under the jurisdiction of The United Methodist Women. Deaconesses are members of their local congregations and have a laity vote at their annual conference.  Each year, they are approved for their particular ministry context by the Office of DHM and then are forwarded to the Bishop for appointment at annual conference.
Deaconesses are tasked with gaining theological training before being consecrated and commissioned. We study seminary-level courses in the theology of mission, Hebrew and Christian Scriptures, polity, and church history.
E-Calling: Where do deaconesses serve in the UMC and world? Where will you be able to serve as a deaconess? Will you continue at the Center for Pubic Theology and how do you see your role at Wesley as the fulfillment of your call as a deaconess?
ID: All DHM's serve vocationally in areas of love, justice, and service. You could be a DHM as a school teacher/administrator, work in a non-profit, work for the Methodist Federation for Social Action (MFSA) or the Reconciling Ministries Network (RMN), work at a church, in a general board and/or agency, or a seminary. One could even be a nurse or an activist.
The work is diverse but what matters is that it's vocational.  The work of a DHM is described in the UMC BoD with: "Full-time service is the norm for the ministry of a deaconess or home missioner, meaning that the person's entire vocational time is devoted to work of ministry in the field of labor to which one is appointed by the bishop." (¶ 1913)
My role as the associate director for the Center for Public Theology has been approved as my full-time service as a future deaconess. It's like an extension ministry in that it will be approved by the Office of DHM and ultimately by my bishop, but it's my vocation and not an extension. An elder doing extension ministry is beyond the local church where historically elders are called to be. DHM are called to more than just a local congregation.
A life of Love, Justice, and Service takes many forms. I see my role at the Center for Public Theology as more rooted under service yet love and justice are vital pieces. As a staff member at a seminary I am helping to train the next generation of leaders to follow the gospel of love and justice.
E-Calling: Are there deaconesses who inspired you or who served as role models or mentors to you?
ID: People that intentionally seek the Kin-dom of God inspire me and a community dedicated to that gives me hope. That's how I see the community of Deaconesses & Home Missioners.
Around the time I was discerning whether or not to continue or leave the ordination processes, I was preparing material around maternal health and inclusion for General Conference 2016. The people I ended up working with were part of the Order of Deaconess/Home Missioner. When I got to GC2016, I met even more activists and amazing folks in the order who gently started recruiting me in the best way. DHM is a communal order and that's one of the things that attracted it to me the most. I felt like I had a network of support. A few months later, when the Council of Bishops (CoB) released the laity/clergy breakdown for the Commission on the Way Forward, it was DHM who were supportive of my efforts to start the Laity Letter petition of the CoB requesting more laity to be added to the commission. That's when I knew that this was the right fit for me.
I have several good friends who are DHM and a few others that have served as mentors. Deaconess Darlene DiDomineck is the current interim executive director of the MFSA, she is a good friend and a mentor as well as Deaconess Mollie James-Vickery who is the executive secretary for Children, Youth and Family Advocacy at UMW. I have worked with both women and always know I can call if I need support or advice. One of my best friends is a Home Missioner, Kevin Nelson, who I met through the MFSA and my advocacy work with the Love Your Neighbor Coalition. I was even the best person in his wedding!
E-Calling: How do you prepare to be commissioned as a deaconess?
ID: To become a deaconess or home missioner, one needs to attend a discernment event. I attended one last year and immediately filled out the application to begin the official process. I made it through the interviews and took the one class I needed, Theology of Mission, in Oklahoma City through St. Paul's School of Theology last summer. Since I already have a Master of Divinity with a UMC specialization, I just needed one course. After another round of applications, I was accepted for the next step, which leads to my consecration (God willing) on May 18, 2018!
Deaconesses are consecrated by a bishop, then commissioned at their local annual conference.
E-Calling: Deacons and deaconesses were vitally important to the Acts 2 church. At this time of great flux and change in the church, what do you see as the important role to be played by deaconesses, both now and into the future?
ID: While the church is in transition and likely always should be, it's even more so at this time. Before women were allowed to become ordained, DHM was created to give women the opportunity to do ministry and to have a vocation beyond getting married and being a homemaker.  It allowed women to follow the gospel in new and exciting ways.
The beauty about deaconesses and home missioners is that we are given the freedom and space to do ministry and to live out our faith vocationally. Now, men have been included in the order.
Deaconesses have always been at the forefront of exciting new mission fields, whether it be education, healthcare, empowerment of women, and social justice. This role will be in even more demand as the church grows and shifts to what it will be in the 21st century. DHM are already out in the field doing ministry and have much wisdom to share. Good work is being done.
E-Calling: How has Wesley supported your call and the call of other deaconesses?
ID: I had already started moving forward with deaconess discernment before I began my ministry at Wesley. However, as I have moved through the rest of the steps, Wesley has been incredibly supportive. The Order of Deaconess & Home Missioner is one of the best kept secrets of The United Methodist Church, so a lot of what I am doing is new for most of Wesley. It's my honor and privilege to talk about the great work of the DHM community and I'm happy to answer questions.
Theological training is always changing and is not just for those seeking ordination. DHM gives space for another level of commitment to the UMC while offering a supportive community that allows for an avenue for living one's vocation in community with others.
E-Calling: How can people find out more information on the ministry of the deaconess?
ID: The first step is attending a discernment event: https://www.unitedmethodistwomen.org/dhmevents. For Wesley students (and staff), I'm always available to chat and answer questions!  For more history about the order go to: https://responsemagazine.wordpress.com/2016/03/10/1044/