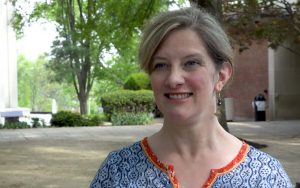 Rev. Dr. Amanda Stein, known during her Master of Divinity years at Wesley as Mandy Samuelson, has become a Wesley regular. She received the M.Div. in 1998, was a Lewis Fellow in its inaugural year, and graduated with her Doctor of Ministry in 2016. 
Throughout the years, she has focused on women's ministry, a passion she brings to her roles as pastor for Bashford United Methodist Church in Madison, Wis., and to the Wisconsin Annual Conference's Board of Ordained Ministry.
Stein first came to Wesley at the suggestion of her mentor Harvey Stower, a pastor, state assemblyman and Wesley alumnus. While working on Stower's unsuccessful bid for Congress, she was encouraged by her mentor to make the move to Washington on her own.
It proved to be a life-altering experience, especially when Stein chose to move out of the dorms during her second year and live in intentional housing.
"I was in Esther House, which was down on New York Avenue in Southeast," she said. "It was for women who were more affluent or of a higher socio-economic status and who wanted to live in the city in an all black neighborhood."
For Stein, the notion of "intentional" living became a daily experience. "We tried to make connections with our neighbors," she said. "We tried to be bridge builders with that completely different world three miles away where we were at school."
Returning to Wisconsin after graduation, she pursued her interest in the role of women in the church. "A lot of women who are going into ministry are turning away from the local church and going toward non-profit leadership, or just dropping out of ministry altogether," she said.
She calls the situation "heartbreaking," and noted that a new understanding of ministry itself is needed. "We have to understand that the lives of women, and of families, come in different shapes, sizes, and variations nowadays," she said.
Stein's work on Wisconsin's Board of Ordained Ministry gives her an outlet to encourage women seminarians and to guide congregations toward more supportive practices.
"Unfortunately, the largest challenge is the reluctance of local churches to embrace the modern lives of women," she said. "That includes women's desire to be involved in their kids' lives, as well as their desire and passion for their work."
She urges congregations to open themselves to new ways of thinking. "There needs to be a balance, a give and take," she said. "If we value the voices of women in the pulpit, we need to understand why women are leaving and we need to understand how we can help women stay."
She noted the disparity in church placements, with larger or more prestigious congregations often going to men, along with higher salaries. "There are, sadly, very large discrepancies in Wisconsin," she said.
To help address those problems, Stein focused her D.Min. project on that all-important question: "How do we recruit and encourage young women to go into ministry and how do we help keep them in ministry?"
She found ample cause for hope on Wesley's campus. "You just need one class with Denise Dombkowski Hopkins to be inspired," she said. "She's a great feminist, a great professor, and theologically so sound."
Dr. Dombkowski Hopkins also proved a welcome leadership model. "Her energy gives me so much energy and hope as a woman," Stein said. "You can be passionate, you can be fervent about your faith and about your ministry, whether it's teaching or local church ministry."
Having earned two degrees at Wesley, Stein is ready to return the favor. "Wesley has been really good to me," she said. "I've tried to give back, with gifts and with time. Coming back for my D.Min. is a way of saying that I value the education here. It's pertinent for the local church and for modern-day ministry."
She also hopes to bring her fellow alumni and alumnae out to the Wisconsin conference, and was recently on campus to do some recruiting. "It's a wonderful place to live!" she said. "It's got a gorgeous four-seasons. There are rural towns and country. There are urban areas."
Editor's note: For more information on opportunities for ministry in Wisconsin, contact Rev. Stein directly at pastorastein@gmail.com.