With four fellow United Methodist clergywomen from across the country, Wesley's Visiting Professor of Christian Formation and Young Adult Ministries Dr. Emily Peck-McClain edited a book of devotions and prayers for women who lead titled, We Pray With Her: Encouragement For All Women Who Lead. The book will be released in September and includes contributions by multiple Wesley alumnae.
"We recognize that women lead in many capacities," Peck-McClain said. "This is the kind of book that will sustain women who are seeking to live their lives faithfully no matter where it is that they are living it out,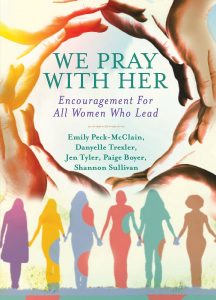 whether it's in the office, or in the home, or in the church. We relied on the writers and what inspired them in their walk of faith, life, and work. They are beautiful devotions."
The authors met on the Wesley campus in January to edit the book over three days. The book's 70 contributors are clergywomen under age 40 who serve in local church ministry, chaplaincy, academia, or extension ministry in United Methodist conferences across the United States. Together they wrote a total of 100 devotions, separated into the five sections of Call, Courage, Struggle, Resistance, Persistence. Each devotion is about 500 words and prayers are scattered throughout the book for the many possible events in a woman's life such as a prayer of gratitude for a positive pregnancy test or before a job interview.  
In the Call section, Wesley alumna Jessica Baldyga (M.Div., 2010) writes:"God doesn't abandon us, but rather journeys with us, through the unknown, the learning, and the growing we must do. When we take seriously the call God has placed upon lives, when we go where God sends us, and when we open ourselves up to the presence of God with us and within us, we can experience a peace that only comes from God. A peace that washes over us and fills us with joy and lets us know that we are a part of doing God's work in the world."
Wesley graduate Theresa S. Thames (D.Min., 2017) writes in the Struggle section of the book: "What no one tells you is that in the most challenging circumstances you will find your authentic and best self. It was in the pit of life that I stopped seeking outside validation and began listening to my truth. I not only worked to be my best public self, but I committed to loving and taking care of the fragile parts of myself. I bathed in forgiveness and held myself with grace. What no one tells is you is that one day you will look back and be amazed at yourself."
Given the recent controversial decision in the United Methodist Church not to ratify two constitutional amendments regarding women's equality, the timing of a book focused on encouraging women in leadership is very relevant.  
Responding to the vote, Peck-McClain said the book contributors are angry, hurt and emboldened. "Every setback makes us want to be stronger and more forward about standing up for our rights in our denomination," she said. "The truth is, in addition to whatever other reasons there are, every woman and girl now doubts their place in our church."
The women bishops of the United Methodist Church recently wrote a letter in response to the May vote. Numerous contributors to We Pray With Her joined with the United Methodist Young Clergywomen and also wrote a letter. It has 1,000 signatures from clergywomen all over the world. In part the letter says, "The sad reality is that we still face significant discrimination because of our gender. The church needs to address and eradicate this sin."
Peck-McClain and the editors know that female leaders confront gender discrimination in their various communities beyond the church. "We all need resources to support us and strengthen us for the kind of faithful living we need right now, to help hopefully bring this world around to a place that's closer to the Kingdom of God," she said. 
In the Resistance section of We Pray With Her, current Doctor of Ministry student Colleen Halligan Preuninger writes about this kind of faithfulness. "Resistance begins in the mind as the Spirit cultivates an environment where the fruits of resistance can grow," she writes. "Prophetic witness and leadership that resists oppressive structures, theologies, and ideologies flows from this source as our minds are renewed, our witness empowered, and our communities transformed through action." 
Editor's Note: We Pray With Her will be released in September. Pre-order a copy from Amazon or other major book distributors. Follow "We Pray With Her" on Facebook to get inspiration from a variety of sources every day.