Learning how to engage in discussions at the intersection of church, politics and race is integral to Christian leadership in our world today. Beginning Oct. 5 and running for six weeks this fall, students will take part in lively and relevant discussion about these topics in the nation's capital. The upcoming course, "Church, Politics and Race in a Polarized Society," will be taught by Dr. Kristopher Norris, Wesley's visiting distinguished professor of public theology.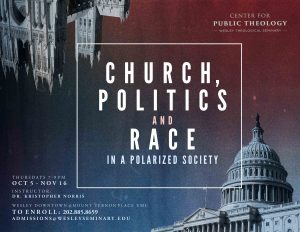 "Race cannot be separated from theology," Norris said.  "Because of this, and because of our commitment as people of faith to a Gospel of liberation and reconciliation, the church has a responsibility to do something; but the response of most white theologians and congregations has been silence. This class gives us an opportunity to examine the relationships between race, faith, and politics, to listen to one another, and to learn from experts who have studied, written, and participated in the crucible of justice movements."
This one credit hour course will meet for six weeks on Thursdays from 7 p.m. to 9 p.m. at Mount Vernon Place United Methodist Church in downtown Washington, D.C. It is open to degree and non-degree seeking students and is available for continued educational units or for auditing.
Norris recommends the class to anyone who cares about these issues and wants to dig deeper, he said. He welcomes both individuals who have a background in theological study and those who have never taken a theological course. The benefits to all kinds of professionals will be profound, Norris said.
"Capitol Hill staffers will come to work better equipped to talk about what is at stake politically in greater depth, advocates will have more compelling arguments, and ministers a greater social awareness to connect the Gospel with what is happening outside the church doors," he said.
The course's content will include written texts, guest speakers, videos and discussions as Norris helps student gain better clarity about the ways race, politics, and faith intersect in the modern cultural conscious to shape perceptions of the other and impact public policies. Special emphasis will then be given to how people of faith might utilize new or existing resources to bridge divisions and work for the common good, Norris said.
"I hope this course will be an opportunity to face all of these difficult questions in light of a Gospel that calls us to be reconcilers, to think about our history, our future, and our responsibility, and to listen and learn from one another," he said.
Editor's Note: Individuals interested in registering for the course as a non-degree seeking student may do so until the class begins on Oct. 5. More information can be found online here. Contact admissions@wesleyseminary.edu with questions.