On the flyer that promotes an upcoming event at Wesley, there is a provocative question: what would John Wesley do in our current political climate? Wesley Theological Seminary's answer is The Wesleyan Political Theology Project Conference, to be held on campus Oct. 26 and 27 in Oxnam Chapel. The conference is an initiative of Wesley's Center for Public Theology and aims to dive deeply into the contemporary implications of John Wesley's theology of transformational grace.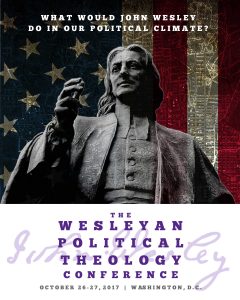 From across the country and the political spectrum, historians, ethicists, theologians and expert practitioners in the fields of politics and government will gather in the nation's capital. Their goal is to understand how Wesleyan heritage can inform the contemporary context, times not dissimilar to England during John Wesley's life.
"John Wesley encountered many communities in conflict and had a formula – 'let thine heart be my heart, and my heart be thine' - that spoke to how Christian communities could stay in love even as they wrestled with controversy and disagreement," said Professor Mike McCurry, director of the Center for Public Theology. 
McCurry noted how closely that approach is tied to scripture. "The idea is akin to a Golden Rule that says you should treat others as you expect to be treated," he said. "There is not much 'Golden Rule politics' today in the public square, but maybe that's where the church can make a difference and that is certainly the discussion we are trying to encourage."
However, as any good seminarian can explain, scripture does not exist in a vacuum. "Wesleyans know the famous 'quadrilateral,'" McCurry said, referring to John Wesley's theological grounding in scripture, tradition, reason, and experience. "We rely on scripture foremost, but it is not the sole source of inspiration and it is not inerrant."
For McCurry, the Wesleyan quadrilateral has become more relevant than ever. "We need to use our reason, our own experiences, and draw on the faith tradition of our church in order to have a reasonable response to contemporary events," he said. "Just like the human authors of our scriptures did, as they drew on inspiration and love from our God."
Dr. Ryan Danker, the project's co-director and assistant professor of history of Christianity and Methodist studies, sees the Wesleyan approach as a vital alternative to current trends. "Public discourse has been overtaken by sectarianism, sound-bites, and name-calling," he said. "We believe that our Wesleyan/Methodist heritage provides a nuanced, and holistic, voice that is needed now more than ever."
The project emerged from discussions between Danker, McCurry, and Methodists eager to bring theology into the political sphere. In response, the co-directors have put together a politically diverse line-up of speakers, including conservatives, moderates, liberals, Republicans, Democrats, and those who are politically unaffiliated.
"We've gathered a wide spectrum of men and women with connections to five different Wesleyan denominations on three continents," Danker said. "We've also enlisted three respondents from outside the Wesleyan tradition to engage the speakers and help lead discussions with conference attendees."
Both Danker and McCurry are confident that the conference, while based in Wesleyan theology, will be of interest to anyone drawn to the intersection of Christianity, the public square, and current events.
"The gospel of Jesus Christ knows no topic that is off-limits," Danker said. "So who else is better to discuss this than Christians gathered to think, speak, and discern together?"
The Wesleyan Political Theology Project Conference is open to the public, and free to current Wesley students and faculty. Registration is required as space is limited. For more information or to register, please visit here.