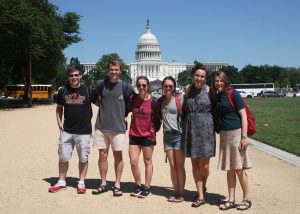 Wesley's Center for Public Theology (CPT) recently launched a new program called the Faith and Public Life Immersion (FPLI), a week-long intensive experience for undergraduates interested in exploring the intersection of faith and public service. This year's immersion was May 21-25 in Washington, D.C.
Annie Meek, a 2018 graduate of Hendrix College in Conway, Ark., was inspired to apply by a combination of undergraduate courses and the current political landscape. She studied religion and politics during the 2016 presidential campaign and visited the Wesley campus the day after the election.
Being in the nation's capital was a profound experience. "I saw and felt how the nation was dealing with it," she said. Meek returned to Washington last summer for an internship at the nonprofit Martha's Table, but was looking for a program that offered a theological lens.
"When the immersion opportunity popped up at Wesley, I couldn't not jump on it," she said. "It brings together all my interests. It's about applying our theological and spiritual lives to the everyday world."
Dr. Kristopher Norris, who co-led the inaugural cohort with Professor Mike McCurry, agreed with Meek's assessment. "We focus on the many ways that individuals and churches can and should be involved in political engagement," he said. "That can range from lobbying to coalition building to the spiritual aspects that pastors and campus ministers bring to the work."
Pursuing that work with undergraduates dovetails with CPT's goals. "We fill a void in theological education," Norris said. "Fewer and fewer people are getting M.Div.'s and more and more are looking for vocations in the public square where they can use a theological education to propel them into faith-based advocacy work."
The immersive quality of the FPLI experience helps meet that growing need and reaches prospective students early in their discernment process. "We're reaching out to undergrads before they even get to seminary," Norris said. "We show them that Wesley can do this. It's a great discernment tool and it's a great recruitment tool."
The five-day experience is modeled on CPT's National Capital Semester for Seminarians (NCSS) and includes pre-assigned readings, morning seminars, and afternoon field visits to organizations from across the political spectrum. Students receive two credit hours to apply to their undergraduate degree or to a future graduate degree.
The program is greatly enriched by the gifts of recent Wesley alumni and alumnae. Jane Adams (MTS, 2016) serves as a domestic policy analyst at Bread for the World, an organization she first encountered as an NCSS student.
"She's one of our best reps," Norris said. "She can talk to students about what's involved when you visit a senator's office, about what you're trying to accomplish, and about how you bring your congregation into that work."
Meek was especially moved by a day that involved a morning discussion of Dietrich Bonhoeffer's life followed by a visit to the United States Holocaust Memorial Museum. Students met with Victoria Barnett, one of the world's leading Bonhoeffer scholars, while visiting the museum.
"It was rightly emotionally exhausting," Meek said. "We're struggling with deep theological questions of what it means to be a Christian. I'm relating in a fresh new way to that myself, and seeing my classmates do the same."
Meek looks forward to applying this summer's learning to her first year at Garrett-Evangelical Theological Seminary in Evanston, Ill. "This summer is my first full taste of seminary, and it's a deep dive" she said. "I think it will focus my studies more as I choose classes and prepare to take part in community engagement in my new city."
Meek especially enjoyed the small class of six students (pictured above), the guidance of Norris, and the benefits of studying with McCurry, who brings insider knowledge and extensive contacts as former press secretary to President Bill Clinton.
Her obvious delight in the experience is tempered by her deeply serious exploration of issues that are of great importance to her and her peers. Experiencing faith in action is at the core of that work.
"The immediacy and relevance of public theology gets me feeling passionate and hopeful," Meek said. "I'm having fun, but I'm also deeply engaged. It's a huge blessing."