Wesley Theological Seminary will celebrate Dr. Lovett H. Weems, Jr.'s many contributions to the school and to the church with a series of events that reflect his many gifts on Sept. 28 and 29. As founding director of Wesley's Lewis Center for Church Leadership, Weems has had a nationwide influence on leadership, innovation, and the development of ministers.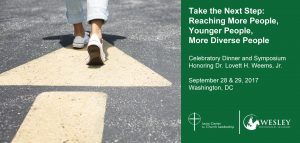 President David McAllister-Wilson remembered the empty niche that prompted the Center's founding. "In the corporate world you go to business school," he said. "If you're going into government, there are established schools of management. There was nothing like that for the church."
Dr. G. Douglass Lewis, Wesley's president from 1982 to 2002, envisioned the creation of such a center. He worked closely with McAllister-Wilson, then vice president, and Weems, then president of Saint Paul School of Theology in Kansas City, Kan.
At Lewis's retirement, the Wesley Board of Governors announced that they had secretly raised $1 million to fund the center that now bears his name.
"The Center is named for Doug Lewis," McAllister-Wilson said. "It reflects his vision. Lovett's the one who established it and made it what it is today. And there's nothing like it. It exceeded our wildest dreams."
Weems recently stepped down from his role as director to become a senior consultant and will continue to teach courses at Wesley. Scholarship funds raised in his name are intended to have the same lasting impact as his ongoing work.
"The Weems Scholarship will fund the ability of pastors to participate in these executive education programs," McAllister-Wilson said.
Dr. F. Douglas Powe, Jr., the Lewis Center's new director, sees the scholarships as a natural continuance of Weems' legacy.
"Even before he came to Wesley, his work was renowned, particularly in mainline denominations," Powe said. "To attach his name to a scholarship that supports pastors, and particularly young pastors who are trying to find their bearings, is of critical importance."
The celebration launches Sept. 28 with a dinner recognizing Weems' long-standing relationship with Wesley, ranging from his work as a doctoral student, to his roles as seminary vice president, director of the Lewis Center, and distinguished professor of church leadership.
"The dinner will be on campus in the refectory," Wesley Registrar Joe Arnold said. "Lovett's long association with Wesley made it our first choice."
The symposium on Sept. 29, held in Oxnam Chapel, will focus firmly on the future with the title, "Take the Next Step: Reaching New People, Younger People, and Diverse People."
"That subtitle really honors Lovett and all the work that he's done," Arnold said.
While the scheduled speakers share a United Methodist affiliation, the goal of the event is ecumenical. Bishop Kenneth H. Carter, Jr., bishop of the Florida Annual Conference and the next president of the United Methodist Council of Bishops, will speak about reaching a larger expanse of people. Bishop Janice Riggle Huie, president of the Council of Bishops and former bishop of the Arkansas and Texas Annual Conferences prior to her recent retirement, will share her passion for supporting clergy. Dr.  Joseph W. Daniels, Jr., lead pastor of Epworth Fellowship United Methodist Church in Washington, D.C., for 25 years, will draw on his experiences as a pastor known for innovative leadership, community engagement, and church growth.
"People will leave with two things," Arnold said. "They'll have an appreciation of Lovett's work and his passion for leadership in the church. They'll also have a clear vision of the challenges and opportunities that lie ahead."
Powe agrees. "This work will really help individuals think about where the church, the church universal, needs to go," he said.
An evolving understanding of a swiftly changing world is key. "When you get to major cities or to the first ring of suburbs, populations are much more diverse than they used to be," Powe said. "You won't have the kind of monolithic congregations you've seen in the past. They'll be multi-ethnic, but there will be other forms of diversity as well, such as intergenerational diversity."
The kind of leadership Weems encourages in his writing, teaching, and leadership seems the perfect match for this moment in church history, and the perfect subject for a gathering held in his name.
"What a tremendous honor to work with Lovett at the Lewis Center, and how much I've learned," said Dr. Ann Michel, associate director of the Lewis Center. "It's not only the substance of what he teaches, it's actually watching his own leadership that offers us so much."
The upcoming symposium will bridge the decades of high quality work done by the Lewis Center under Weems' leadership with the future moving forward.
"My hope is that the symposium helps people think about the important work being done by the Lewis Center," Powe said. "It will help people understand why we need to press forward and look closely at how we think about leadership in the 21st Century."
Editor's Note: More information about the upcoming events to honor Dr. Weems can be found on the Lewis Center's website here.