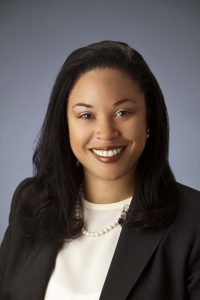 Heather Taylor's decision to enroll in seminary was 10 years in the making. Taylor, a new Master of Divinity student and Community Engagement Fellow at Wesley, has spent her professional career working for social justice. She currently serves as the executive director of the Tahirih Justice Center's Greater D.C. office, an organization that provides pro bono legal assistance to immigrant women and girls subjected to gender-based violence around the world.
"I see myself as a human and civil rights activist," Taylor said. "I have a desire to serve individuals, particularly immigrants and ethnic minorities, who really are the target of a lot of oppression through poverty and violence."
Taylor's pursuit of social justice is rooted firmly in experience as an attorney and her Christian faith.
"The reason I have such a passion for working with justice groups stems from my faith in Jesus," she said. "I feel a real burden to dedicate myself to this mission, both in a secular and church setting." That is where Wesley enters Taylor's story.
As Taylor takes on leadership roles in her faith community at Alfred Street Baptist Church in Alexandria, Va., she feels a need to ground social justice work in the tenets of Christian faith.
"I want to be able to offer solutions from a faith-based perspective that are grounded in a foundation of Scripture," she said. "I'm eager to reach both the hearts and minds of those I engage with in my community."
Taylor began exploring the possibility of attending seminary years ago and considered her options carefully. Wesley became a natural choice as she learned more about the school, particularly about the Community Engagement Fellows program at the Institute for Community Engagement.
"I really wanted a venue that would allow me to explore social justice from a faith perspective," Taylor said. "Wesley has a very specific program with a ready framework to synthesize theology, engagement and justice work. This is my calling and why I'm here."
Other factors in Taylor's decision to attend Wesley were receiving the John Satterwhite Award scholarship and the diversity present on campus.
"Diversity here is not just a photo on a brochure; it is diverse in reality," she said. "Wesley is true to that mission and it is so obvious that every effort is being made to create a diverse body of students. That provides a learning laboratory for me to hear other perspectives, grow from that and be a successful prophetic witness in the future."
Though Taylor is working full-time at the Tahirih Justice Center while enrolled in three courses this semester, she is excited about her studies.
"Unlike other degree programs, there aren't any classes or subjects that I'm not interested in," she said. "I am just really eager and enjoying everything I'm learning." That does not mean the path of a working student is always easy, however. Taylor admits to wondering how to do it all between now and graduation, she said.
Her advice to other non-traditional students who work while in seminary is to start the application process early and plan ahead.
"The earlier you get accepted to Wesley, the more time you have to get your schedule set with the classes you want to explore," Taylor said. That will give you more time to consider your options and ask plenty of questions of the dean and other students, she said.
Editor's Note: Master's degree applications for Spring 2018 and Fall 2018 are open now. To learn more about Wesley's programs, visit here.