More than 12 million Americans call themselves United Methodists, but how many have a deep insight into the origins of the Methodist faith, or the way Wesleyan thought shapes denominational beliefs?  Wesley Theological Seminary created an exciting opportunity for laypeople who want to learn more about their Wesleyan faith – the new Wesley Lay Academy.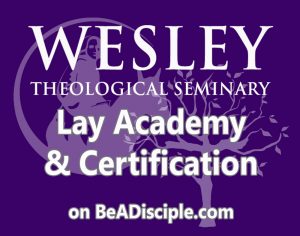 Through a partnership with the online learning website BeADisciple.com, the Wesley Lay Academy offers 11 online courses on a variety of topics including Christian ethics, interreligious studies, and the origins of Methodism. The courses feature videos from top Wesleyan theologians and scholars, and can be taken individually or combined to earn a certification in Wesleyan Studies.  Only six of the 11 courses are required for certification – two core Methodist Identity classes and any four elective classes.
Two of the courses in the Academy will be offered in August – including one of the core classes, "Methodist Identity: Our Story," which covers the history of Methodism from the birth of John and Charles Wesley through the 20th century.
The second class, "A Life Worthy of the Gospel," studies Christian ethics through a Wesleyan lens, and is taught by Dr. Sondra Wheeler, the Martha Ashby Carr Professor of Christian Ethics at Wesley.  She believes that a 'life worthy of the gospel' is not only an outcome of personal faith and ethical living, but a key element of sharing your faith with others.
"I would say that a life worthy of the gospel is both the fruit of faith and the indispensable witness to what we believe," Wheeler said.  "We can talk about the good news of God's love and the saving work of Jesus Christ until people are sick of hearing about it (as they may well be).  But without the evidence of a life conformed to the grace of God, no testimony will be persuasive, or even intelligible. The actual performance of goodness, the welcoming kindness of those who are overcome by gratitude and the humility of those who know they depend upon a goodness they cannot deserve or repay, this is always winning."
The history of the United Methodist Church shows that when laypeople are engaged and knowledgeable about theology, it results in a significant strengthening in both their personal walk with Christ and the ministries of the local church. Any of the classes in the Wesley Lay Academy would be a great start for moving deeper into faith. The courses may be taken in any order or concurrently.  
Both of the upcoming August courses in the Academy start on Aug. 14 and cost $50 each.  Visit www.BeADisciple.com/wesley for more information about the Wesley Lay Academy and a complete list of courses available.
Editor's Note: We thank guest writer Britt Bradley of The Institute for Discipleship at Southwestern College for this article.