Newly elected Student Council President James Turner, Jr., looks forward to creating an environment of healthy dialogue and open hearts on the Wesley campus in the coming months.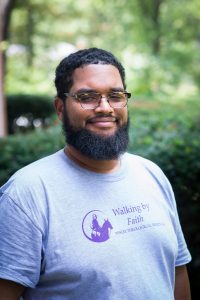 "I want to continue the work of uniting the students so that there's more fellowship and more love, especially with the climate going on outside the school," he said. "Sometimes we get bogged down with denominational requirements, grades and personal events. We should take the time to see that we're in a very unique space here at Wesley."
Turner sees the multifaceted diversity of the Wesley community as a great benefit. "We have the chance to interact with people who may not have the same culture or theological background," he said. "We get to share that space and be better people for it when we leave."
Hailing from Upper Marlboro, Md., Turner worked in the private sector until his pastor, Wesley graduate Angela Milligan, suggested he might have a future in ministry. While checking out the Wesley website, he was hooked by the Urban Fellows program of the Institute for Community Engagement.
"I couldn't pass up the opportunity to work with the community," he said. "There was the chance to build a project that could bud into something larger once the semester was over, and I got to learn about the urban process in a Christian context."
He hopes to carry that work forward after graduation. "Hopefully I am on the path of becoming the director of a nonprofit or maybe starting a nonprofit that focuses on the African American community, especially youth and young adults," he said.
Community building, financial education, and employment will be top priorities. "We'll address mass incarceration, voter rights, and other areas that typically plague the African American community," Turner said. "We want future generations to live into the promise that America speaks about."
In addition to his activities as an Urban Fellow, Turner is working toward the African American Church Studies Certificate. Professor of Systematic Theology Josiah Young's course on "African American Theology in African American Film" was a highlight of his Wesley studies.
"I had the chance to sit down and look at films that I might have already seen, but to see them now in a different light and through the lens of black liberation theology," he said. "It was so powerful."
Films included "Selma," "Fruitvale Station," and "Amistad."
"We had the opportunity to see how these films have really influenced – and been influenced by – the way African Americans have been treated in American culture," Turner said.
He sees himself as part of a ongoing evolution at Wesley. "I think we all build on each other's legacy to create a better Wesley for tomorrow," he said. "I pray that I bring some kind of new understanding to how the world works."
Encouraging an inclusive community remains a top priority. "We are to love each other despite our differences," Turner said. "We are to foster conversation. We are to challenge each other to do better, and to do more, and to be as much like Christ as we can."