Following one's call to seminary often begins with accepting it. That was certainly the case for Samuel Mitchell and Olivia Gross, two new Master of Divinity students who began at Wesley in fall 2017. Though their stories are unique, their calls have been confirmed as they journey through the first year of the program.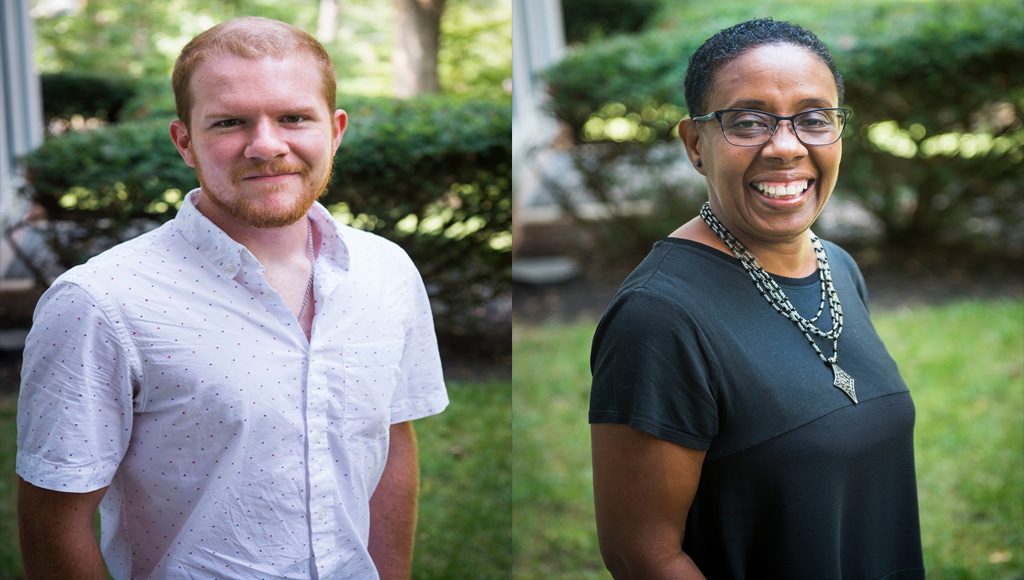 Samuel Mitchell, a new student from Seaford, Del., graduated in May 2017 from the University of Delaware with a degree in human development and an emphasis on social work and counseling. He started college planning to become an electrical engineer, but soon felt the need to shift his focus.
"I've felt a calling to some sort of ministry since middle school," Mitchell said. "But I didn't really take it seriously until high school and didn't finally accept it until my freshman year of college. I accepted the fact that God was trying to tell me something, but I didn't accept what he was trying to tell me."
After discerning whether seminary was the right next step, Mitchell began looking at schools within driving distance of home. Wesley quickly became his clear choice once he received a scholarship offer. That offer gave Mitchell the confidence to pursue full-time studies, rather than working part-time while studying part-time, he said.
"One of the biggest draws that Wesley had for me was the wide array of hands-on learning that I could have as a student," he said. "A lot of other schools had an emphasis on the academic, which Wesley does as well, but there is also an emphasis on the practical with the PM&M (Practice in Ministry and Mission) experience."
Even only a couple weeks into the semester, the community at Wesley has warmly welcomed both students, Mitchell and Gross said.
"I've really felt a sense of community, even though I've only been here a week," Mitchell said. "The type of environment at Wesley is unique with the activities at the downtown location and the diversity that's here. It really feels like a unique place of its own. That diversity broadens the learning experience."
Like Mitchell, Olivia Gross recently accepted her call to ministry. While attending the annual conference meeting of the Baltimore-Washington Conference of The United Methodist Church last summer, Gross came forward during the ordination service in tears of joy. After 17 years working in administration for the conference she felt prepared to take the next step.
"I've always wanted to be a pastor but it wasn't something that I allowed myself to entertain," she said. "I never felt as if I was good enough because I'm surrounded by so many great pastors and great preachers. It was something I had thought about, but never really pursued."
Although Gross, who is 60 years old, received encouragement from her family and close friends, there were some detractors.
"I had some people say to me, 'don't you think you're too old?' Gross said. "It was very discouraging and there were times when I just felt like crying. But then I realized I wasn't doing this to please anyone, only to please God. It was a yearning in me that I had to respond to. The interesting thing is that once I said 'yes,' I felt a tremendous sense of peace."
As Gross completed Wesley's application process, the pieces fell into place. When she received a scholarship from the school, she knew she could proceed without fear of struggling financially, she said.
"After that it didn't matter what anyone said. Every single obstacle that came at me, every excuse that I made about why I shouldn't do this, God just moved out of the way."
As a wife and grandmother, Gross views her age as a benefit to her seminary journey, not the obstacle some people saw. She can bring a certain wisdom to the community due to her life experiences and can focus completely on her studies at this stage of life, she said.
"My kids are very proud of me, they tell me that all the time," she said. "It just feels right. I don't know if I would have felt this way if I had done this sooner. This is just the right season for me, and I'm enjoying the ride."
To anyone considering pursuing a degree at Wesley, especially older students, Gross suggests prayer and discernment.
"With God, all things are possible," Gross said. "Yes, there are going to be challenges or people who will tell you you're too old. But God can use anyone and we all bring different gifts. I love being around young people because they aren't afraid to try anything; it keeps me young. Being around people my age, I realize we bring wisdom to the group. It's good to have a blend."
Editor's Note: Master's degree applications are open now for students interested in beginning studies in January or August 2018. For more information and to apply, visit here or contact admissions@wesleyseminary.edu.