In celebration of the 500th anniversary of the Protestant Reformation, Wesley's Dadian Gallery presents "ReFORMation", on display Oct. 16 to Dec. 15. The eight artists who contributed works embraced a spirit of protest and re-visioning. 
"This year several museums and galleries are hosting exhibitions about Martin Luther, displaying artifacts and his writings," Dadian Gallery Curator Kiki McGrath said. "But I wanted to develop a show of contemporary art in relation to the Reformation."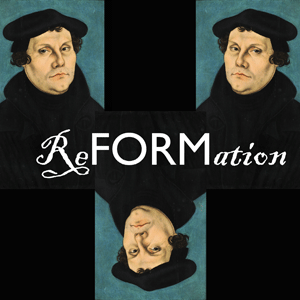 McGrath worked closely with co-curator Patrick Beldio, who holds a PhD in Religion and Culture from The Catholic University of America and is a former artist-in-residence at Wesley.  
"With his academic background, he understands theology and religious history; he is also a practicing artist," McGrath said. "Collaborating with someone outside the seminary broadens the conversations the Art and Religion Program seeks to foster — between students, staff, and visitors to the gallery." 
McGrath and Beldio put out a call to local artists for work that was a "critical response to their religious traditions," and that addressed "the complex legacy of the Reformation on artistic practice today." 
The result is an exhibition that includes a wide range of genres and materials, and artistic viewpoints. McGrath noted how the range of work, itself, echoes what was happening 500 years ago. 
"The printing press changed the way information was disseminated in the sixteenth century," she said. "The artists in this exhibition are using the latest technology in their work as well as traditional media to explore imagery, language and spiritual experience."  
Miriam Keeler bridges that 500-year gap in time with work focused on the Seven Deadly Sins. "My idea, when I started the paintings, was to combine Medieval and contemporary stylistic motifs," she said. 
"Medieval images tended to be flat, stylized, brightly colored, symbolic, with sharp value contrasts, and located in active, sometimes ambiguous spaces," she said. "The more modern aspects are modern images, some acid colors, abstract spaces, secular focus, hard-hitting imagery, mix of humor, seriousness, and irony." 
Her hope is for an active response from the viewer. "The effect of the accumulation of images on each theme perhaps takes the viewer by surprise, given the cheerful colors and seeming naivety of the works at first glance, hopefully provoking some serious thought and deeper looking," she said. 
In her artist's statement, Keeler explores how language has shifted around the seven itemized sins. For example, "lust" might now be addressed as a condition of "sexual addiction" and "wrath" as a struggle with "anger management." 
"When Wrath, Lust, etc. are carried to certain extremes, they are labeled crimes and perpetrators are prosecuted and punished," Keeler said. "Lesser but still serious instances often come under therapeutic rubrics. Neither approach seems to speak adequately to the spiritual and soul damage involved." 
Jerry Holsopple comes to his work with strong ideas regarding what was lost due to the iconoclastic efforts of the Reformation. His concern is for the increased, almost solitary focus on the written word. 
"When we threw away visual representations of scripture, we took a leap and said, 'Logic will save us,'" Holsopple said. "We threw away the motive, the mystery. What might we notice if we paid more attention in a different way?" 
His work portrays the faces of women emerging through other visual elements. "Before the Reformation, images gave us a window into other genders, mostly Mary," he said. "After the the Reformation, Mary is mostly relegated to the birth narrative. She's no longer the model of faithfulness, of sticking with Jesus no matter what. People are always talking about Peter and Paul but they lack the wisdom of Mary who intuitively says 'yes' to faith." 
His images, Holsopple said, address that practice of making women secondary figures. "It's an image of faithfulness coming out from under the power," he said. "It shows the gospels' preference for the people who are underneath." 
That theme is further realized in the elements that surround the women's faces. These include stamps from Holsopple's passport, some of which represent countries that are inviting and others from places where he was made to feel unwelcome. 
"My work in the last 15 years has been about the incompleteness of theology," he said. "The Reformation assumes theology happened most often as written words, not as lived out or experiential. Looking at these women gives me hope because I've tied them to the things they've endured and survived and we see how they have remained faithful." 
His work "New Day" was inspired by the role of women on Easter morning. "It's the women who show up for the resurrection," Holsopple said. "Theologically we think that's coincidence but maybe there's also a message there for us. The women weren't expecting the resurrection. They were doing what they needed to do. None of the Twelve showed up to take care of this body." 
Holsopple, who is Professor of Visual and Communication Arts at Eastern Mennonite University, has fond memories of his time as an artist-in-residence at Wesley. "I miss it," he said. "It was a really rich experience, to have that time to just dive in and create art and interact with the students. It was really an amazing time!" 
Editor's Note: ReFORMation is free and open to the public. Regular hours are Monday to Friday, 10 a.m. - 4:30 p.m. and by appointment. A reception and artist talk will be offered Tuesday, Oct. 31, 12:30 – 1:30 pm.  For more information about the show, or the Luce Center for Religion and the Arts, go to http://luceartsandreligion.org/