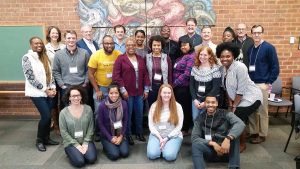 It is no secret that many churches in the Washington, D.C., area are exploring how to engage young adults living in their local communities. Beginning in Fall 2017, the Wesley Innovation Hub launched as a program to bring together diverse congregational cohorts to learn and practice ministry innovations to address this challenge. The program engages local congregations, Wesley staff and students with one common goal: engage young adults for social change. The Innovation Hub was made possible by a grant from the Lilly Endowment.
So far, four local congregations are engaged in a research phase of the program with another 15 congregations set to begin in summer 2018. Together they will journey for two years through an iterative experimental process as they try new ministry ideas. After a six-month learning process, each congregation will be invited to apply for a $20,000 grant to experiment with and track new innovations with young adults.
"The entire initiative really comes from the heart of who Wesley is – a place of deep and practical spiritual formation where we seek to strengthen and learn alongside the local church," said Beth Ludlum, Wesley's vice president for strategic initiatives. "While the grant is about engaging young adults, the focus is really on a particular process and methodology. Undergirded by spiritual practices that attune us to God, we believe that innovation can be the discipline and human-centered design the methodology to help Christian communities join the Spirit's work and continually live into God's dream for the world."
Three Wesley master's students Donovan Archie, Ebonie Johnson Cooper, and Zachary Spoerl work as research associates, guiding pilot congregations through the research process.
Johnson Cooper works with Reid Temple AME in Glenn Dale, Md. She is also a member of the Board of Stewards at the church. Reid Temple has so far conducted three focus groups with young adults, defined as individuals between 18 and 40 years old, to learn about their involvement with the church. In her work as an Innovation Hub research associate, Johnson Cooper helps synthesize notes and observations so learnings can be shared with the wider church community.
"When I came to Wesley, I had a really deep passion for young adults," she said. "Within the Black church, I see a gap between attendees at worship services and people involved in the everyday goings on at the church. This work with the Innovation Hub stood out to me because it's important we engage the young adult population and hopefully learn more about our church community."
Other congregations participating in the pilot program with Reid Temple are Georgetown Presbyterian Church, All Souls Episcopal Church, and Emory United Methodist Church. Sam Marullo, director of research on missional communities at Wesley and research advisor for the Innovation Hub, oversees the Wesley students involved in the program as they shepherd local congregations.
Marullo sees the Innovation Hub as an encouragement for local congregations to get outside their own church buildings to meet people where they are, he said.   
"To use "traditional" church language, it is asking congregations to be missionaries in their own front yards," Marullo said. "This helps congregations look at themselves differently and re-think what it means to be in ministry with the younger generation. If faith is to be conveyed to the next generation, it has to respond to young adults' deep-seeded soul needs. And it is up to the present form of the church to go and be present with the younger generation to hear their soul needs."
Emory United Methodist Church's work with the Innovation Hub gives the congregation tools they need "to be more creative," said Pastor Janice Harmon, associate pastor at Emory. She suggests churches apply to participate, especially if they currently have a small young adult presence.
"We have learned to first just observe and have one-on-one conversations with the people we are working with, before planning any project," Harmon said. "Most of us spend years in school learning to quickly get to answers; many times, overlooking creative solutions in our hurry. The guidance from the Innovation Hub team is a precious gift to churches with limited resources. The opportunity to focus and listen to what young adults want and need is eye-opening for a congregation and its leadership."
Editor's Note: Applications are now being accepted from congregations interested in participating in the Innovation Hub. For more information, congregations should contact Beth Ludlum at bludlum@wesleyseminary.edu or visit here.