In Armand Peterson's family learning to sing and play an instrument is not up for debate, not when you have a long line of gifted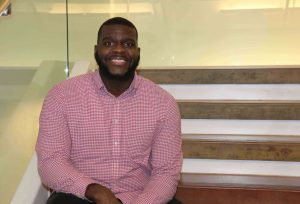 Baptist church musicians in the family. Peterson, who is a first-year Master of Divinity student, felt his call to the ministry of church music at age 13 as a member of the church's youth choir where his family attended in Augusta, Ga. He is now a classically trained tenor and plays four instruments — piano, pipe organ, Hammond organ and trumpet.
"When I started learning to play the piano and Hammond organ, I knew that this type of ministry is something that I would love to do," Peterson said. "I love to sing, play instruments and give glory and honor to God. As a result of learning how to play, the ministry just took off from there."
Peterson, now a member of the Church of God in Christ, served as minister of music at White Rock Baptist Church in Lincolnton, Ga., for six years before deciding to pursue a degree at Wesley. As a graduate of Morehouse College in Atlanta with a degree in music and emphasis in choral direction, Peterson has the academic background he needs to be effective. But now he is seeking a theological education to underpin his music ministry experience.
Since he began studies at Wesley in August, Peterson has taken an active role in the chapel choir under the direction of Eileen Guenther, professor of church music, and in the Association of Black Seminarians. Later this month he will join Guenther as a soloist alongside fellow student Miracle Worrell for an interactive presentation on the Spirituals.
Peterson was introduced to the Spirituals by his great uncle who was director of music at Peterson's church. He learned more about the genre through studying interviews with former slaves and other primary documentation while at Morehouse College.
"The Spirituals speak to me in a way where I am able to relate back to my ancestors," Peterson said. "I'm able to understand the struggles that they endured from the perspective of a song, instead of reading that history in a book. One way that I connect to my ancestors is through the songs about reaching freedom and how the Spirituals included a hidden message at that time."
Peterson believes the Spirituals are still relevant in the church and world today.
"It's very sad that when our ancestors sang these songs, they did not expect that we would still be in some type of enslavement today," he said. "The songs like 'Give me Jesus' or 'Over my Head I Hear Music in the Air,' and other Spirituals that deal with sorrow and lament are still relevant today."
When Peterson sings, no matter the genre, he feels a deep connection to God. Sacred music becomes sung prayer, he said.
"When we sing, we are praying," Peterson said. "We are praying a prayer of thanksgiving, a prayer of healing for God's protection. I absolutely agree with the quote from Saint Augustine that when you sing, you are praying twice, because the words that you are singing are encompassing a lot of things and are not just words. The words of the songs are prayers to God."
As a church music director, Peterson brings the concept of song as prayer to his work with the choir and congregation, particularly for those who are reticent to sing.
"I tell them, 'your praise and thanks to God is for God, not the congregation," he said. "So however your voice is, whether it's pleasing to our ears or not, doesn't matter to God.' I just encourage people to focus not on the congregation, but focus on that song being lifted up to God as a prayer."
At the upcoming event, Peterson hopes attendees will leave with a deeper understanding of the Spirituals as sacred music.
"This event will provide understanding of what a Spiritual is and how they were sung in the individuals' own words, and how Spirituals helped individuals get through slavery and find their way to freedom," he said. "This event will expose students to a different genre of sacred music and provide an opportunity to experience the power of God through Spirituals."
Peterson is discerning how to use his Wesley degree after graduation and whether to pursue fulltime music ministry. But he is savoring the experience of being a student.
"When I came to Wesley I didn't know what to expect," he said. "But the instruction at Wesley is something I was looking for in receiving a theological education. I'm really looking forward to deepening my understanding of the intricacies of the Bible and Jesus Christ and how that relates to my life, the church and the world."
As he discerns, one thing is certain — he will keep singing. "I feel God's presence wrapped around me when I sing," Peterson said. "I can feel God's presence in my voice, in the notes and the words. I feel like I am right in the face of God when I sing."
Join us for "The Power of Spirituals," an interactive presentation with Dr. Eileen Guenther and Wesley soloists Armand Peterson and Miracle Worrell on Nov. 19, 4-5 p.m. in Wesley's Oxnam Chapel. The event is free and open to the public.