Wesley's Lewis Center for Church Leadership launched a podcast in January called Leading Ideas Talks, to complement the popular newsletter of the same name and reach new audiences who can listen on-the-go. In its first six episodes, the podcast delves into topics like how to move from being an inwardly-focused to an outwardly-focused church and insights for doing effective ministry outside one's native culture.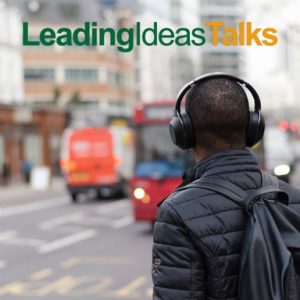 "There are many people that, no matter how good an article is, they just aren't going to read it," said Rev. Dr. Douglas Powe, Jr., director of the Lewis Center. "But they have commutes, or they exercise, or there are other times when they are able to listen to something. A podcast is a way for us to connect with those individuals."
The podcast serves a mission statement to, "bring to the table cutting-edge leaders on subjects you care about — navigating change, reaching younger people, financing your ministry, communicating effectively — to help you be the leader God is calling you to be." Each episode is another tool to help fulfill the Lewis Center's goals of assisting congregations and denominations to thrive, serve, and grow.
"Listeners will hear various topics like stewardship, evangelism, preaching, church growth; you name it, we try to cover the spectrum of issues," Powe said. "What you're also going to get is individuals thinking in places outside the box, of ways to connect, things they've learned from experience, things that work. Sometimes you get people talking about the challenges of ministry and what hasn't worked, which can be just as helpful. What we're trying to bring to individuals are things they have perhaps been thinking themselves and want to experiment with but aren't sure how to do it."
Leading Ideas Talks is ecumenical and very intentionally diverse, Powe said. He is excited about the prospect of having listeners all over the world and hopes that both the guests and the audience will represent a wide range of perspectives. "Our goal is get a really diverse group of individuals to speak: pastors, key lay people, church planting coaches, professors etc., and it is the Lewis Center's hope that listeners will expand beyond the already substantial newsletter readership of 19,000."
The Lewis Center researches and advocates for all types of innovations around church and faith leadership, so stepping into the podcast environment is also a suggestion for faith communities to consider doing the same. The barriers to entry for creating a podcast are low, Powe said. Creating a podcast requires a good microphone, a sound editing system, people willing to participate, and the patience to coordinate busy schedules. "It is important to be able to share the message in as many ways as possible,"  hesaid. 
Editor's Note: The Leading Ideas Talks podcast can be accessed directly on the Lewis Center's website or on iTunes, Google Play, and Stitcher. Each episode is approximately 35 minutes long.