For four pastors from the Alabama-West Florida Conference of The United Methodist Church, studying in Wesley's Church Leadership Excellence track of the Doctor of Ministry program was an opportunity to expand upon the leadership skills gained from previous mentors. And it was an opportunity to engage in the process together, with the support of their families and congregations.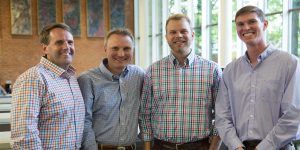 "All of us would agree that we've had a lot of great influences in our life in the Alabama-West Florida Conference," said Rev. Jay Cooper, pastor at First United Methodist Church in Bay Minette, Ala. "I was looking for a way to build on the skills that so many have already given me. I wanted to find a platform to take those skills and move into the next level of leadership."
Both Cooper and Rev. Tony McCullough, pastor at First UMC in Brewton, Ala., transitioned to full-time ministry as their second career. Cooper and McCullough began serving local churches in 2009 and since then have sought opportunities to grow in their leadership. They began the Doctor of Ministry program in May 2017 along with fellow pastors Levi Gardner and Woods Lisenby.
"At Wesley, we have the opportunity to take what we've learned in the life of the church and enhance it as we learn what it means to be true spiritual leaders," said McCullough. "I'm thankful for this opportunity to partner with Wesley, our annual conference and local churches for my development, but also for all of us that are here together. We can grow together and learn together, which will just enhance our ability to grow and lead in the years to come."
Wesley's emphasis on partnership is unique to the seminary, and it is one of the main reasons all four pastors chose to study here for their Doctor of Ministry. But pursuing this degree is not without some challenges as pastors balance ministry, family and the academic program.
"When we leave here and go back home we will be fathers, husbands, and pastors," Cooper said. "Wesley understands how nimble and flexible pastors need to be. They understand our family situation. They understand the sacrifice that it's taken to get here. The program is designed in such a way that the local church, the student, the school, the communities from which we come all have to be bought into this in some kind of way. We all have to give a little bit to make this happen."
The cohort of students in the Church Leadership Excellence track come to study at Wesley from all over the world, including Zimbabwe, South Africa, Washington D.C., and West Virginia. That diversity is integral as students learn from fellow pastors about different approaches and challenges in the life of the church, McCullough said.
"Knowing that there are folks from all over the world who are sharing the same struggles, celebrating similar joys, and dealing with some of the same adaptive difficulties that we're dealing with is very beneficial," Cooper said. "We leave with a sense of accountability, knowing that we're scattering back into the world to do ministry."
Editor's Note: The Church Leadership Excellence D.Min. track is now accepting applications for a May 2018 start. Application deadline is Feb. 15, 2018. Learn more and apply here.