Dr. Beverly Mitchell, professor of historical theology, recently switched roles and entered the classroom as a student. Part of a cohort of Wesley educators invited to hone their skills at online teaching, she took part in a course generated by the Educational Innovation faculty committee. The course was taught by Berkeley Collins, Wesley's director of educational technology.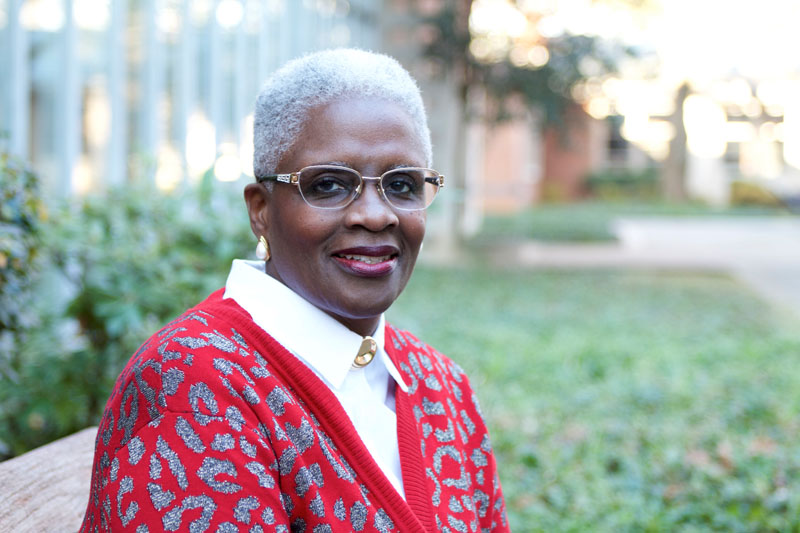 "I went in, not with skepticism, but with pedagogical questions about whether the course I'd be teaching – Church History II – would be a good fit for teaching online," Mitchell said.
Though she entered the process with some hesitancy, Mitchell adopted a pioneering stance. "This was the first chance that I had to get instruction on teaching online," she said. "I certainly wanted to give it a try and see what I could do to make it work."
The course itself was a hybrid of in-class and online learning, a model for many of the courses being taught at Wesley this semester. For Mitchell, the results reached far beyond the specifics of the subject matter.
"One of the most significant elements that I got out of the course is the importance of looking at instruction, looking at the assignments, and crafting the course from the perspective of the students who would be taking it," Mitchell said.
A member of the faculty for 19 years, she previously approached course planning with consideration only of the knowledge to be imparted. "I've always started with what I believed it was important for students to know and then developed things from a teacher-instructor focus," she said.
That approach changed as Mitchell considered the challenges and benefits of online coursework, shifting her focus to the students' learning process. "I evaluate everything in terms of student experience now," she said. "Are there areas of confusion? Are we giving them all the tools they need to succeed in the course? These questions have been an eye-opener."
As a person who uses technology "sparingly," Mitchell found that mastering new skills came with surprising benefits. "It's a way of thinking, of processing, a logic that is different from the way I'm oriented," she said. "I was very concerned that I might not be able to get it."
Mastering the new medium offered Mitchell another glimpse into the student experience. "I'm mindful now – in terms of giving instruction and crafting things – that there's a range of skills that our students will have. I have become very sensitive to them."
In teaching the course, Collins put particular emphasis on the core difference between online and classroom teaching.
"These are two different mediums," she said. "Online requires an entirely different pedagogy than the face-to-face environment and most of the time an in-person class can't be easily transitioned, but needs to be redesigned."
Student engagement is the top priority. "At Wesley, one of our huge focuses is community," Collins said. "I wanted our instructors to be able to transition to online and not lose that sense of community that helps make us who we are as an institution." That sense of community is important to Mitchell, too.
"It's one of the concerns I've had as a teacher," Mitchell said. "In the classroom, students and teachers work off of each other. The student reads the instructor, the instructor reads them. It's difficult to create that kind of environment when we're all in our own space and don't have the shared physical presence."
Collins focused her instruction on precisely that challenge. "Activities are built into the course to provide an opportunity for students to engage each other in discussion, group work, and other structured online activities," she said. "The faculty have created welcome videos, lecture videos, and we spent a lot of time focusing on constructive – and timely – feedback in the online environment."
As with any educational experience, success rests as much with the students as with the teachers. "Online learning requires a different set of study skills that I don't think students are taught," Collins said. "I certainly was not prepared when I took my first online class in my master's program."
Careful planning is key to a successful learning experience. "In the online environment it is really important to be self-disciplined and to set and keep study and work times," Collins said. "Students should find a schedule that works for them and keep it! If you fall behind it is so, so hard to catch up."
She notes that online classes are not necessarily more difficult but the workload is spaced differently. "Instead of being able to procrastinate and then spend 48 hours with no sleep writing the final paper, the online environment makes you spread it out and do it over the 16 weeks of the course."
It is an approach that will benefit students in all their classes, just as Mitchell's discoveries found their way into all of her work.
"This was an invaluable experience in terms of allowing me to think about effective ways of teaching beyond the repertoire I already have," she said. "The great part is that I can apply my learning to all my classes and become a better teacher."
Editor's note: Beginning in summer 2017, Wesley now offers more online and hybrid classes than ever before. To learn more about online offerings, visit here.