When Dr. Shively Smith, assistant professor of New Testament, set out to write her latest book called, "Strangers to Family: Diaspora and 1 Peter's invention of the household of God," she first had to confront her own resistance to the text. But her interests were clear: she wanted to offer a re-framing of the biblical text that would liberate it from common interpretations -- interpretations she found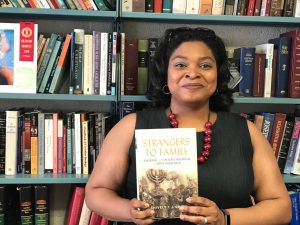 problematic.
"As a young African American, southern woman I had a lot of resistance to 1 Peter," she said. "But as I re-read the text again it had all the language I wanted regarding kinship, hospitality, and attitudes towards one another and the outside world. There is a local and a global vision in the text, and I just couldn't let it go."
The concept for the book is rooted in research Smith did at the dissertation level, and began with her work in the book of Daniel's court tales. Her interest in the concept of diaspora throughout the New Testament was rooted in a passion for understanding how people who have a history of being dominated and marginalized create their own community and kinship ties, even in dispersion, she said.
"One of my goals in writing this book was to give 1 Peter a fresh reading that was not wedded to the typical readings of the text that surround issues of authorship, baptism and the household codes," Smith said. 
She also sought to challenge readers to consider where the Gospel originated — namely at the margins of society.
"This text has the potential to be a real clarion call for Christians today to be reminded that our faith comes from the periphery, not from people at the center of power," she said. "I want to push people to consider where our Gospel comes from."
Smith's message in the book challenges the church to consider how kinship with Christian brothers and sisters should be lived out in community. The groups addressed in 1 Peter model the richness of diverse faith communities originating in diaspora.  
"The challenge there is to think about our desire to be diverse and multicultural," Smith said. "First Peter would say the church should begin as a diverse group. The very beginning of our efforts is defined by our diversity, not just as something we seek out, but something we protect. And I think that's radical." 
In her classes at Wesley, Smith brings the same perspective and champions a diversity of voices. Particularly in her upper-level biblical exegesis classes, Smith does not shy away from requiring students to consider other voices in their biblical interpretation.
"I am unapologetically diverse in the voices, images and pedagogies that I use in the classroom," she said. "My hope is that after Wesley, when students are preparing sermons or Bible studies, they are able to invite in the voices of their Christian brothers and sisters who are strangers to them so they can be challenged. That hospitality, welcoming the stranger and kinship shared through Christ — that's 1 Peter all the way."
Editor's note: Dr. Smith's book can be purchased online here.