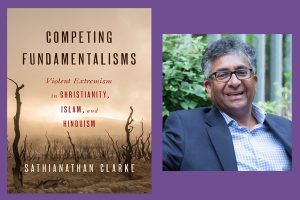 When Dr. Sathianathan Clarke, Wesley's Bishop Sundo Kim Chair in World Christianity and professor of theology, culture and mission, first thought about writing "Competing Fundamentalisms: Violent Extremism in Christianity, Islam, and Hinduism" it was his work as professor that inspired him.
"If I hadn't moved to Wesley, this book wouldn't have been written," he said, describing his previous work as "closer to the ground."
That early work involved a study of the Dalit community, and authorship of "Dalits and Christianity" and "Dalit Theology in the Twenty-First Century." "Dalit means broken or crushed ones," Clarke said, speaking of the people formerly referred to as 'untouchables.'
He took a new approach after arriving at Wesley in 2005 and enjoying the benefits of Washington D.C.'s international community.
"I wanted to look at things in terms of regional and global backdrops," he said. "I also started looking at the way in which a lot of us in Christian circles were identifying all violence and extremism with Islam."
Recognizing the "ambivalence of all religions" was a first step, he said. "That's when I gradually started looking at violence, and the spread of violence," he said. "And I thought, 'Hey, let's spread the blame around a bit.'"
Clarke found that fundamentalism had experienced a distinct rise across Christianity, Islam, and Hinduism in the early 20th century, and that three basic elements were shared within all three religions.
"First, there is unwavering confidence and complete submission to scripture," he said. "Second, it's not just what you think about scripture but how you act on it. So there is a fixed way of living in the world. Third, there is an expectation that the whole globe will conform to this absolute word-vision and fixed world-way."
In addressing the challenges that such a worldview creates, Clarke looked first at how scripture might be read differently.
"How do we change this stone nature of scripture and make it bread again?," he said. "How do we take the toxicity out of the violent texts? How do we move the text from feeding violence so it becomes nurturing of peace?"
As a Christian, Clarke's answer is to cultivate Christian discipleship, an act that raises further questions. "What does it mean today to talk about Christian disciples as stewards of God's mystery and proclaimers of the Gospel of peace?," he said. "How do we walk the pathway of peace?"
He sees the answer to those questions in the work of The United Methodist Church and in seminary classrooms. "The UMC talks about our role of transforming the world," he said. "That is part and parcel of what we're doing here at Wesley."
Clarke's work is focused on that journey. "Before we can transform the world, we have to understand the world," he said. "That is what I hope this book does, and it's what I do as an educator."
Both endeavors rely on an honest appraisal of all religious traditions. "It's not only looking at Islam and the radical violent face of a single religion," Clarke said. "It's also looking at how this is mirrored by Christianity, by Judaism, by Hinduism, even by Buddhism in certain countries."
He concludes "Competing Fundamentalisms" with some thoughts on how Christians might move forward. "To transform the world you can't just go around and get people to commit to Jesus Christ," he said. "You must strengthen hands and feet to walk in this work."
But he warns that honest assessment is essential. "We should be open to looking at the resources of peace, justice, and love in all religions," he said. "But also be open to looking at how all religions support the anti-God with destruction, violence, enmity, and injustice."
Clarke's vision is a profoundly ecumenical one, with the world's religions no longer in competition. "We have the resources to bring about a world where each religion completes the other," he said. "This book is trying to bring about and empower and equip all our students to claim this role."
Editor's note: Dr. Clarke's book can be purchased online here.