For Dean Bruce Birch, overseeing the Doctor of Ministry program at Wesley House in Cambridge,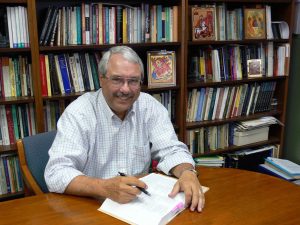 England, is a welcome chance to bring together leading clergy and world-class faculty for a unique learning experience. The newest track in the Cambridge-Wesley program launches this January, with a focus on, "Holiness, Effective Ministry, and Engagement with the World."
"Our cohorts are ecumenical and international," Birch said. "We've had students from Liberia, Nigeria, Ivory Coast, Russia, Scotland, Northern Ireland, England, and the United States."
Students arrive in Cambridge from an equally wide range of Christian denominations, including Methodist, Anglican, Presbyterian, Unitarian Universalist, Assemblies of God, and Baptist, to name a few.
"The conversations are fantastic," Birch said. "There isn't anyone associated with the program – students, faculty, or administrators – for whom it hasn't exceeded their expectations."
He is especially proud of a faculty line-up that represent the very best in the field. In addition to drawing on Wesley Theological Seminary's impressive roster of professors, Birch reaches out to the best and brightest around the world.
"One of our professors, Elaine Heath, was on the faculty at the Perkins School of Theology when we recruited her," Birch said. "By the time she started teaching for us she'd been elected dean of Duke Divinity."
The program starting in January will be no different. "Every track has to have a Bible and a theology course," he said. "In this new track, both of those will focus on holiness. Frances Young is teaching the theology course, 'Holiness and Mission,' from her book of the same title. She's Emeritus Chancellor at Birmingham University."
Other course offerings include, "Worship for a New Church," taught by Marcia McFee, responsible for worship services at the last three United Methodist General Conferences.
Joining her is Kenda Creasy Dean, professor of youth, church, and culture at Princeton Theological Seminary. A Wesley graduate and current member of the Board of Governors, Dean is recognized as a world leader in contemporary youth ministry.
Pàdraig Ò Tuama brings to the program wisdom gained from his work with the world renowned Corrymeela community, a center for peace and reconciliation in Northern Ireland. Equally estimable is Ted Campbell, professor of church history at Perkins School of Theology. "He's one of two or three top experts on Wesleyan Theology, and one of the editor's of John Wesley's collected works," Birch said.
While each track has its specific focus, all are developed with the future of the church as a top priority.
"I regard our D.Min. program, and the Cambridge tracks in particular, as leadership degrees," Birch said. "We have some tracks for which leadership is the named topic and others where that's not so explicit, but all are aimed at the people we see as the rising leaders in the church. Our students are not just looking for a credential. They're seeking greater depths that will inform their leadership."
In addition to his work on the Cambridge program, Birch will serve as Wesley's dean for the 2017-2018 school year. Having filled the role multiple times before, he returns eager for the challenge.
"We don't intend to mark time," he said. "I'm only going to be here a year, but we're going full steam ahead with all of our strategic initiatives."
He is grateful for the previous experience. "Coming back, I know where a lot of the bodies are buried so there aren't too many surprises," he said. "That doesn't mean there aren't challenging issues, but I'm not getting blind-sided by them. It's a little like riding a bike. You never forget how."
The author or co-author of numerous books – including "A Theological Introduction to the Old Testament," which is familiar to every first-year M.Div. student – Birch anticipates the October release of, "Bible and Ethics in the Christian Life: A New Conversation."
Birch is also looking forward to time in Cambridge, alongside the students and faculty he so admires, and with the opportunity for welcome moments of rest and retreat.
"I love a place called The Orchard Tea Garden in Grantchester," he said. "It's a little tea house café in a small town near Cambridge, an easy walk across the meadow. In good weather you can take tea or lunch in the apple orchard."
To study in Cambridge is a unique opportunity for Doctor of Ministry students to learn alongside renowned scholars and colleagues in ministry, while soaking in the history of iconic religious ground. The upcoming D.Min. track will wed theological rigor and church leadership with the diverse environment found at Wesley House.
Editor's Note: The new Cambridge track focused on "Holiness, Effective Ministry, and Engagement with the World" is accepting applications now. To learn more and apply, please visit here.