Wesley student Lauren Bennett spent her summer offering a "ministry of presence" as part of the San Francisco Night Ministry program, which puts clergy on the streets every night, from 10 p.m. to 4 a.m., bringing solace to those in need.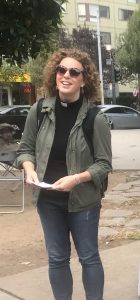 "We're with people in their most lonely hours," Bennett said. "Often that manifests as simply walking outside. We walk slowly and contemplatively and we make eye contact with people."
Beginning her final year in Wesley's Master of Divinity program, Bennett welcomed this unique opportunity for a unit of Clinical Pastoral Education (CPE).
"Everyone wears all black and a clergy collar," she said of the nighttime walks. "People gravitate toward that. They talk to you about whatever's on their mind. A lot of people want to have confession, to be absolved of something."
The program relies on an interfaith roster of ordained clergy who serve a rotating schedule.
"Often we see people at the hardest point in their life," Bennett said. "So just the fact that they're willing to talk to us and trust us with their story is really profound."
The importance of community became a central lesson of Bennett's summer. "Loneliness is so pervasive and manifests itself in so many different ways," she said. "It's just kind of striking how important community is, and what it looks like when it's missing."
That sense of isolation is addressed through a number of programs. Bible study groups have proved especially effective. "The different ways people see the Bible and see theology is amazing," Bennett said. "I get so much out of just sitting in on these classes and listening to folks who have such an amazing range of life experiences."
Bennett's duties also include serving on a crisis hotline two nights a week.  "We get regulars who call every night," she said. "Some want to be sort of tucked into bed. Others want a prayer before they sleep. Some call when they're really in crisis."
Outdoor worship services are held on Sundays and Thursdays at central locations in the city. "They're called Open Cathedral," Bennett said. "They're open for everyone, because there literally are no walls."
Parishioners range from tourists to local vendors to people living on the streets. "We offer communion every time," Bennett  said. "It's a unique form of hospitality, to come to people where they are physically as well as spiritually. Every time we do it, I think 'This is what Jesus was doing. Showing up to people where they are.'"