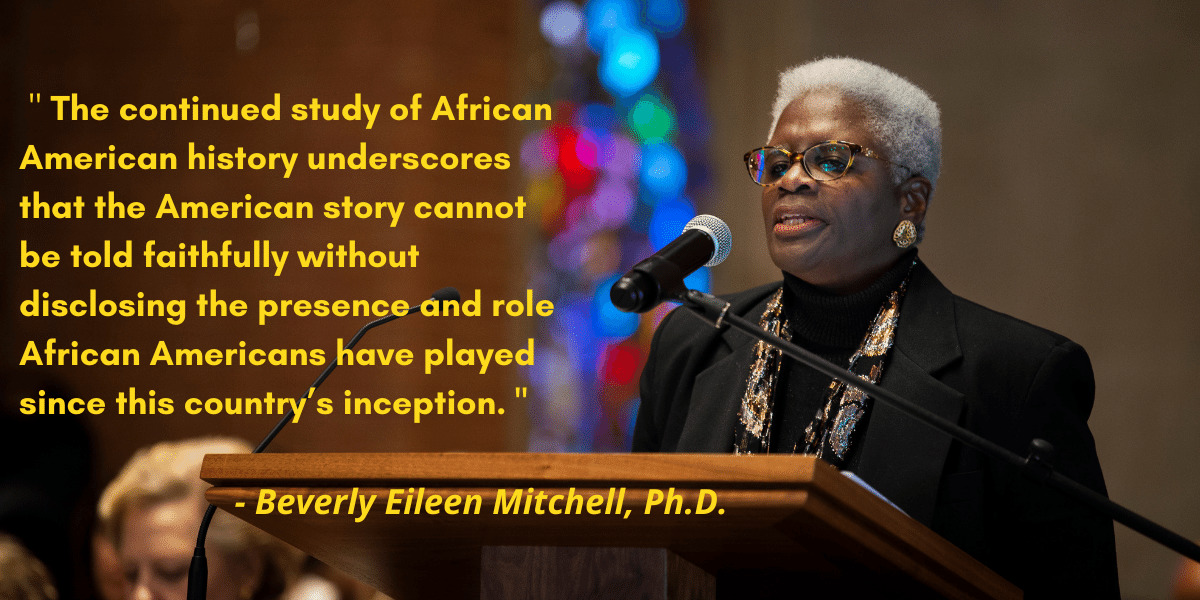 Beverly Eileen Mitchell, Ph.D., Wesley Professor of Systematic Theology and Church History and the C.C. Goen and Douglas R. Chandler Church History Chair, offers a timely comment on the origins of Black History Month, and perspectives on it in America today.
Carter G. Woodson and the Promotion of African American History
by Beverly Eileen Mitchell, Ph.D.
February 22, 2022
The Birth of an Idea
 In 1915, Carter G. Woodson traveled to Chicago to participate in a national celebration of the 50th anniversary of the emancipation of enslaved African Americans. Viewing exhibits highlighting African American achievements since slavery's abolition, Woodson was inspired to do more to promote the celebration of Black history and heritage.
Before his departure from the Windy City, he had helped to found the Association for the Study of Negro Life and History (ASNLH). What especially prompted Woodson to act was his concern that young African Americans, in the early 20th century, were deprived of knowledge regarding their own heritage and the achievements of their ancestors. Armed with commitment and determination, the ASNLH would take on the task of initiating more widespread celebration of black achievements.
On February 7, 1926, Carter G. Woodson, initiated the first celebration of Negro History Week in hopes that it would facilitate interest in much deeper study and scholarship on African American history.1
An Idea Takes Hold
From the beginning of this educational enterprise, Woodson was overwhelmed by the enthusiastic response to his call for educating black youth and adults about their heritage. Celebrations of African Negro History Week cropped up across the country, with schools and public forums taking the lead in promotion of this movement. Black History clubs sprang up and teachers demanded materials to instruct their pupils. Woodson and the (ASNLH) scrambled to meet the demand. As Black populations grew, mayors issued Negro History Week proclamations. There was an obvious appetite for this knowledge!2
Woodson never believed that an annual, one-week celebration of Black history was a sufficient mechanism for dispelling myths and lies about the supposed innate inferiority of those of African descent. He pressed for schools to use Negro History Week to demonstrate what students had been learning all year. At one point, Woodson established a Black studies extension program that could reach adults throughout the year.
Through these educational means, he hoped that blacks could gain greater access to their history such that an annual celebration would no longer be necessary.3  
The embrace of African American history has been a vehicle by which impressionable minds could be shaped to take hold of the notion that as fully humans they, too, had the same right to the opportunity to determine the quality of their own existence that whites enjoyed. The notion of equality has been and continues to be a necessary antidote to the countless negative messages they get of possessing some fictitious inferiority.  
From a Week to a Month
The interest in learning more about Black history continued to grow, from the 1930s onward. The 1960s had a dramatic effect on the study and celebration of Black history. As young African Americans on college campuses became increasingly conscious of their links with Africa, Black History Month replaced Negro History Week at a rapid pace.
In 1976, fifty years after the first celebration, ASNLH used its influence to institutionalize the shift of celebration from one week to an entire month; and from Negro history to Black history. President Gerald Ford officially supported the move of Negro History Week to Black History Month in 1976, as part of commemoration of the 200th anniversary of the Declaration of Independence. As part of the bicentennial of the Declaration of Independence, Gerald Ford issued a statement, on the importance of Black  history month for all Americans. Black History Month was an opportunity to celebrate the often neglected contributions of African Americans to this country. Moreover, every president since President Ronald Reagan has issued a Black History Month proclamation.4
Some have mistakenly assumed that the month of February was chosen because it was the shortest month of the calendar – and have viewed the choice of this month is as a backhand slight against African Americans. As Howard University historian Dr. Daryl Michael Scott maintains, it is commonly reported that Carter Woodson chose the month of February because it marked the births of both Abraham Lincoln and Frederick Douglass, whom Woodson saw as two "great" Americans who had prominent roles in shaping Black history. Scott suggests an additional reason for the choice of February this was a month in which had been chosen traditionally for commemorating the black past.5
Continued Relevance
As an educator, I have come to see these annual commemorations as a fresh reminder of how invaluable history is. The continued study of African American history underscores that the American story cannot be told faithfully without disclosing the presence and role African Americans have played since this country's inception.
Moreover, every year I learn one or two things or am introduced to a figure I never knew had even existed. It has led me to investigate, on more than one occasion, additional sources to consult to learn more than what can be provided in a snapshot of history. However what one learns is meant to be shared with those who might benefit from exposure to this knowledge.
Continuing to learn more about the history of my foremothers and forefather serves as a reminder that wonderful things can be accomplished by individuals who persevere in spite of the obstacles placed in the way. That is a positive, inspiring message. Unfortunately, there are those in the wider society who find the truth-telling in this history threatening.
We have entered a peculiar historical moment in which telling the unvarnished truth the role racism has played and continues to play in this country is now viewed by some as an act of aggression. In the last year some states have passed legislation that makes it risky for teachers to speak candidly about racism to their students.6 Moreover, this year's observance of Black History Month has become the first major test of what could happen to teachers who are perceived as violating these laws about what they can or cannot teach.7 Sometimes it feels as if we are moving backwards rather than forward in time.
Despite the efforts to erase any trace of who we had been, from where we had come, and what we had already accomplished, Woodson seems to have intuited what Lonnie Bunch has said about knowing one's history: "[T]here is no more powerful force than a people steeped in their history."8 No doubt, our history discloses the deep pain and the suffering that arises from injustice. However, our history also constitutes a testimony to an indomitable spirit that moves through a people who have refused to submit to defeat. African Americans cannot squander an opportunity to acquire knowledge of that history and apply it with wisdom. We owe it to ourselves and to the generations that will come after us.
Notes
1 Sarah Pruitt, "The Man Behind Black History Month," January 31, 2022; original February 2, 2017, https://www.history.com/news/the-man-behind-black-history-month, accessed 2/21/2022.
2 Sarah Pruitt, "The Man Behind Black History Month," January 31, 2022; original February 2, 2017, https://www.history.com/news/the-man-behind-black-history-month, accessed 2/21/2022.
3  Daryl Michael Scott, "February 7, 1926: Carter G. Woodson Launched Negro History Week, https://www.zinnedproject.org/news/tdih/carter-woodson-black-history-month/, accessed 2/13/2022.
4  Veronica Chambers, "How Negro History Week Became Black History Month and Why It Matters," https://www.nytimes.com/interactive/2021/us/history-of-black-history-month.html, accessed 2/13/2022.
5  Daryl Michael Scott, "February 7, 1926: Carter G. Woodson Launched Negro History Week, https://www.zinnedproject.org/news/tdih/carter-woodson-black-history-month/, accessed 2/13/2022.
6   Trip Gabriel and Dana Goldstein, Disputing Racism's Reach, Republicans Rattle American Schools, June 1, 2021; updated November 8, 2021, https://www.nytimes.com/2021/06/01/us/politics/critical-race-theory.html, accessed 2/21/2022.
7   Jacey Fortin and Guilia Heyward, Teachers Tackle Black History Month, Under New Restrictions, February 12, 2022; updated February 13, 2022, https://www.nytimes.com/2022/02/12/us/black-history-month-schools-teachers.html, accessed 2/19/2022.
8  Lonnie Bunch, "Knowing the Past Opens the Door to the Future: The Continuing Importance of Black History Month," March 1, 2015,  https://nmaahc.si.edu/explore/stories/knowing-past-opens-door-future-continuing-importance-black-history-month, accessed 2/22/22.