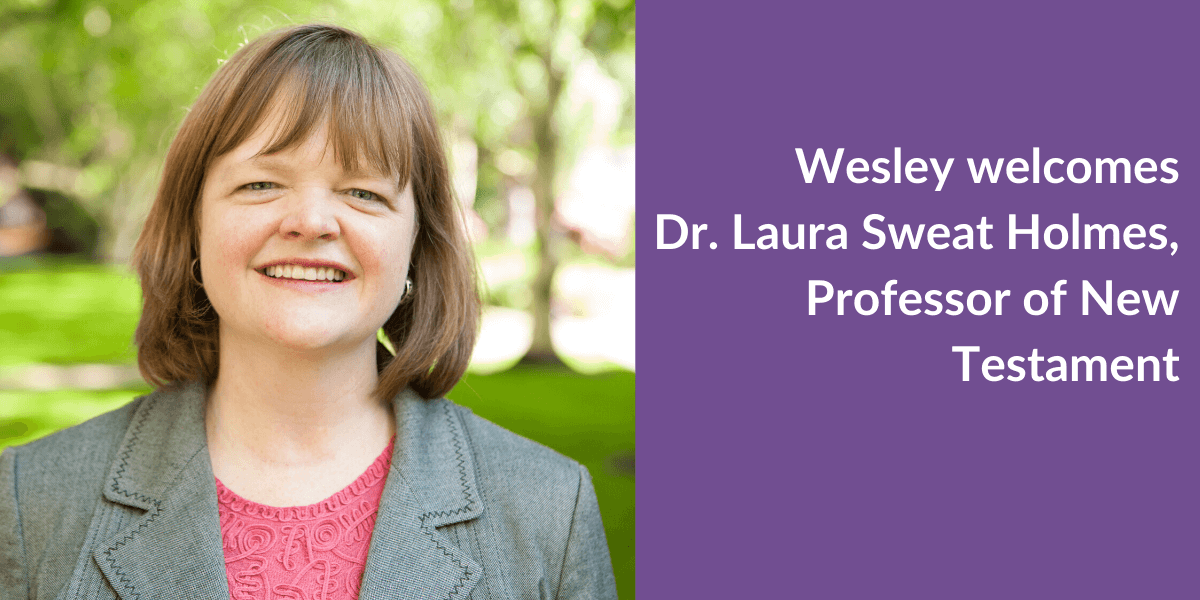 Wesley Theological Seminary in Washington, D.C. is pleased to announce the faculty appointment of Laura C. Sweat Holmes, Ph.D. as Professor of New Testament, effective July 1, 2020.
Dr. Holmes holds both a M.Div. and Ph.D. (Biblical Studies – New Testament) from Princeton Theological Seminary and graduated summa cum laude  from the University of North Carolina-Chapel Hill with a B.A. in Religious Studies and History. Before her Wesley appointment, Dr. Holmes was Associate Professor of New Testament and Associate Dean of Graduate Studies at Seattle Pacific University in Seattle, WA, where she has taught for ten years.
"Wesley is gaining an experienced teacher and New Testament scholar in Dr. Holmes," said Wesley Academic Dean Philip Wingeier-Rayo, Ph.D. "Dr. Holmes participated in the Wesley travel seminar to the Holy Land in May 2019 and students raved about her biblical knowledge and willingness to share knowledge about the Holy Land. We are fortunate to welcome Dr. Holmes to the Wesley community."
Dr. Holmes has published extensively in scholarly journals and contributed to edited works focusing on New Testament topics.  A former staff commentary writer for the journal Homiletics (2005-2009), Dr. Holmes is the author of the monograph The Theological Role of Paradox in the Gospel of Mark (2013) and a forthcoming book, John 1-12: A Commentary in the Wesleyan Tradition from Beacon Hill Press. She is also the recipient of numerous awards and grants, including a Lilly Grant for student vocational exploration (2012-2015), and has participated in the prestigious Wabash Colloquy for Teaching Online. Her professional associations include The Society of Biblical Literature and The Wesleyan Theological Society.
 "I am honored to be joining the faculty at Wesley Theological Seminary," said Dr. Holmes regarding her appointment.  "I look forward to participating in Wesley's commitment to developing faithful and thoughtful leaders for the sake of the church and the world. Through worship, community life, and studying together, I am eager to see how God will continue to work in our midst, shaping us into people of courage, conviction, and hope."