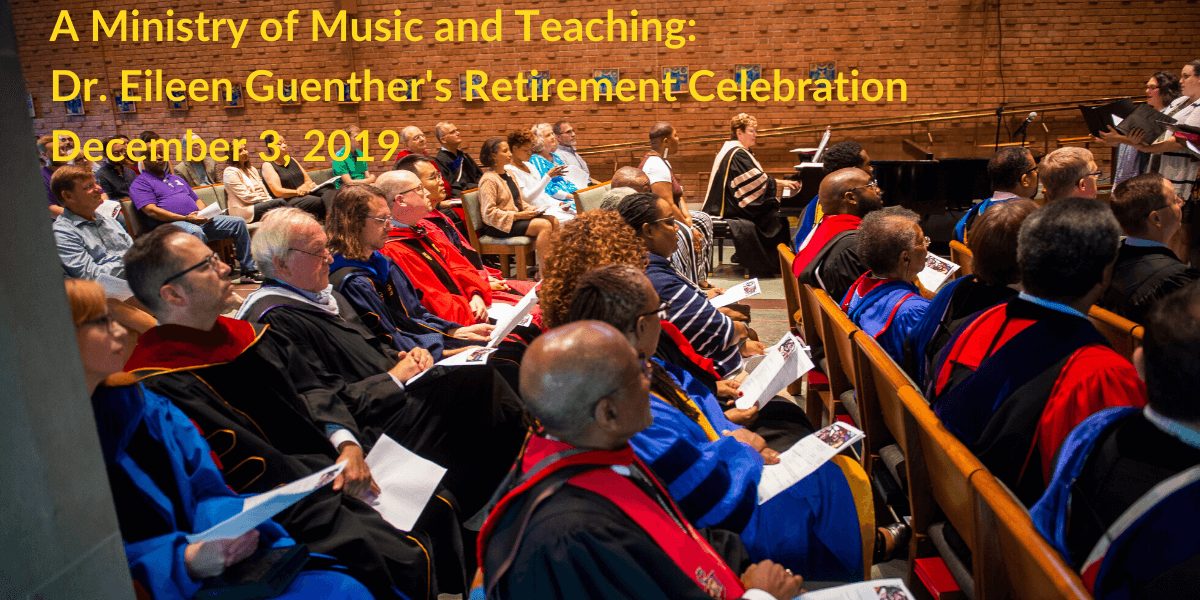 Beloved Wesley Professor of Church Music Dr. Eileen Guenther's Ministry of Music and Teaching To Be Celebrated at Advent Service of Carols and Lessons December 3rd
 There have been two constants in Wesley's Tuesday morning chapel service for the past 30 years: God was glorified, and Eileen Guenther, D.M.A., could be found at the keyboard, guiding the Wesley Chapel Choir and assembled faithful in lifting their hearts and voices in God's praise.
And yet, with the last chapel service of 2019 on December 3, Dr. Eileen Guenther's steady presence as Professor of  
Church Music and Organist-Choirmaster of Wesley Theological Seminary's Chapel Choir will come to an end, as she will retire from teaching at Wesley in January 2020.
A native of Kansas, Dr. Guenther holds both a Bachelor of Music in Organ and a Bachelor of Arts in English from the University of Kansas. Additionally, she earned her Master of Art in Musicology and her Doctor of Musical Arts in Organ from The Catholic University of America. 
As strange as it might be for members of the WTS community to contemplate the loss of Dr. Guenther's regular presence on campus, she believes that the time has come for her to take this step toward retirement.
"While my feelings at leaving are kind of a roller coaster, I'm thinking that maybe it's time to go," she said. "I have lots of things that I'm working on, including speaking engagements on my spirituals book into 2021 that will keep me busy,"said Dr. Guenther, in a recent interview.
Dr. Guenther first came to Wesley in 1987 because of a sudden need at the school.
"I was Minister of Music and Liturgy at Foundry UMC in Washington, D.C., and Wesley found itself in need of someone to fill this role rather suddenly," she said. "The Registrar at the time, Jack Bevan, attended Foundry and he mentioned my name to the dean, and I interviewed, and they brought me on, very part-time, in the Fall of 1987."
Over the years, Dr. Guenther's role at Wesley grew as she was asked, "would you be willing to teach this course, or perhaps team teach this course?"
Then, in 2007, when her time at Foundry was ending, Dr. Guenther had many other church opportunities but decided to approach Wesley president David McAllister-Wilson to see if there was an interest in having her come aboard full-time. He readily agreed and, with that, Dr.Guenther became the first female Professor of Church Music in Wesley's history.
In addition to teaching music and worship courses here at WTS and co-directing Wesley's chapel services, Dr. Guenther has led nine groups of Wesley students on intercultural immersion trips to South Africa. She is also a nationally and internationally recognized organ recitalist, having performed 250 organ recitals in the USA and Europe, and a former president of the American Guild of Organists, the largest church musicians  association in the world. She has also served as a visiting lecturer at Africa University in Zimbabwe, and taught music and worship in Uganda for the East Africa Conference of The United Methodist Church and in Cote d'Ivoire.
Dr. Guenther's passion for the African continent, and South Africa in particular, began years ago when "there were two or three clergy who were here as part of a program at Wesley," she recalls. "It was a program to empower South African clergy and I became acquainted with them. Also, global music was becoming a big thing and I said to (Dr.) Bruce (Birch) that I don't feel legitimate, I need to travel where this music is from. I was particularly drawn to African music and he said that I should lead an immersion." 
It was a daunting challenge for this Kansas girl. However, she said, Wesley student Themba Mntambo partnered with her when he returned to Cape Town." He and fellow Wesley student Sidwell Mokgothu have been anchors for all of these immersions over the past 20 years," she said.
Dr. Guenther said that she is drawn to African music because of its deep spirituality.
"There's a depth of spirituality to it, which is what draws us to any music," she said. "It has an engaging rhythm and a melody that does what the text says. It just draws you in and for me, it's very approachable."  
Dr. Guenther shared that retirement from Wesley is a "bittersweet time" for her, as she so enjoys her work at WTS and will miss her students. She does look forward to retirement's main benefit: more free time to travel for various projects. 
"I was able to travel to make many presentations based on my first book about clergy-musician teamwork (Rivals or a Team) and have, so far, done about 75 presentations about my second book (In Their Own Words: Slave Life and the Power of Spirituals)," she observed. However, the demands of an ecclesial and academic calendar are considerable and retirement will afford "a freedom... that will be very nice," she said.
Looking back over the years, Dr.Guenther said  she has many fond remembrances of Wesley colleagues.
"Stookey (Dr. Lawrence Stookey) was head of worship, and he and I taught together and had a great relationship," she said. "I team taught with Lucy Hogan (Wesley's Hugh Latimer Elderdice Professor of Preaching and Worship) and Bobby McClain (Dr. William Bobby McClain), whom I've taught with more than another other person."
Dr. Guenther made particular note that McClain will be preaching at her final chapel service at WTS on December 3.  "He a phenomenal preacher, a devout civil rights activist, and a deeply spiritual person."
In her time at Wesley, Dr.Guenther has seen a development in students' understanding that no matter the worship style or new ways of being church, a key element will always be music. "With regard to worship, some form of music will happen," she said, "and students want to know what they don't know, and they want to be able to partner with musicians."
Having a common language, or a vocabulary, is critical, she said, so that clergy can work with musicians in a partnership that doesn't involve just changing styles of music or musicians but working with musicians in an atmosphere of trust to achieve a shared goal in liturgy.
"There's always a place for music in worship and music remains important, the arts remain important," she said. "It allows us to see the world in a different way, to relate to other people in a different way and I think that this will remain a potent force into the future."
Join us in our celebration of Dr. Eileen Guenther on December 3, 2019, 11 a.m. in Oxnam Chapel for our Advent service of Carols and Lessons. Special guest preacher for the event will be Dr. William Bobby McClain, and a mass choir of Wesley students and graduates - the Alumni Celebration Choir - will sing, under the direction of Dr. Eileen Guenther.
Please note: It will be possible to watch the service live online at https://www.ustream.tv/channel/5kWusvUqRV7or via Facebook Live at www.facebook.com/wesleyseminary