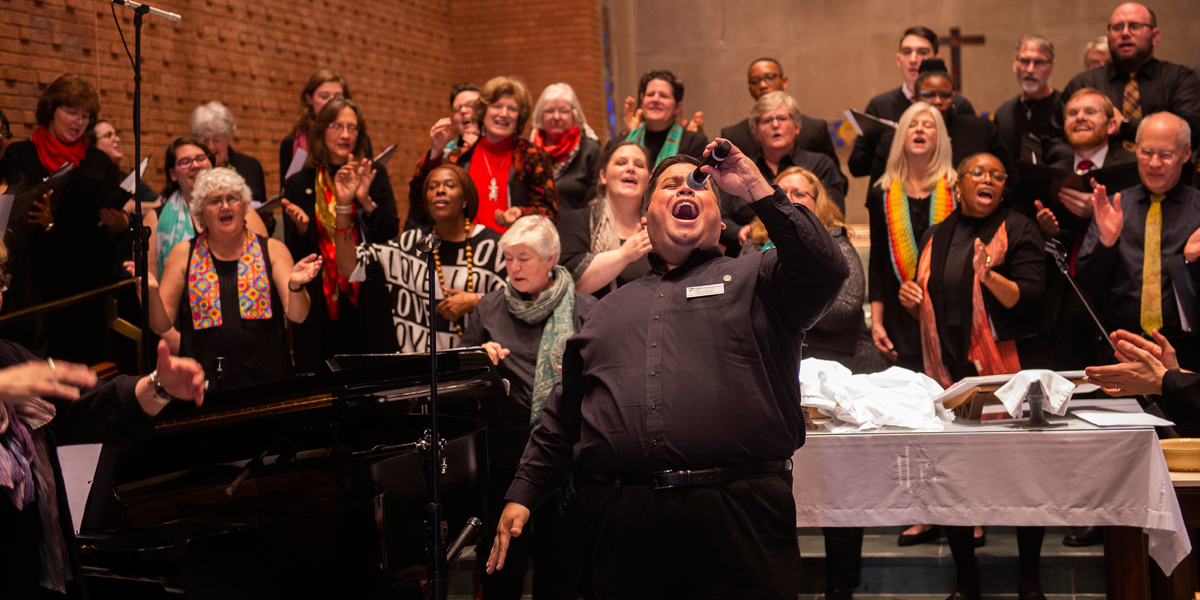 Glorious Advent Celebration and Retirement Reception Honor the GIfts of Music and Teaching of Wesley Professor of Church Music Dr. Eileen Guenther
From the mass choir of 70-plus graduates, current students and friends, to the preaching of Dr. William Bobby McClain and the liturgical dance of Rev. J. Bruce Stewart, the annual Advent Service of Lessons and Carols not only celebrated the coming of the Lord Jesus, but was a fitting tribute to the 30 plus years of the ministry of music gifted to Wesley by Dr. Guenther.
And yet, while this service was meant to offer the opportunity for a community to share one more moment of music making with Dr. Guenther, she couldn't pass up a chance to use the power of music to offer praise to God and to shine a light upon some of the many injustices found within our world today. 
In rehearsals prior to the service, Dr. Guenther made certain that the assembled musicians understood that the songs selected, particularly one piece, were more than just good music. "Canticle of the Turning (an Irish melody arranged by Hal Hopson) is perhaps the greatest social justice text ever written!," she said. 
Justice was in Dr. Guenther's choice of communion celebrant: former student The Reverend Billy Kluttz. Dr. Guenther recounted how she was touched by hearing a eucharistic prayer he composed and asked him to adapt it specifically for this occasion. In part, the liturgy read: "There are a lot of folks who think that this is their table, who think that they control its bounty, its beauty, even its crumbs. But here's the good news, they couldn't be more wrong. This is Christ's table."
In reflecting on Dr.Guenther's contributions to Wesley and her impact upon him specifically, Rev. Kluttz recalled "Dr. Guenther made it clear that LGBTQ seminarians were welcome in her classroom (no matter what the broader church said); she taught us that we have to learn the context, culture, and history of the songs we sing in worship (and teach that to our churches, as well); and, I will never forget her course in South Africa and our time there together."
Guenther's passion for the African continent and its music is well known by all who know her. She roots her attraction to that music for its " depth of spirituality." "That is what draws us to any music," she said. "It has an engaging rhythm and a melody that does what the text says. It just draws you in and for me it's very approachable."
Her passion found expression in the final worship response entitled Njalo.
This rousing song of joyous worship, led by Ian Urriola (M. Div. Class of 2018), got the entire congregation on its feet,  clapping and singing with obvious joy. Reflecting on his experiences with Dr. Guenther, Urriola offered: "she was a constant presence, force, and comfort during my time as a Wesley student. I carry her convictions surrounding worship planning, the necessity for a collegial relationship between musician and worship leader/pastor, and the pastoral role and function music plays in the life of a worshipping community every time I find myself stepping into a leadership role in a space of worship."
Yet, not just graduates and students were a part of this celebration.  Many of Dr. Guenther's faculty colleagues and Wesley staff were present and participated as readers, including Dr. Lucy Hogan, Dr. Bruce Birch, Rev. Drema McAllister-Wilson, Dr. Deryl Davis, Sara Shepherd, Dr. Deborah Sokolove, Dr. Beverly Mitchell and Diane Wogaman, with the Rev. Dr. McClain offering the sermon.
In addition to offering praise to God and celebrating Dr. Guenther's ministry, Dr McClain challenged the assembled congregants with the observation that: "God used a woman to bring salvation into the world and yet, in the 21stcentury, there are still those who believe that women should not serve in positions of leadership within the church.  Thank God that Wesley Seminary was not one of those places."
Yet, for all the gathered students, alumni and faculty, there were also many friends from outside the WTS community, particularly many who have previously worked with Dr. Guenther during her time at Foundry United Methodist Church.
Speaking for many of these friends, Ellen Bachman, who has known Eileen Guenther for over forty years, shared that "I was delighted to participate in the choir for the celebration of Eileen Guenther's retirement from music ministry at Wesley.  I appreciated the many reflections on Eileen's contributions as professor and as musician to the WTS students and community, and to musical culture in our city. It is no surprise to me that Eileen made clear that our musical offerings were chosen as reflections God's call to Justice."
Following the worship service, many of the gathered friends, family members, students, alumni and colleagues adjourned to the Refectory to share a meal and offer remembrances of a legacy of teaching, scholarship and ministry.
Wesley President David McAllister-Wilson offered: "We recognize here a faculty member uniquely suited to be at a seminary that aspires to be a church-based seminary. I can think of only a handful of people who, in my lifetime, have had such a big impact on the practice of ministry, in congregations across the United States and around the world,  than Eileen Guenther."
 "Eileen Guenther has been much more than a Professor of Church Music at Wesley Theological Seminary. She has formed, literally, a part of this seminary's identity.  I can't think of this seminary without thinking of Eileen Guenther," said Dr. Denise Dombkowski Hopkins.
This impact on the identity of WTS is evident, not just to long time students and colleagues but even to those who are new faces on the Wesley campus.  Rashawn Hall, a first year M.Div. student, shared that  "Dr. Guenther has been a joy to know even as a 1st Year M. Div student. Each choir rehearsal and chapel service revealed a glimpse of her extensive work and gifts that make her ministry of music incomparable. Dr. Guenther will be truly missed at Wesley!"
You can experience the sights and sounds of this special day honoring Dr. Eileen Guenther on December 3, 2019, both our Advent service of Carols and Lessons and retirement reception, via a video recording available now on www.facebook.com/wesleyseminary. The full recording will be uploaded to the Wesley YouTube channel shortly.