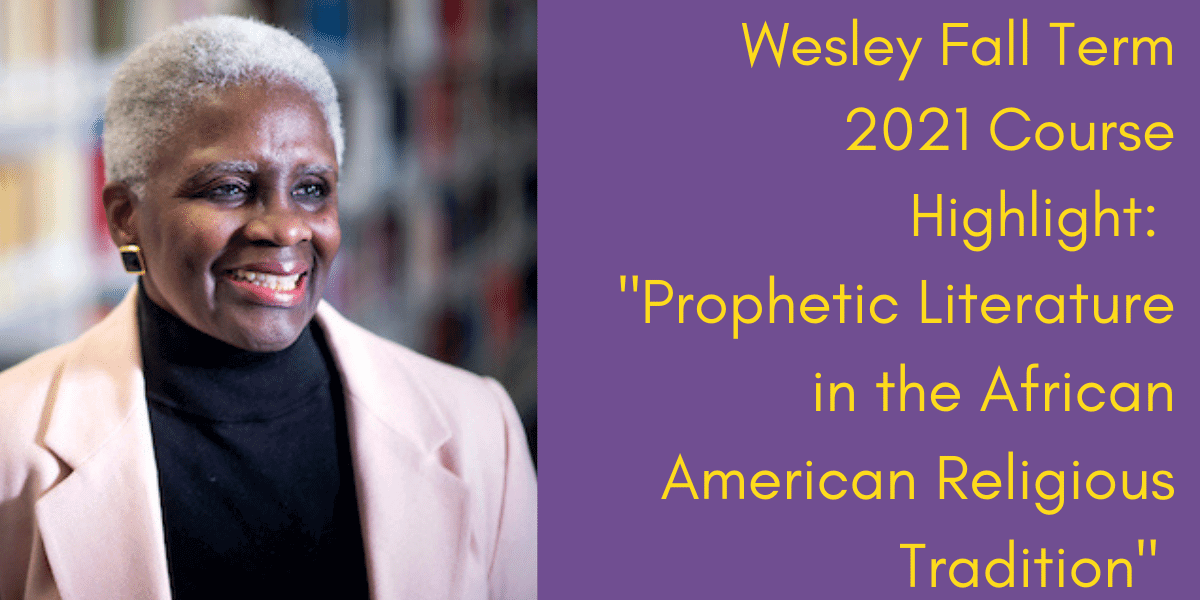 Beverly E. Mitchell, Ph.D., is Wesley's Professor of Historical Theology. She will be teaching the seminar course "Prophetic Literature in the African American Religious Tradition" this Fall.
She offers insights into her upcoming course in the interview below.
WTS: Prophetic Literature in the African American Religious Tradition is your Fall course. Is this a new course? What drew you to develop and teach this course now?
Dr. Mitchell:  I have taught the prophetic literature course several times over the last twenty years. The course complements another course I have often taught, (African American Religious History). I developed the course because, at that time, the seminary curriculum did not have many course offerings devoted to African American religious history and some students expressed a desire for such courses. 
WTS: For the sake of this course, how do you define "prophetic literature"? Are we speaking solely of the Old Testament prophets here, or, given the context, are there other sources of "prophetic literature" for the African American religious tradition?
Dr. Mitchell: The model for "prophetic" literature in this course is drawn from the work of the Hebrew Bible (Old Testament) scholar Walter Brueggemann in his classic text, The Prophetic Imagination. Brueggemann maintains that the task of prophetic ministry is to nurture, nourish, and evoke both a consciousness and a perception that offers a life-giving alternative to that of the dominant culture around us. I believe that the prophetic word always occurs within a context. The context for the prophetic word in African American writings is the history of their involuntary enslavement and the subsequent continuous denial of the socio-political rights and economic security that comes from full citizenship in the United States.
WTS: What do you think will be surprising insights students will learn from this course?
Dr. Mitchell: Students with less exposure to African American history may be surprised to find out the degree to which the history of African Americans is inextricably tied to the history of the United States; and, therefore, African American history is American history.
WTS: What common myths/traditions/assumptions do you believe your course will challenge about the writings of the prophets in the African American religious tradition?
Dr. Mitchell: Wesley students come from diverse backgrounds and will have had disparate experiences. It is hard to say what myths/traditions/assumptions may be challenged by this course. However, my hope is that they will come to the seminar with an openness to having any unexamined or cherished assumptions/myths/traditions scrutinized as they critically engage the assigned readings and participate in the weekly discussions.
WTS: Why do you feel this is an important course for students to take? What is its potential impact on their future ministry?
Dr. Mitchell: This course offers students an opportunity to develop and practice several skills. Students will reflect critically upon texts written by African-American authors in their historical contexts. They will practice analyzing and reflecting upon social justice themes in light of the Judeo-Christian tradition. They will explore the ways in which African-American Christians have used their faith to critique economic, social, cultural, and political realities in the United States. Accordingly, this course could provide a paradigm for engaging in ministry contexts in which the status quo begs to be challenged by the church.
WTS: For those who are not part of the African American religious tradition, what is the prime new insight about the prophets (or the African American religious tradition) do you hope they learn in this course?
Dr. Mitchell: Students who are not African Americans and who are unfamiliar with the African American religious tradition have always been welcome to participate in this course and their presence has always enriched the discussions in this seminar. Their participation in the course will likely lead them to see that faith is never divorced from economic and socio-political life.
Experience Wesley and learn from its world-class scholars by taking a class YOUR way this Fall - online, on-campus or in a blended online/on-campus class.  There is still time to register for a 2022 J-Term class (January Term featuring 1-2 week intensive courses with classwork submitted later online) or Spring Term courses. Registration ends December 13, 2021.
Learn more and apply by going to https://www.wesleyseminary.edu/admissions/try-a-class-2/