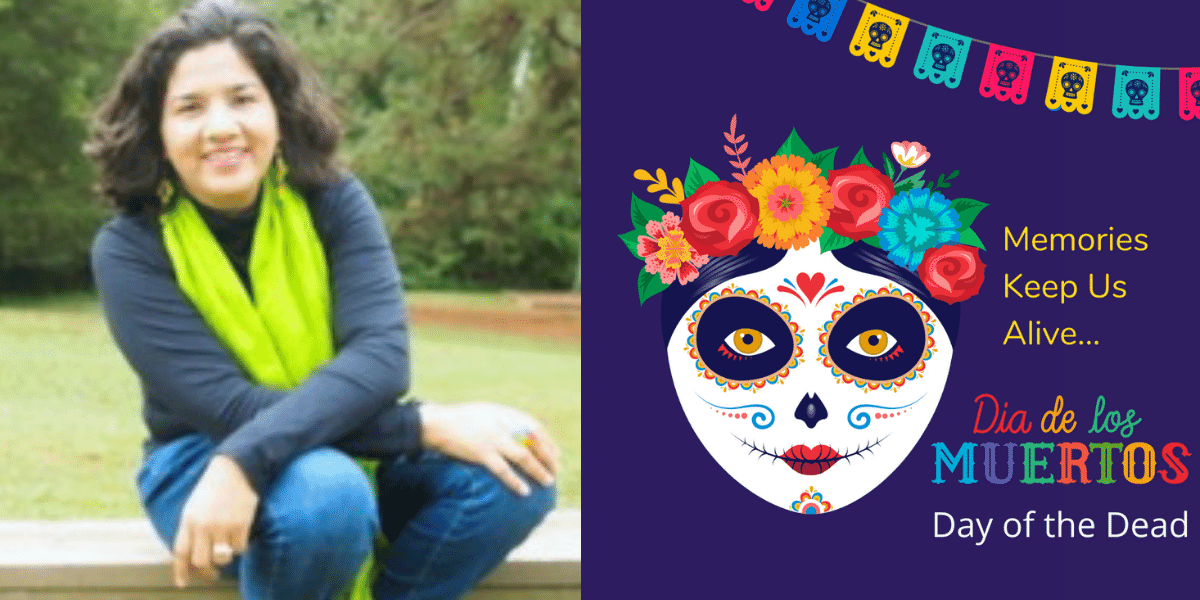 In Mexico, an important annual cultural tradition is "Día de los Muertos" (Day of the Dead). Much like All Saints and All Souls Days, November 1st and 2nd are reserved to remember those loved ones who have passed, but in vibrant, colorful and meaningful ways special to this culture.
We asked 3rd Year WTS Master of Theological Studies student and Gente Latinx Seminarians Association Co-President Talina Sarmiento Beck, originally from Mexico City, Mexico, to share her family's traditions regarding "Día de los Muertos." Talina is currently an ordination candidate as a Deacon in the Virginia Conference of The United Methodist Church. 
WTS:  Talina, could you share with us how the people of Mexico remember your ancestors on November 1 & 2 each year?
Talina:  Sure, I can share with you what I grew up doing for  "Día de los Muertos" (or, in English, "Day of the Dead").
I personally think it is a beautiful way to honor those we don't have with us anymore. It is a day to be intentional in remembering them, talking about them, recalling their habits, and the favorite things they did, food they ate, etc. I also believe is a way to heal from mourning, as well.
WTS: Could you tell us about the special actions or foods that are part of "Día de los Muertos"?
Talina: For my family and many of the people I know it is common that every November 2nd,  families set a table on a corner in their homes and decorate it. We call it "Ofrenda de Día de los Muertos."
We decorate it with tissue paper that has those designs you can do by folding it and cutting pieces of it. We also buy "flor de Cempasúchil" (in English, the marigold flower), which is very characteristic of this celebration. You then set the table with food or items that were the favorites of those loved ones who have passed. We add pictures of them and items that we remember they liked.
We have a traditional bread, "Pan de Muerto," which we all eat on this day. Find a Mexican bakery and you can try it for yourself!  It has a characteristic design and is delicious. The bread goes on the offering table. Some people prepare the favorite meal of our dead and place a plate of it on the ofrenda.
The traditional belief I grew up with, and many people have, is that on November 2nd, the loved ones return from the dead and visit and enjoy the food or items you have set on the table for them: cigarettes, their favorite drink, bread, meals or items they used. Chocolate and sugar skulls are also very popular on these days, and you can add a name on the forehead of the sugar skull to make it specific to them. Some people even believe that the food on the ofrenda loses its flavor after November 2nd. Others eat the bread and those items that are edible, like chocolate or bread, if it is still fresh.
As you can imagine the cemeteries are full those two days, November 1st and 2nd, when people visit or have picnics by the graves of their loved ones.  Traditionally, November 1st  is a day to celebrate the lives of children who died at a young age. In our culture, Death is not something hidden or feared, it is just a part of life.
WTS: There are also special poems written during the celebrations?
Talina: Yes! A fun tradition of Día de Muertos are the "Calaveras Literarias," poems people write with a story about somebody in their lives or a famous character who is still alive, and talk about how Death is pursuing them, just like everyone else.
Calaveras are very ingenious and fun, and they are supposed to make us laugh, since they exaggerate some of our habits. Usually, we have contests in the schools or workplaces. People submit their Calaveras and the funniest one or the most ingenious wins.
WTS: One last question: the Day of the Dead image that is best known to most is the white skull face wearing a hat or flowers  - could you tell us more about that symbol?
Talina: "La Catrina" or "La Calavera Catrina" ("the elegant skull")  is very well known!
There is an old tradition from the Aztec culture of a queen of the Aztec underworld who helped people on their journey after death. Her name was Mictēcacihuātl.
An artist called Jose Guadalupe Posada used this idea in his cartoons that spoke of the issues of the people in the popular Mexican press in the early 20th century. His drawings featured rich and poor as skulls, no matter their class or status.
"La Calavera Catrina" was lampooning the obsession with European style in the upper classes. Her name 'Catrina' comes from the slang 'catrin,' which referred to a well-dressed man or woman.  La Catrina was also made the center of a very important mural in Mexico City by Rivera.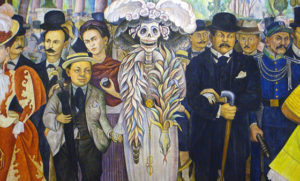 (Image: "Diego Rivera, detail with the artist as a young man (left), the paintier Frida Kahlo (behind him), La Catrina (the Skeleton) and the printmaker, José Guadalupe Posada (right), "Dream of a Sunday Afternoon in Alameda Central Park" (Sueño de una tarde dominical en la Alameda Central), 1947, 4.8 x 15 m (Museo Mural Diego Rivera, originally, Hotel del Prado, Mexico City)" https://smarthistory.org/rivera-dream-of-a-sunday-afternoon-in-alameda-central-park/)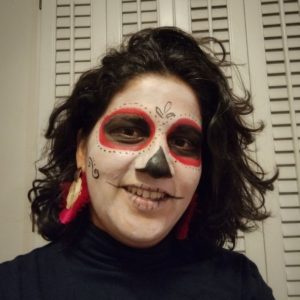 Now it is a image that is part of the tradition of" Día de los Muertos" with children and adults often dressing up as "La Catrina". Here I am in my La Catrina makeup! (Photo: courtesy of Talina Sarmiento Beck)
With our students hailing from across the US and around the world, the Wesley Community is enriched by the cultural diversity, affording opportunities to see the world through others' eyes. We welcome all who wish to join us with their passion to serve God and others through ordained ministry and many innovative ministries in the non-profit and church sectors.