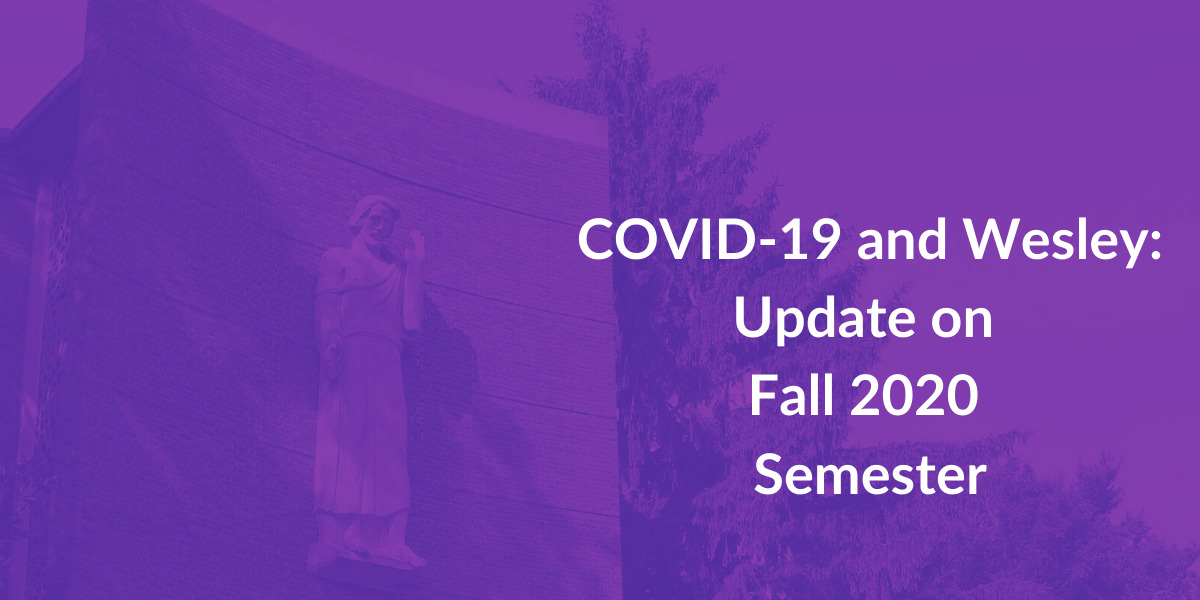 June 18, 2020
The Administrative Council met this week to review current health research and data on the coronavirus, the ReOpen DC plans and protocols, guidance from faculty, and feedback from the student body, and to make plans for the fall semester. In deliberating plans for reopening the physical campus, the Council has prioritized the following factors, as originally drafted by Professor Paul Cho:
Prioritize safety for students, faculty, administration, and staff
Deliver quality learning experiences
Maximize student engagement opportunities
Offer face-to-face options whenever possible and optimal
Offer students the option of participating remotely even for face-to-face courses
The following decisions have been made regarding the general operations of the seminary and the fall 2020 semester.
____________________________________
GENERAL OPERATIONS
Effective Tuesday, July 7th the seminary will move to a modified TIER 2 status. All classes will remain online throughout the summer. Seminary offices will resume operations with social distance protocols and staggered in-person hours. Guidelines for in-person community participation are as follows:
Masks are required inside public buildings on campus at all times.
All commuter lounges and indoor public spaces are closed until further notice.
All persons should follow directional signs for movement on-campus, both inside and outside of buildings.
There will be multiple hand sanitizing stations throughout the campus; please use them! High-traffic areas like the mailroom and administration hallways in Trott building are limited for appointment or prearranged visits only. Please practice social distance when traversing hallways.
Food service will remain suspended and the Refectory is closed until further notice. Campus vending is also closed as well.
Campus elevators are reserved for physically challenged persons and are restricted to only one person at a time.
In-person Library services are by appointment only. Arranged visits are limited to no more than one hour.
WorkSafe/LiveSafe App
To maintain a safe and healthy work and educational environment, we are implementing a health-monitoring system using WorkSafe. Staff, students and faculty will have daily check-ins to make sure they are generally healthy to come to campus. This app is password protected and HIPPA compliant. Visitors will be able to use this app as well. All community members should download the app via their appropriate App store. Information about WorkSafe is provided here: https://www.livesafemobile.com/worksafe/. Further instructions and training opportunities will be available soon.
OPERATIONS FOR FALL SEMESTER 2020
The Administrative Council has also decided to conduct the Fall 2020 semester with modified face to face (f2f) and online options.
•       New student orientation will be offered via self-paced online modules at the end of August.
•       Courses will begin as scheduled on August 31, and the fall calendar, including reading week and breaks, will proceed as scheduled.
•       Large classes of more than 20 students will operate 100% online with synchronous Zoom sessions (either required or optional, as determined by the professor).
•       Classes of 20 and under can opt to meet f2f in designated classrooms practicing social distancing and with options for remote/online participation.
•       All people on campus must wear masks and wash hands regularly. Facilities staff will sanitize all used spaces at least once a day.
•       All classes will transition online after Thanksgiving break for the remainder of the fall semester.
•       Should an outbreak of positive Coronavirus cases occur on campus or public health officials determine it is necessary, all classes will move online.
Residential Life Operations
Housing will provide only single occupancy rooms.
All dorm communal lounge and gym spaces are closed. Shared kitchens and laundries are to be cleaned by residents after each usage.
Until further notice, all guest housing and commuter housing options are suspended.
Residents will be asked to regularly monitor their health and report COVID-19 like symptoms.
Community Life Programming
Chapel, student group meetings, and general community life activities will be coordinated via online platforms.
Small gatherings (less than 10) may be permitted on campus in spaces where physical distance can be effectively practiced.
Commuter Lockers will not be available for use.
Campus Visits for Prospective Students
Usually, the best way to get to know Wesley is to visit! However, this fall, visits will be difficult and will not provide a full experience of our vibrant campus and community. We encourage prospective students to instead take advantage of our online webinars and prospective student events and to reach out to Liz or Elijah to schedule conversations with current students, faculty, and alumni or to sit in on a synchronous online class.
For those that still wish to visit campus, the admissions office will work to facilitate as positive and full an experience as possible while protecting community health. Prospective visitors must schedule their visit in advance, wear a mask throughout their visit, and complete a brief health questionnaire on the day of their visit. Visits this summer and fall will primarily include a tour of campus from outside the buildings and a conversation with an admissions representative. At this point, guest housing and in-person class visits are not possible.
These are challenging times, and we give thanks that the Holy Spirit is at work in you to call you to ministries of justice, peace, and reconciliation. We pray that God will continue to guide you as you discern your faithful next steps, and we stand ready to accompany you in your discernment and preparation. Please let us how we can help you as you move forward. May God bless you and keep you safe, and may God call all of us toward a more just, whole, and liberated future.
As a quick reference...
Please view Community Life's downloadable Infographic "Guidelines For Community Participation." (PDF)