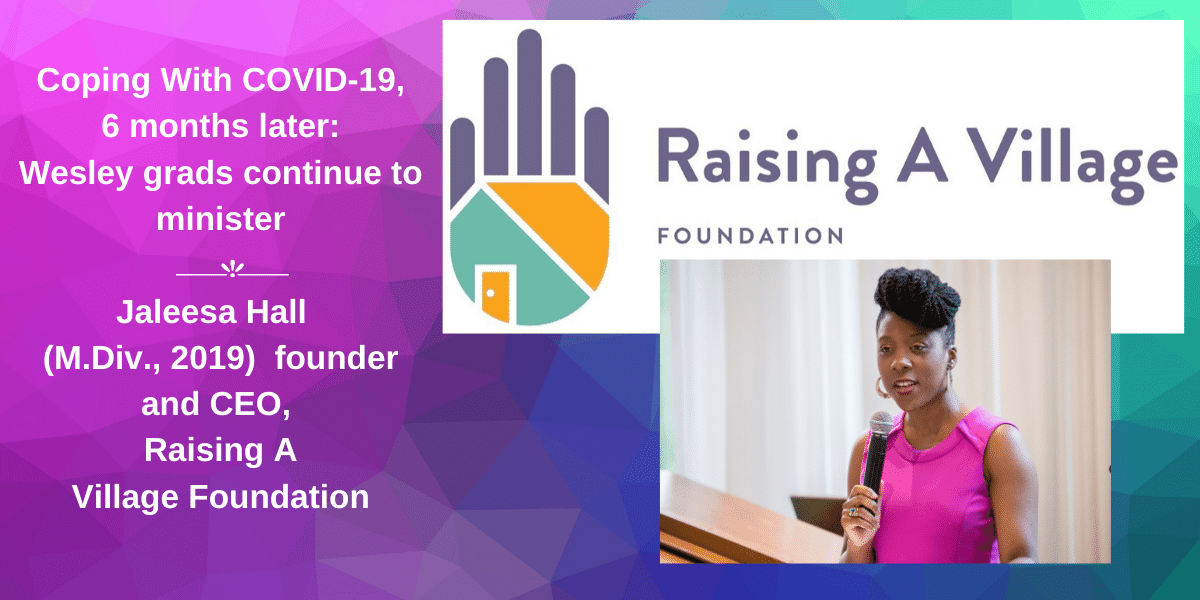 Jaleesa Hall,  a native of Miami, FL, is a 2019 MDiv graduate of WTS after having earned a Masters in Public Administration from American University with an undergraduate degree in Mass Media from Clark Atlanta University.
It was at CAU that Jaleesa formed the seeds of what would become the Raising a Village Foundation, whose mission is "To build safe, healthy and whole communities by increasing access to education, health and wellness, and the arts in underserved areas."
This mission can be challenging at any time but COVID-19 has presented additional hurdles., Wesley checks in with Jaleesa to see  how she and the Foundaion have coped with COVID-19 and continued its ministry over the past few months.
Wesley: For those who don't know Raising a Village Foundation, please offer a little background on how you came to create this non-profit.
 Hall:  As an undergrad, I attended Clark Atlanta University which is an HBCU in Atlanta, GA and there I started a student organization called Driven Student Organization (DSO)  that became a public service organization. We provided community service opportunities for students across our campus and initiated topical symposiums, including the first student run AIDS/HIV awareness campaign on campus. We also did a tutoring program at the Atlanta Children's Shelter.
I began to realize that DSO was running like a non-profit. We had over one hundred active members and active committees doing various initiatives throughout the city of Atlanta and I thought that this needed to be something more. By the time I left college, I knew one day I was going to start an organization and that the  name of that organization would be Raising a Village Foundation.
I earned my Masters of Public Administration at American University in order to figure out the ins and outs, in terms of theory, of starting a non-profit. I did a double concentration in non-profit management and arts management. I didn't just want to start a non-profit haphazardly, I wanted to learn the right way.  To put theory into practice,  I worked for a public charter school, managing their after school programs.  I gained valuable experience at the Smithsonian and Hirshhorn Museum & Sculpture Gardens where I managed their Arts Integration Programs and at Wolf Trap Foundation for the Performing Arts with an internship in community programs. School and working in the field allowed me to gain both theory and practice to really understand if this was something that I wanted to do and, if so, how to do it.
Wesley: What brought you to Wesley?
Hall – Well, while this was all going on, my call to church ministry was still happening at the same time. Since I was a young child, I was involved in church ministry and that was still being cultivated. So, through much prayer and discernment, I decided to attend Wesley, where I was also a Community Engagement Fellow.
I said "Jaleesa, you have the knowledge, you have the practice, now you need the theological underpinnings of your ministry." I also knew that I needed funding.
As a Community Engagement Institute Fellow, Wesley provides each fellow $10,000 to invest in our idea.  I often say, with regard to Raising a Village Foundation, we got our start at Clark Atlanta University but, our first funder was Wesley Theological Seminary through the Community Engagement Fellows Program. Without those funds, I wouldn't have had the extra funding push to get RVF incorporated, to get it started and that's how we began.
Wesley: So, how has COVID-19 impacted your work over the past six months?
Hall – Well, like many of us, COVID threw a wrench in a lot of plans. When we started our education program, Journey to Succeed, we were really hitting all cylinders. At the time, we were serving over 300 middle/high school youth and we were growing in staff through Ameri-Corps programs and becoming a work-study partner so things were really going well. We were in three locations at the same time, two affordable housing complexes and a DC public high school and then COVID hit.
When schools closed, we moved all our services online and though participation and completion rates were high, we were only able to serve forty-five percent of our students due to the digital divide. This meant that not every student we had in the program had the technology available to them to participate.   While forty-five percent is a good number it's still not what we wanted, it wasn't every child participating.
Wesley: Were you able to find solutions to to bridge the digital divide?
Hall – Right now, we're working to get funding for a laptop loaner program. DC public schools have vowed that all their students will get laptops but, not every student we serve is in a DC public school. We've gotten some funding but it's not nearly enough to bridge that divide. We are blessed to be working with a few corporations that allow us to purchase laptops below market value so, we're asking folks to give $150-$200 since that amount can purchase one laptop. We hope to be able to fund at least forty but our goal is one hundred laptops.
In addition, we're trying to provide for our college federal work-study student workers because they are in need as well. One of the things that we're trying to do for them is to create a book scholarship of $250. We hope to get at least one, just to get the program started.
Wesley: So, lots of plans but also lots of needs. What do you see for the coming school year?
Hall – With the new school year, we're still working virtually and we're serving 6 locations with over 350 youth, which is really exciting. We'll be in a middle school and high school, some affordable housing communities and also working in the juvenile justice system this year; both with those in custody and those in child protective services.
Raising a Village and particularly our Driven to Succeed program has really grown.  From starting in a children's shelter in Atlanta serving 30 youth to now serving over 350 children a year is something that I'm very proud of and I just thank God for that.  Really, if it wasn't for Wesley and the Community Engagement Institute and their ability to see that the work that God has called me to really is being the hands and feet of Jesus, I wouldn't be where I am today.
Wesley: How has your time as a Community Engagement Institute (CEI)Fellow in particular, and attending Wesley in general, prepared you for doing this important ministry  with children at such a difficult time?
Hall – One of the things really instilled in me, particularly by CEI, was Wesley's desire to "form contextually nimble, faith filled leaders." and I've had to do that in so many ways in this pandemic. Just as God has moved faith-filled leaders, throughout history, to be contextually nimble, we've also had to do the same thing now and I wouldn't have known that if it wasn't for my time at Wesley.
Professors like Dr. Douglas Powe, Dr. Lorena Parrish, Director of the Community Engagement Institute, Dr. Sam Marullo, Dr. Denise Dombkowski Hopkins, Dr. Veronice Miles, Dr. Sathi Clark – my systematics professor, who really gave me my theological underpinnings on why Raising a Village is what Raising a Village is. They were all very critical in my formation.
Wesley taught me how to be a more compassionate, contextually nimble, faith- filled leader.
Learn more about the programming and work of the Raising A Village Foundation at https://raisingavillage.org