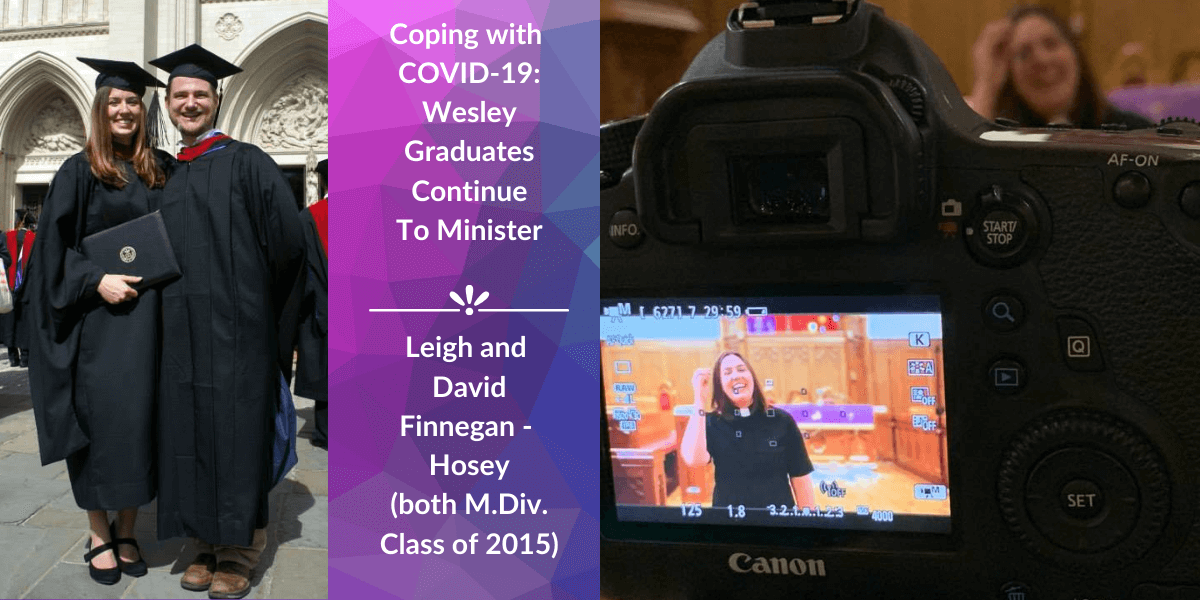 (photos above: (L) Leigh and David Finnegan-Hosey at their 2015 Commencement at Washington National Cathedral and (R) Rev. Leigh Finnegan-Hosey preparing for an online message at her church, First Christian Church, Wilson, NC.
As all are coping with the new realities that have come with a global pandemic, Wesley graduates are working to find ways to be in connection with their congregations or conduct other ministry activities in this age of social distancing. We will speak with a number of Wesley graduates as they find their way to minister in the time of COVID-19.
This time, in a two-part story, we hear from the other half of a couple who met at Wesley, married following graduation, and are now both active in ministry, Leigh and David Finnegan-Hosey (both M.Div. Class of 2015).
In the first installment , we heard about David's ministry as  Chaplain and Director of Campus Ministries at Barton College in Wilson, NC. 
In Part Two of this article , we hear from Leigh, currently serving as Interim Senior Minister Senior Minister at First Christian Church (DOC) in Wilson, NC,  and  a part-time chaplain at Vidant Medical Center in Greenville, NC, a trauma one center that serves all 20+ counties in Eastern NC. 
WTS: How are you keeping in contact with your congregation virtually in this time of pandemic?
Leigh Finnegan-Hosey: Our church has employed three main avenues of communication to care for and connect with our members during this strange time. First, our elders (church lay leaders) have broken up the directory between themselves and are calling each member of the church to offer emotional support and help with errands as needed. This approach has been crucial in assessing the spiritual and material needs of our congregants, especially those elderly folks who are isolated and struggle with technology. Secondly, we have transitioned all of our committee meetings, small groups, and weekly programs to an online platform. Right now we use ZOOM as it seems to be the most user friendly. Thirdly, we replaced our Sunday morning in-person worship with an online, video service that we record in advance. The video is posted at our usual worship time and is available for viewing on our website and Facebook page. In addition, we include a copy of the bulletin in an all church email with a link to the video. The bulletin provides a service outline, words to our hymns, and other details about the life our church as it adapts to the COVID 19 outbreak.
WTS: What led you to decide to pre-record your virtual service?
Leigh Finnegan-Hosey: Our worship team decided that a pre-recorded service, tailored specifically to online viewership, was the best way to proceed. This means that we treat the camera as our congregation, drawing the viewer in with eye contact, and actively encouraging at home participation. We then edit these elements together into a seamless 35 minute worship service that can be shared via social media. So far ,the reviews have been excellent!
WTS: Based on your experience, what are best practices for online worship? 
Leigh Finnegan-Hosey: Personally, I believe recording interactive worship content in advance is the best way to create authentic, quality experiences for our congregations. Here are some of the reasons I find this to be true:
- It acknowledges that we are worshipping in a new way.
- It pushes us to be creative.
- It gives us time to work through any glitches in the technology.
- It does not alienate members of the community who are unable to, or uncomfortable with, accessing social media or video conferencing.
- It can viewed immediately or watched later in the day or week.
- The viewer feels like a participant rather than an "audience."
- It does not require having a large number of people in the room at the same time - e.g. worship band, readers, preacher, etc... This maintains good social distancing.
WTS: What novel ideas are being used by your youth ministry, choirs and other ministries to build virtual community? 
Leigh Finnegan-Hosey: Our small groups, committees, etc, have made use of ZOOM and other interactive tools, such as Facebook and Google applications, to keep these conversations going. We have not yet figured out how to connect our choir members... this may not be possible for the time being.
For our kids, we have begun creating at-home discussion guides for families to use wherever they are. These guides reinforce our Sunday messages and include activities that are both fun and meaningful. While we do not have enough youth to pull this off, I have heard about youth pastors playing online video games with their students and hosting quiz nights.
WTS: How is your congregation dealing with the loss of in-person worship?
Leigh Finnegan-Hosey: Most of our congregation falls into the "high risk" category for contracting this novel coronavirus, so they are spending a lot of time at home feeling pretty restless and isolated. ZOOM has allowed us to connect face to face and continue with church activities. People say they are thrilled to have this resource!
While some folks are feeling restless, others are profoundly grateful for the break. Parents, for instance, have said they are excited to eat meals as a family without having to rush off to one kid's sports practice or another off to a recital. Others say they finally have the time to work on side projects or call friends they haven't spoken with in ages. We can be sure that different people will experience this time as a gift, while others struggle to find community and purpose in it.
WTS: How are you practicing self-care? Is the Wesley Community a support for you?
Leigh Finnegan-Hosey: I can't say this time has left me with less work... if anything, creating online services and keeping up with members at home has demanded more of my time and attention. Still, I am trying to maintain strong boundaries to protect my physical safety and emotional wellbeing. I do the latter by taking my dog for long walks, reconnecting with friends via ZOOM, and catching up on some pleasure reading. Also, Disney +. There is something soothing about re-watching Disney movies from my youth!
I have certainly gained a great deal of wisdom from my seminary peers who share what they are doing in their minister contexts over social media.