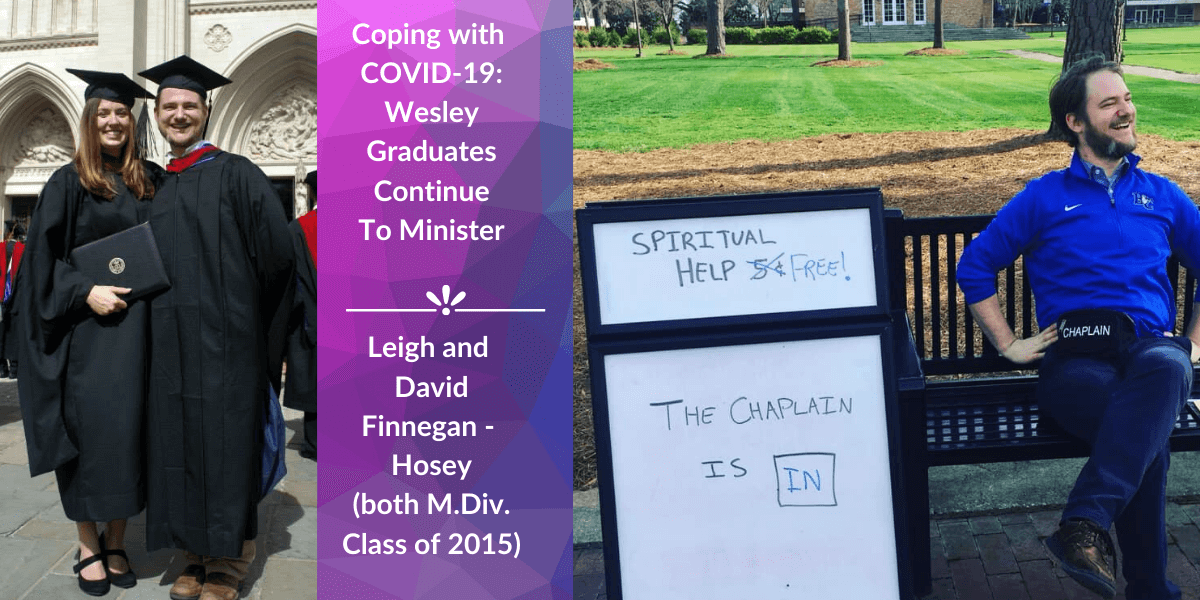 (photos above: (L) Leigh and David Finnegan-Hosey at their 2015 Commencement at Washington National Cathedral and (R) David offering open air chaplaincy at Barton College in Wilson, NC.
As all are coping with the new realities that have come with a global pandemic, Wesley graduates are working to find ways to be in connection with their congregations or conduct other ministry activities in this age of social distancing. We will speak with a number of Wesley graduates as they find their way to minister in the time of COVID-19.
This time, in a two-part story, we hear from one half of a couple who met at Wesley, married following graduation, and are now both active in ministry, Leigh and David Finnegan-Hosey (both M.Div. Class of 2015).
Now based in Wilson, NC, Leigh is Interim Senior Minister Senior Minister at First Christian Church (DOC) in Wilson and  a part-time chaplain at Vidant Medical Center in Greenville, NC, a trauma one center that serves all 20+ counties in Eastern NC. David is Chaplain and Director of Campus Ministries at Barton College in Wilson, NC.  David is also the author of Christ on the Psych Ward and Grace is a Pre-Existing Condition; Faith, Systems, and Mental Healthcare.In this first installment, we will hear about David's outreach challenges on campus. 
WTS - How are you keeping in contact with your students virtually in this time of  pandemic?
David Finnegan-Hosey - Keeping in touch with students always means using multiple touchpoints, even during "normal" times, so that flexibility in communications has become even more important recently.
I've set up remote prayer meetings using Zoom, have sent pastoral messages through our campus email, have texted with student leaders, used our Barton College App and social media pages to post announcements about remote options, and I've kept my appointment scheduling link live so that students can set up one-on-one meetings with me using whatever technology tools work best for them. Plenty of different avenues for God's grace to do its work!
WTS - Have you done virtual worship as of yet? How did that go? What did you learn?
David Finnegan-Hosey - We don't currently have a weekly worship experience on campus that isn't organized by one of our student-led organizations, so I've been focusing more on prayer meetings and devotionals, but we do have a group that had just launched monthly worship experiences, so I'll be working with them to figure out what makes the most sense to do remotely.
WTS - What are best practices for online ministry, in your opinion?
David Finnegan-Hosey - Working with college students means that online ministry isn't an option, it's a requirement. So, this experience has been showing and teaching me a lot about how remote tools need to be more consistently applied in my ministry even during "normal" times.
For example -- we've started these remote Zoom prayers, which has made me realize that I could have been doing this with our online and graduate/professional studies students this whole time, or at least having that as an option when I do in-person services or devotional opportunities. So, for me, the best practice lesson has been less about "what to do online" and more about more carefully incorporating and integrating online ministry into the course of my regular ministry with college students.
WTS - What novel ideas are being used for your campus ministry, are you doing any bible study or connecting in other ways and, if so, how is that working?
David Finnegan-Hosey - Prayer, Bible studies, check-ins -- it's all going remote! I'm also figuring out how to integrate campus chaplaincy into the College's overall transition into remote learning.
For example, we have a Pastoral Care section in the Remote Learning class that's been created on our online learning portal, so that people can read my pastoral message, schedule a remote meeting with me, listen to a sermon, access mental health crisis resources, or sign-in to prayer meetings through the same portal they are using to complete assignments or contact their professors.
WTS - How are you practicing self care? Is the Wesley Community a support for you?
David Finnegan-Hosey - Our dog, Penny Lane, is my self-care companion -- she bugs me to get up, take her outside or for a walk around the block, say hello to neighbors (while maintaining healthy social distance). Otherwise I think there'd be a temptation to disappear into an internet hole full of anxiety and news updates and get lost in there.
A few ways the Wesley Community has been a support -- lots of classmates reaching out to each other and checking in on each other, which is wonderful. I've also been thinking a lot about the wisdom shared with me by Wesley faculty.
I've seen a lot of clergy colleagues noting wryly how this is yet another situation seminary didn't prepare them for, but actually to whatever extent one can be prepared for a crisis of this magnitude, Wesley did a wonderful job of preparing me. I'm thinking especially of Dr. Cedric Johnson's Pastoral Care and Counseling in Contexts class, where we talked about the church's role in times of natural disaster and systemic breakdowns. And of Dr. Sharon Ringe's class on the Gospel of John, where we learned that John 15:13, far from a glorification of death and suffering, speaks to the importance of "laying down" the things we might be accustomed to in order to love and protect those we care for. So I've been very grateful for my Wesley education during this pandemic.
A final note from David: Praying blessings of peace, assurance, and health to everyone during all of this! We are in this together, no matter what distance we are from each other.