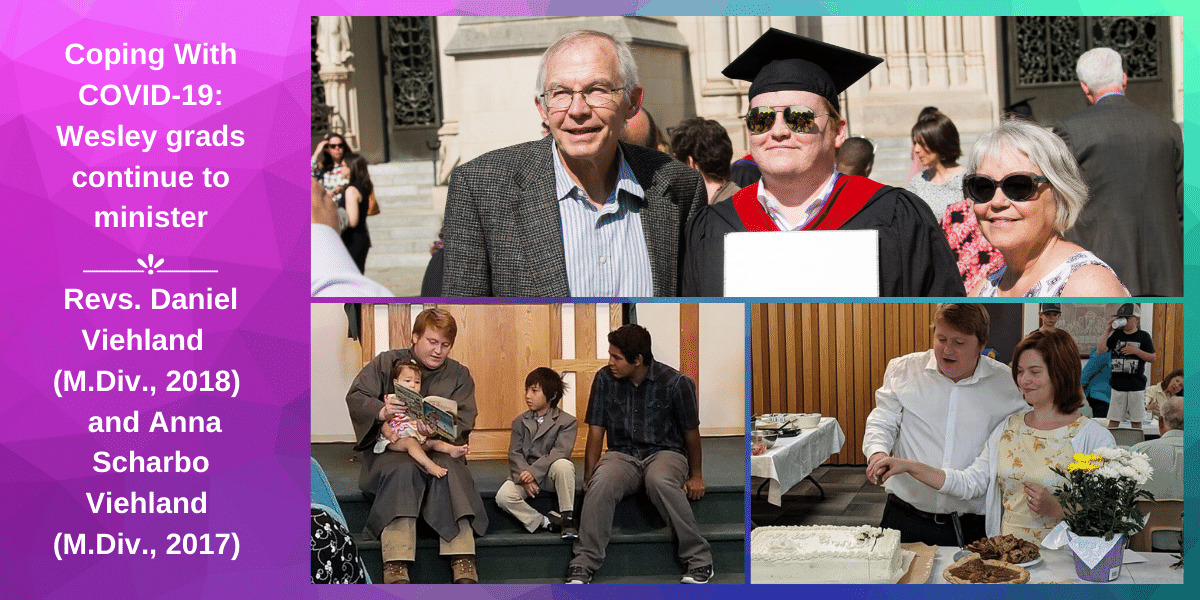 (photos above: Daniel Viehland and family members at his 2018 Commencement at Washington National Cathedral and (L) Rev. Daniel Viehland  delivering a children's sermon at one of his churches in Montana; (R) a church celebration of the marriage of Revs. Daniel and Anna Scharbo Viehland, June 2019.  Rev. Anna Scharbo Veihland (M.Div. 2017) is associate pastor at Helena United Methodist Ministries/St. Paul's and Covenant UMC in Helena, Montana.
As all are coping with the new realities that have come with a global pandemic, Wesley graduates are working to find ways to be in connection with their congregations or conduct other ministry activities in this age of social distancing. We will speak with a number of Wesley graduates as they find their way to minister in the time of COVID-19.
In this two-part story, we speak with Rev. Daniel Viehland, who is the Senior Pastor of East Helena and Townsend United Methodist Churches in Helena, Montana.  A native of Tucson, AZ, Viehland moved to Montana in 2008 in order to attend the University of Montana where he fell in love with Montana at first sight.  He was "awed by the jagged peaks, the wide open spaces, abundant outdoor recreation opportunities, and the warm and welcoming people". 
Upon graduating in May 2018 with his M.Div. degree, Viehland returned to Montana where, in 2019 he was joined by 2017 Wesley graduate and fellow pastor, Anna Scharbo . The couple married there in June 2019.
Part two will focus on the  the Rev. Anna Scharbo Veihland (M.Div., 2017),  currently serving as associate pastor at Helena United Methodist Ministries/St. Paul's and Covenant UMC in Helena, Montana.
WTS – How are you keeping in contact with your congregation virtually in this time of pandemic?
Daniel Viehland – I have two churches in my charge, so I created a single Facebook page for the charge as a whole in order to communicate efficiently with both churches. I have been using that for announcements, devotionals, random videos, and most importantly for worship. I also am sending out a weekly newsletter to each church by email, which includes links to the services, prayer requests, mission opportunities, and ways to give. Lastly, I am attempting to call everyone in my church at least once a month to check in.
WTS – How is your virtual worship going? Have you just started with this format?What have you learned to date?
Daniel Viehland – We actually started live-streaming services back in October, so we were already part of the way there. However, doing online only is definitely different than live steaming a regular worship.
I've been learning just how many tools there are out there to have a quality worship experience online. I've cut things down to a half hour service, and I aim to have my sermons be 5 minutes on average. I've been finding myself getting more and more comfortable being less formal and using the manuscript less in my sermons, going for authenticity and "casualness" over my usual more formal preaching style. I think the habits I'm picking up now might stick in the future. 
WTS – What are best practices for online ministry, in your opinion?
Daniel Viehland – Keep worship short and relatively streamlined. Keep the sermons simple, focusing around one central point, with a more narrative style if you can. Don't use lots of different references to all kinds of scriptural texts or other outside texts but stick to the one text you are working with. Think carefully about who is being excluded by the format you choose to do ministry with and think about how you can bridge that gap. For example, when you do online communion how are you extending the table to those without internet access?
WTS – How did your time at Wesley prepare you for the challenges that your facing?
Daniel Viehland – Wesley generally helped give me a theological framework that is helping me approach this situation.
For example, my Christian History classes with Danker (Dr. Ryan Danker) gave me a deep respect for the importance of tradition, the communion of saints, and how in facing new things sometimes it helps to look backwards at how Christians have tackled tough problems in the past.
WTS – How are you practicing self-care? Is the Wesley Community a support for you?
Daniel Viehland – I'm keeping in contact with folks virtually, and my Wesley classmates are one of the main communities I'm involved with.  For example, I have a weekly D&D game with a group of people from Wesley.