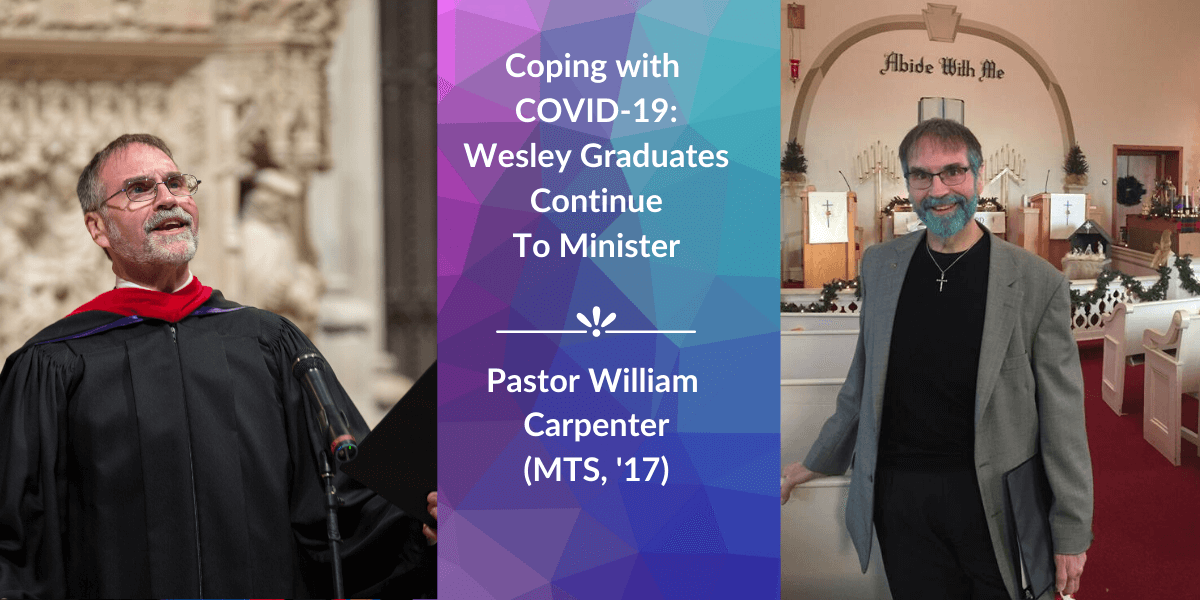 (photos above: (L) William Carpenter sings a solo at his 2017 Commencement at Washington National Cathedral and (R) sporting a dyed teal beard that raised $500 for charity, Pastor Carpenter at  Jefferson UMC, Christmas 2019.
As all are coping with the new realities that have come with a global pandemic, Wesley graduates are working to find ways to be in connection with their congregations or conduct other ministry activities in this age of social distancing. We will speak with a number of Wesley graduates as they find their way to minister in the time of COVID-19.
This time, we speak to Pastor William Carpenter, Associate Pastor of the Greater Brunswick Charge. Carpenter is a 2017 MTS graduate and serves as the preaching pastor at both Jefferson and Doubs-Epworth UMC in Frederick County, Maryland.
WTS - How are you keeping in contact with your congregation virtually in this time of pandemic?
Carpenter – There are multiple ways in which we're reaching out to our congregants. First, we're conducting virtual worship each week utilizing our website and Facebook in order to present our weekly worship. We have pre-recorded the service so that our folks can watch whenever they have time. Second, we're reaching out with phone calls (and also texts) as often as possible to make sure that folks, especially our elderly members, are doing well and have what they need.  Finally, my senior pastor, Katie Bishop, offers an online inspirational bedtime story every day that has become "must see TV" for people across generational lines. I offer a Monday through Friday daily devotional that seeks to reassure and inspire.
WTS -  Virtual worship: what was your experience with it? What did you learn?
Carpenter – We've done online worship the last two Sundays and so far, it's been well received. I've not done online worship previously, so this has been a pretty steep learning curve. I tend to be inspired by feedback from congregants so sitting alone and preaching my sermon was definitely uncomfortable the first time. That first sermon felt very stiff, but as I'm gaining more experience, especially through my daily devotionals, I'm beginning to become more aware of different things that I can do to be more organic in the way I present the message. I've decided that this is a great chance to improve how I preach so that I'm more comfortable in unfamiliar situations, and can let the message flow, rather than letting my discomfort hinder the voice of the Spirit.
WTS - What are best practices for online ministry, in your opinion?
Carpenter – I'm still working through this, but I believe that a lot depends on your congregation. The positive feedback that we've received so far leads me to believe that our folks are comfortable having the freedom to participate in worship as they find time in their weekend. I believe that there's more to learn and I am trying to participate in online best practices seminars to gain further perspectives.
WTS - What novel ideas are being used by your youth ministry, choirs and other ministries to build virtual community?
Carpenter – Currently, our Children's Ministry Leader is using Google Hangouts to conduct children's choir practice and to lead meetings for our children to help them stay connected. The children are much more adept at using technology, and so have really taken to this form of connection. We're also using ZOOM to conduct business meetings and to facilitate conversations across our charge. As time goes by, we'll likely expand our use of technology to try and draw in more diverse groups of congregants.  
WTS - How are you practicing self-care? Is the Wesley Community a support for you?
Carpenter – A lot of my time has been spent trying to get up to speed on how to use technology effectively which, I have to admit, has been a bit stressful. As I'm becoming more comfortable with this new, if only temporary (we pray) reality, I'm able to step back a bit more and spend time with my wife playing games and reading. We're also beginning to do some long-postponed home projects which will feel good. I have really enjoyed seeing how my WTS friends have been coping with COVID-19. Many of their words of encouragement and even humor have been very beneficial to my overall mental and spiritual well-being but I have to admit, I really miss spending time with people, especially children since I volunteer regularly at the local elementary school.
WTS – How did your time at Wesley prepare you for times like this?
Carpenter – My first year at Wesley was such a shock for me. I hadn't been in school in nearly 20 years and having moved cross-country, my world was pretty fragile,  but the Wesley community was very supportive.  My professors at Wesley were very helpful showing me how to navigate what was then a new normal. I have reflected on those days a great deal in this current crisis and have been trying to use the lessons learned then to help me navigate this current reality.