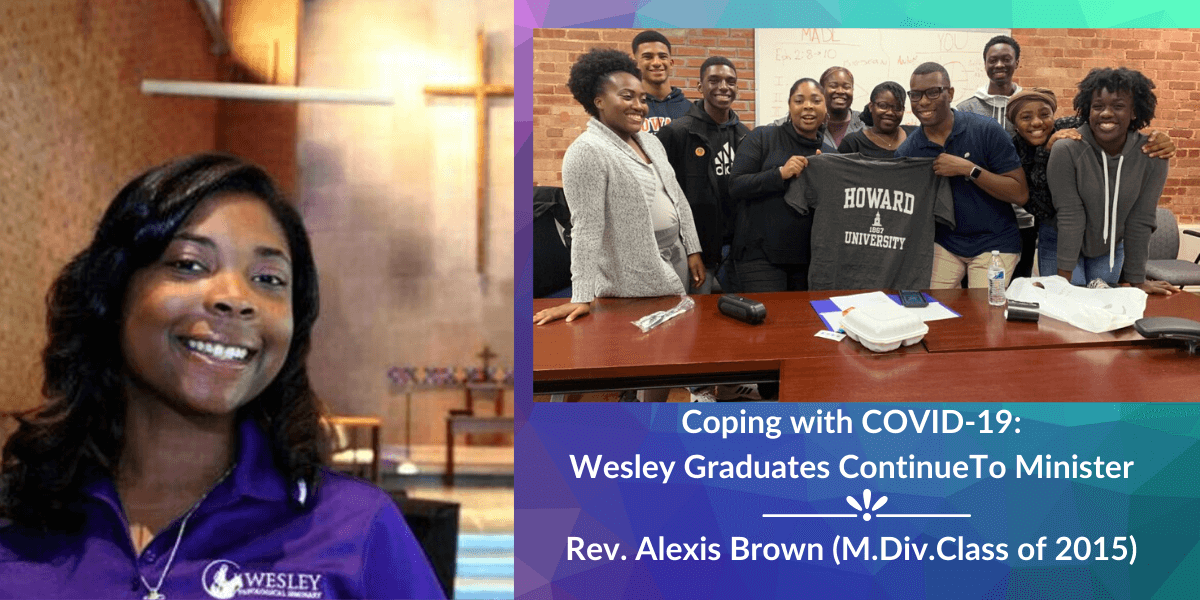 (photos above: (L) Alexis Brown while a student at Wesley  (R) Rev. Alexis Brown (holding t-shirt), Howard University chaplain, with her students (photo: Howard Wesley Foundation).
As all are coping with the new realities that have come with a global pandemic, Wesley graduates are working to find ways to be in connection with their congregations or conduct other ministry activities in this age of social distancing. We will speak with a number of Wesley graduates as they find their way to minister in the time of COVID-19.
Today, we speak to Rev. Alexis Brown, a Wesley Master of Divinity Class of 2015 graduate.  Rev. Brown currently serves in a dual appointment, as a Chaplain at Howard University and an Associate Pastor at Asbury United Methodist Church, located in Washington, DC.  Being a chaplain to college students, as well as a pastor in the local church can present unique challenges but Rev. Brown has found ways to work with those challenges and turn them into opportunities.
WTS - How are you keeping in contact with your congregation virtually in this time of pandemic?
Rev. Brown - I am a campus minister and assumed a new role as pastor over The Bridge at Asbury. My students and I communicate through a GroupMe Chat, and I text and call my leaders. I also use email. Many of my students are home and will reside there for the remainder of the semester.
WTS - Have you done virtual worship as of yet? How did that go? What did you learn?
Rev. Brown - I do virtual worship mostly every Sunday. This past week, I invited 2 of my worship leaders to my home and we went live from my living room. For the most part we were successful. I learned that I don't need to hold the camera and sing.
WTS - What are best practices for online ministry, in your opinion?
Rev. Brown - Best practices is to find a specific rhythm that works best with your congregation. If you don't, you run the risk of over saturating your audience or less consistency can cause less engagement.
WTS - What novel ideas are being used by your youth ministry, choirs and other ministries to build virtual community?
Rev. Brown - The novel idea is to make sure your congregation understands that these mediums are a way to get engaged and to receive information. That means you must mention it over and over again.
 WTS - How are you practicing self-care? Is the Wesley Community a support for you?
Rev. Brown - I have been taking my time to finish assignments and stopping to be with my husband and children. My Wesley community has been supportive. I maintain a CD (covenant discipleship) group with alumni from Wesley. We meet by conference call every Wednesday.
                             *******
Do you feel God's call to be a chaplain? The need has never been greater. Wesley graduates serve as chaplains at universities and colleges like Rev. Brown,  in hospitals and hospice settings, with police and fire departments and as military chaplains around the world.
Find out more about preparing online for this critical role at Wesley at our online open house, Saturday, April 18, 2020, 9-11 am Eastern. Meet professors, students and graduates and learn about the many ways Wesley can help you afford, prepare and follow God's call. Register now for this Saturday's open house at wesleyseminary.edu/visit-2 
Find out more about the many ways you can study at Wesley (including our all-online summer courses) and the fellowships, scholarships and awards that can make it possible to follow your passion for ministry with a degree from Wesley.
Talk with our Admissions staff today! You can reach them via U-Chat on our website homepage, www.wesleyseminary.edu, set up an appointment to speak with Liz or Elijah in Admissions,  call (202)885-8659 or email admissions@wesleyseminary.edu.