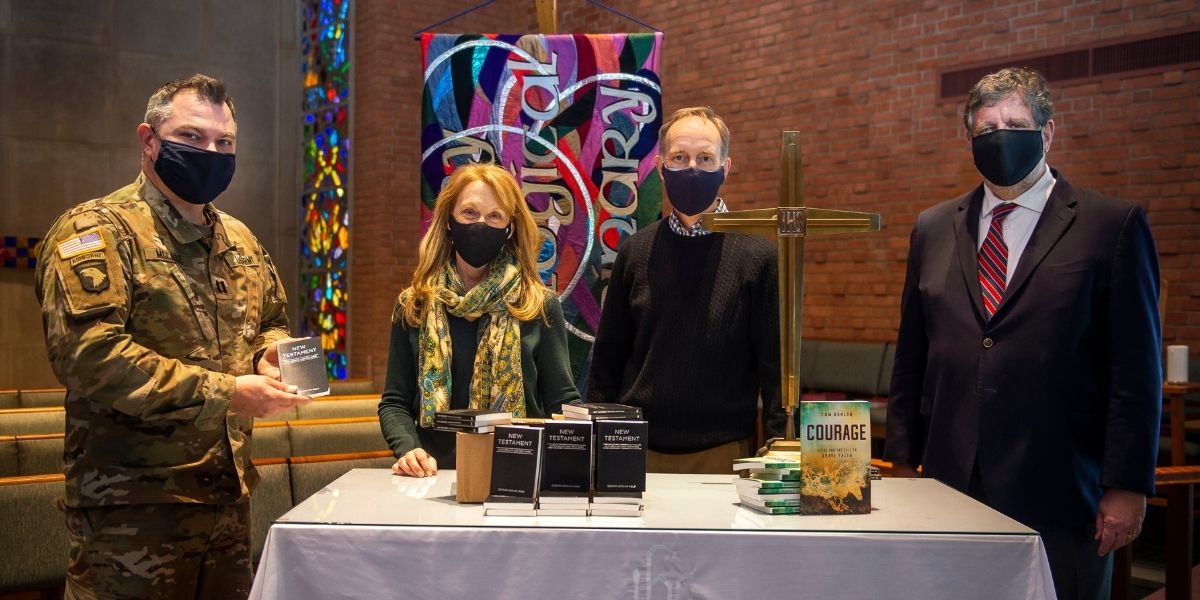 Photo (above, R to L): Wesley President David McAllister-Wilson,The Rev. Tom Berlin, Chair, WTS Board of Governors and lead pastor, Floris UMC in Herndon, Va.; The Rev. Barbara Miner, associate pastor and Director of Worship, Floris UMC; The Rev. Chad McCabe (M.Div., Class of 2013), Episcopal priest and National Guard Chaplain deployed to the Capitol with his National Guard Unit from Massachusetts.
Wesley Supports National Guard Chaplain Graduate with Bibles for Unit Guarding the Capitol
Following the January 6 riot at the United States Capitol, 25,000 National Guard personnel were deployed to help protect the area for the inauguration on January 20. With renewed threats to the Capitol, additional National Guard members have joined the 5,000 troops that remained deployed and will stay on duty through at least the end of March.
One of those National Guard officer is a Wesley graduate and National Guard Chaplain.
The Rev. Chad McCabe (M.Div., Class of 2013) was back in Washington, D.C. as Chaplain to a National Guard Unit deployed from Massachusetts where he pastors as an Episcopal priest. That is when he reached out to Wesley with a request: could the seminary help him locate Bibles and other devotional materials for his soldiers?
Wesley Theological Seminary President David McAllister-Wilson emailed lead campus administrators and the Seminary's Board of Governors asking for Bibles and other faith resources for Chaplain McCabe's soldiers. 
Offers of help came quickly from many Board members, including United Methodist Bishop LaTrelle Easterling of the Baltimore-Washington Conference.
The Rev. Tom Berlin, Chair of the Wesley Board of Governors and lead pastor at Floris UMC in Herndon, Va., also mobilized for action. He and church members volunteered to bring Bibles. Additionally, he contacted Abingdon Press at the United Methodist Publishing House, which donated copies of one of  Rev. Berlin's books, "Courage: Jesus and the Call to Brave Faith" to give to the soldiers.
Berlin and The Rev. Barbara Miner, associate pastor and Director of Worship at Floris, came to the Wesley campus to hand off the 150 pocket New Testaments to Chaplain McCabe. A special touch came from the Floris UMC congregation: tucked inside each copy of Berlin's book was a handwritten thank you note to the soldiers expressing appreciation for their service to our country and to Washington, DC. Members of Floris UMC produced these messages of support overnight.  
President McAllister-Wilson greeted McCabe back to his alma mater at Oxnam Memorial Chapel, where the books and Bibles were presented. McCabe offered a prayer of gratitude and petitions for protection for both the educational ministry of the Seminary and all whose duty it is to protect the Capitol on behalf of the soldiers in his Guard Unit and other who would be offered these resources.
"These soldiers are protecting us here in Washington, DC," said McAllister-Wilson. "I am grateful for them and for our Alum, Chaplain McCabe, and for our brothers and sisters at Floris UMC who always respond with an over-flowing generosity."
McAllister-Wilson add that he was pleased they could include Berlin's new book,  "which he and I are using for the Doctor of Ministry course we are teaching in May. These men and women of the National Guard embody this virtue of courage," he said.
Another Wesley graduate and Reserve Chaplain, Rev. Kelly Wilkins (M.Div. 2008), who serves with the DC National Guard, was also on campus that day. Her Guard Unit is normally involved in the Presidential Inauguration duties, but this year, she was called up on January 6.  Since arriving back in Washington, she has been connecting with Wesley friends and churches in the area to secure materials for her Unit, as well.  
Join Chaplains McCabe and Wilkins and our many students and graduates who have found in Wesley a seminary that supports students following their passion to serve God and others in many expected and unexpected ways, during their studies and throughout their years of ministry.
We are currently accepting applications for Master of Divinity, Master of Theological Study and Master of Arts programs, as well as our Doctor of Ministry degree programs. If you would like to try a class, our all-online class registration for Summer 2020 will open March 15. 
PLEASE NOTE: Due to the COVID-19 crisis, Wesley Theological Seminary is currently offering online courses only until further notice. Please check back at this website for further information on class status.