Celebrating 32 Years! A Retirement Celebration for Randall Adams
"We have to know the definition of commitment and integrity in Randall Adams," said Dean Asa Lee, in announcing Randall's retirement on November 30, 2020.
"Randall has been a member of the Wesley community for 32 years, arriving in the late summer of 1988... Since those days over 30 years ago, Randall has proven himself to be an instrumental part of the growth and development of the Wesley Campus and community.... He has done all this with a gentle and kind spirit and a can-do mentality."
" Many times, I have seen him solve the unsolvable problems of managing 50 year buildings. For that, we are all grateful!," said Dean Lee.  Join me in celebrating Randall's 32 years of service to the Wesley community," said Dean Lee.
Read Dean Lee's full announcement
Presidential Proclamation of Randall Adams Day at Wesley -
December 11, 2020
WHEREAS, Randall Adams began his career with Wesley Theological Seminary in 1988, as Groundskeeper Extraordinaire and
WHEREAS, Randall has faithfully and conscientiously served Wesley Theological Seminary as a member of the Wesley Community for 32 years during which period of time numerous facility projects were initiated and completed through his leadership which will continue to ensure the Wesley campus is cost-effective, energy-efficient and structurally sound; and
WHEREAS, these years of service have been marked by exemplary dedication to the best interests of the community, and Randall has worked constantly for the betterment of Wesley's campus, which contributes to the health, safety and comfort of this community; and
WHEREAS, Wesley Theological Seminary has benefited greatly because of Randall's leadership in guiding the Facility Management and Groundskeeping Team. Randall played an indispensable role in managing many physical facility projects over the years; most recently the replacement of all windows in the Trott and Kresge Buildings; the updating of the plant heating and cooling systems, realizing major cost savings for Wesley and ensuring our buildings meet Wesley's standards.
WHEREAS, Randall has been a compassionate manager who genuinely cares for his employees by ensuring all necessary safety standards are followed.
WHEREAS, Randall's kindness and patience has blessed this community, and his tireless devotion to the grounds have made our Campus so beautiful each Spring, and safe in all kinds of weather; and
WHEREAS, on behalf of the entire Wesley Community, I want to express my sincere appreciation to Randall for his ministry of presence and care to the Wesley Community and wish him much happiness as he begins this new chapter in his life.
NOW, THEREFORE, I, David McAllister-Wilson, President of Wesley Theological Seminary, do hereby proclaim Friday, December 11, 2020 as:
Randall Adams Day at Wesley
 and urge all Wesley Community members – students and graduates, faculty, staff and administration - to join me in congratulating Randall for his meritorious service, loyalty and dedication he has rendered to Wesley Theological Seminary for 32 years on the occasion of his retirement.
PROCLAIMED this 11th day of December 2020. 
Keep the Love Coming!
Thank you all for your interest in celebrating Randall and
all the generosity so far!
There are now 4 ways to celebrate Randall! Do all 4 or choose what works best for you.
From a Card Shower to a Tribute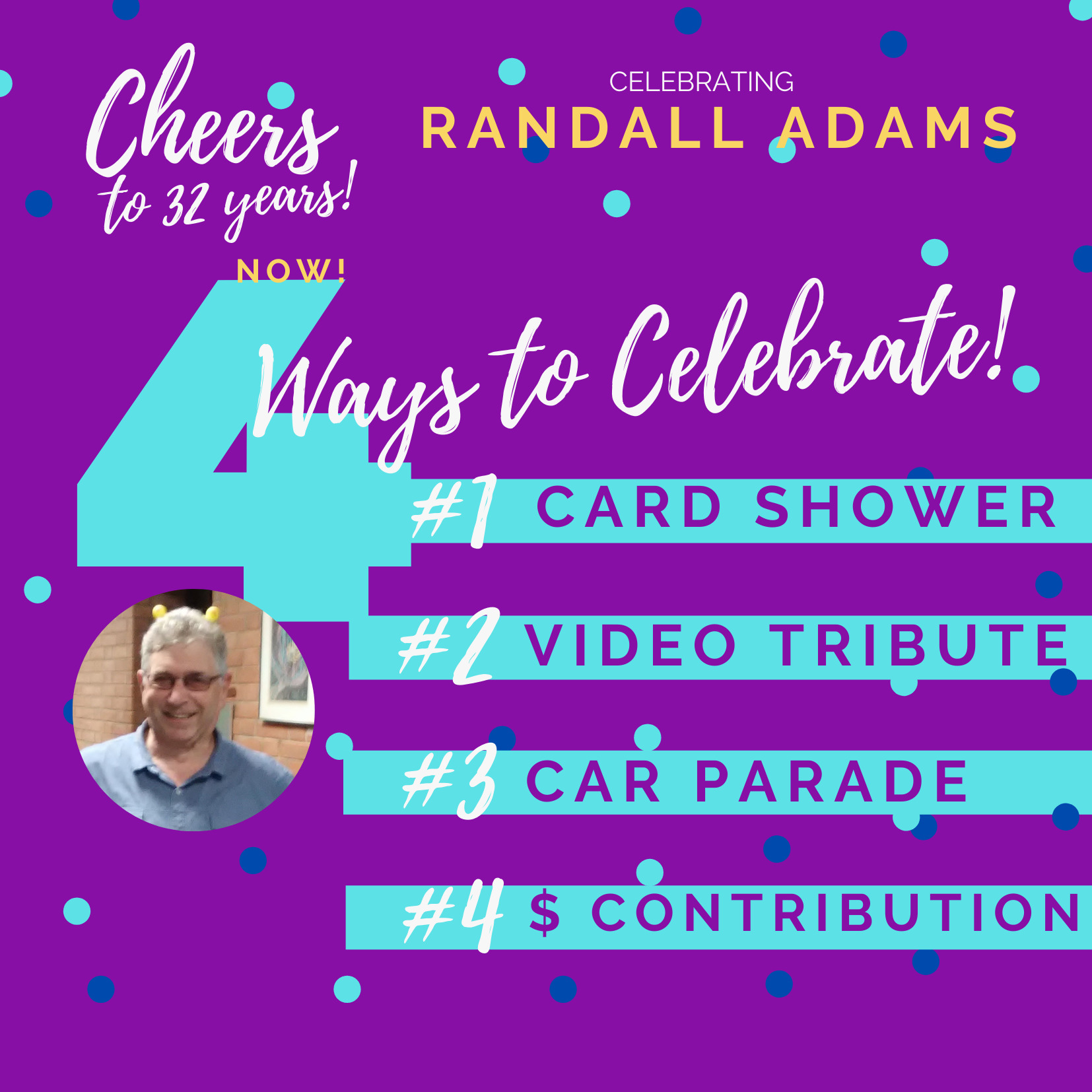 Video to a Car Parade, and now a Financial Gift option, there are lots of possibilities to send Randall well wishes on his retirement and thank him for his contribution to the Seminary. But please do try to keep it quiet. He doesn't know all the details.
Thank You!
We thank you in advance for helping to honor Randall. Note that he will also be receiving physical gifts from the institution not listed here. That being said, if you have ideas for contributing to Randall's retirement celebration not represented here, please email us at staffcouncil@wesleyseminary.edu
Four Ways To Join In The Retirement Celebrations for Randall!
Join in the Parade for Randall!