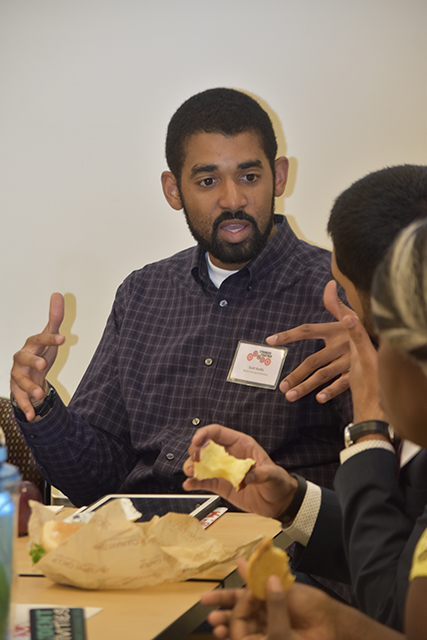 Wesley at the SLCE Conference 2016
by Laura File Long
On Saturday, April 2, close to three hundred attendees gathered at the Universities at Shady Grove for the 9th Annual Service Learning and Civic Engagement Conference, hosted by Maryland-DC Campus Compact (MDCCC). Wesley, a member institution of MDCCC, co-sponsored this event and was well-represented by ICE faculty and students.
Professor Sam Marullo, Director of the Missional Church Program, led a workshop entitled "Interfaith Perspectives on Service, Justice, and Identity." This panel discussion, which included staff, faculty, and student voices, addressed the motivations underlying service and justice within Christianity, Islam, and Judaism. The panelists spoke about their experiences with service learning and the ways in which their faith influences their work.
Sonya Weisburd, the Social Justice and Service Project Manager at the Washington D.C. Jewish Community Center, helps coordinate service learning groups from area universities. She spoke specifically about the work happening currently in many Jewish communities and organizations to provide assistance to those affected by the refugee crisis, which is grounded in the call to welcome the stranger and care for the widow and the orphan found in Deuteronomy.
Barbara Humphrey McCrabb is the Assistant Director for Higher Education for the U.S. Conference of Catholic Bishops, and has over twenty years working in campus ministry and civic engagement positions. On her work with students, she said, "I've often seen myself as a bridge builder… I'm going to bring the talent and resources of my students to the needs of a given community." She also discussed the relationships built through engaging in service, which not only allow for more collaborative and powerful work, but also contribute to one's own human development. In a recent study, the vast majority of those polled talked about their service experience as helping them develop the capacity for compassion.
Aimen Syed, a business student at the University of Maryland, spoke on her experience as a young Muslim student. Although she has been serving for many years, she discussed having to convince her family of the importance of focusing on civic engagement in addition to academics and her desire to serve beyond her immediate community. "My community is not just full of Muslims…as Muslims we shouldn't be just focused on our community—we should expand out there and help the others in need because Muslims aren't the only ones in need."
James Turner, a Wesley M.Div. student and Urban Fellow, is working with young students through a program at the church in which he serves. Part of the programming includes involvement in feeding ministries throughout DC and he discussed the importance of intentionally discussing why they are engaging in service and reflecting afterwards in order to expand the impact the service experience can have.
The workshop was reflective of Wesley's commitment to service learning, which the majority of first year students experience in their spring Spiritual Formation class. This serves as an introduction to better understanding one's own discipleship and clarifying our Christian identity through service. Participants in the workshop were encouraged to think theologically about the service work they are doing, no matter what traditions they are a part of, and to understand that this service can act as a common denominator between different faiths. Dr. Marullo commented that in creating this panel discussion, his hope was that by sharing our different faith traditions, we would be better able to understand our own commitment to service and discipleship through Christ and how that is different from, yet overlaps with other Abrahamic faith traditions.  We hope these faith-based discussions continue to happen as students engage in and reflect on service learning experiences.
Additionally, six master's degree students from Wesley, all of whom are Missional or Urban Fellows, led discussion groups on social justice related topics, including LGBTQ issues, human and sex trafficking, literacy, the #BlackLivesMatter and #FreePalestine movements, and community organizing. Students, faculty, staff, and community partners from area schools gathered during the lunch hour to hear about their experiences working with these issues, what sustains them in their work, and to share their own thoughts and resources related to service in these areas. Again, our hope is that these discussions continue to happen throughout Maryland and DC, and that Wesley continues to be a vital part of the collaborative network of MDCCC schools for years to come.