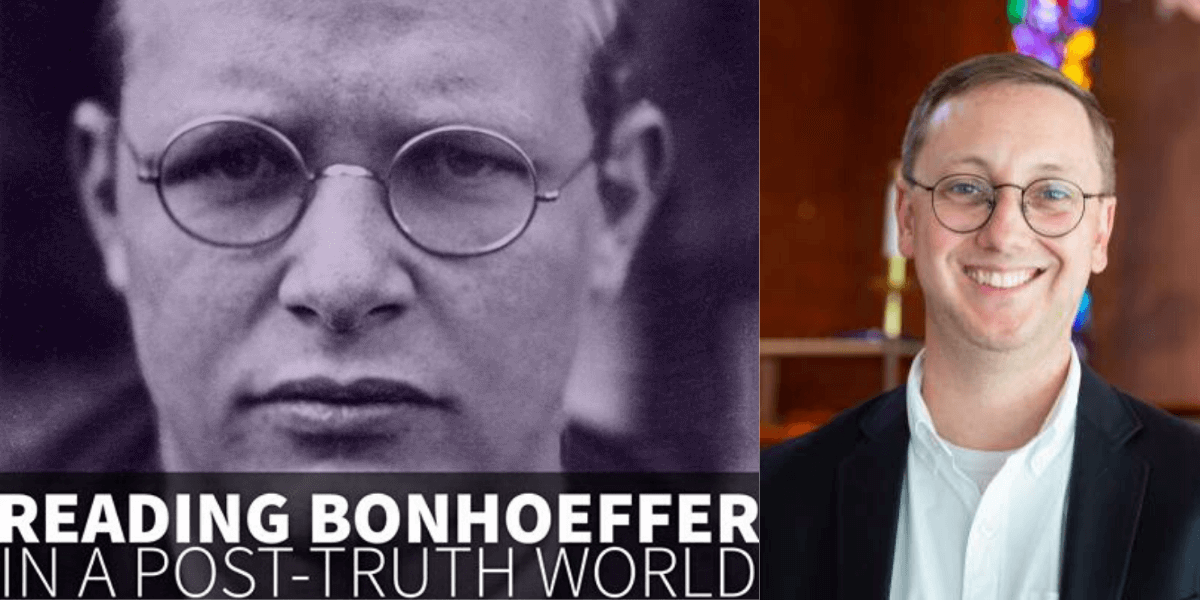 An interview with Wesley Summer course developer Dr. Tim Snyder
One of our online Summer Term courses in 2020 is Dr. Tim Snyder's class, "Reading Bonhoeffer in a Post-Truth World." 
Dr. Snyder is Wesley Visiting Assistant Professor of Practical Theology and Senior Researcher at The Lewis Center for Church Leadership. He provided the following description of his timely course:
Bonhoeffer has become one of the most popular theologians of our day but he is also often misrepresented and misunderstood. Many today would say we're living in a "post-truth" world of fake news, partisanship, and propaganda. From prison, Bonhoeffer wrote that we must learn to tell the truth, so the course is about tracing what Bonhoeffer learned about truth-telling across his writings.
We spoke with him to learn more about Bonhoeffer and insights into his summer class.
WTS - What are the roots of your interest in Bonhoeffer?
Dr. Snyder: My interest in Bonhoeffer began when I was a church planter in south central Texas. A group of us were trying to do Christian community in new ways and we were inspired by Bonhoeffer's reflections on the rhythm of Christian practice at the preacher's seminary at Finkenwalde. From then on I was hooked. Though my most recent research has been on theologies of work, Bonhoeffer makes a cameo appearance there as a young leader in the ecumenical movement. During a somewhat obscure meeting on the Danish island of Fano, Bonhoeffer made an impassioned plea for the ecumenical movement to be not an organization, but the church. With representatives from around the world and with Nazi lawyers hovering in the hallways, Bonhoeffer encouraged delegates of the Life & Work movement saying, "We want to give the world a whole word, not a half word — a courageous word."
WTS- In your course description you suggest Bonhoeffer has been "misrepresented and misunderstood" - why do you feel this is so?
Dr. Snyder: Well, of course, it's not just me that would suggest such. Since the 1960s there has been something of a debate about how to best understand Bonhoeffer, especially his later writings from prison – many of which were in progress but left unfinished when he was executed. More recently, after the publication of Eric Metaxas' popular biography things really heated up. Metaxas unfortunately contributes a number of myths and inaccuracies, but more importantly for readers today is his attempt to co-opt Bonhoeffer in his campaign against liberal theology and politics (which Metaxas conflates). A serious consideration of Bonhoeffer's life and writings is difficult to pigeon hole into the theological and political polarizations of today, which is exactly why students of theology today should read Bonhoeffer for themselves in order to move past the populist versions of him.
WTS - Do you see parallels between the "post-truth" world of today with Bonhoeffer's times living under the propaganda state of Hitler's Germany?
Dr. Snyder: The short answer is: yes. All states engage in propaganda and "fake news" has long been an accusation hurled at (and by) journalists and the media. But what we are living through now is not more of the same and there are consequences for such an assault on truth. The through line between Trump's administration and Nazi Germany is the use of blatant lies over and over again in order to undermine any ground for truth to stand on. As Hannah Arendt said, it destroys our "bearings in the real world."
WTS - How did Bonhoeffer define "truth"?
Dr. Snyder: Bonhoeffer understands "truth" theologically. That is, it is not to each other that we owe the truth, but to God. And for Bonhoeffer, "God" is not an idea, but the living God who gives us a life to be lived. Living without attending to the world as it actually is would be for Bonhoeffer a kind of denial of a God who fully entered the world through Jesus. Learning to tell the truth, says Bonhoeffer, is a life long effort that involves more and more attention to concrete experiences, what he sometimes calls "knowledge of the real." This way of thinking about truth-telling resonates with Bonhoeffer Lutheran theological formation. In a set a debates at Heidelberg, Luther argued that, "A theology of glory calls evil good and good evil. A theology of the cross calls the thing what it actually is."
WTS -  Many Christian leaders within Germany (and outside of Germany, as well) did not oppose Hitler publicly, in fact many either appeased him or collaborated with him. Bonhoeffer and a small group of contemporary pastors and theology students did not, speaking out and challenging the religious leadership. What made Bonhoeffer different? Where did he source his courage?
Dr. Snyder: Today, it's easy to speak of Bonhoeffer's courageous faith, but I'm not sure he felt that way. In a letter he wrote to his friends ten years after Hitler came to power, Bonhoeffer wrote, "We have been silent witnesses of evil deeds: we have been drenched by many storms; we have learnt the arts of equivocation and pretense; experience has made us suspicious of others and kept us from being truthful and open; intolerable conflicts have worn us down and even made us cynical. Are we still of any use?"
Notice his use of the second person: Are we still of any use? To the extent that he was able to find his way to a courageous faith, Bonhoeffer likely would have attributed it to his freedom as a Christian to act. In baptism, death has already long its sting and so the Christian is called to live into the reality that death has already been overcome. Just before his execution he sent a final message to his dear friend, George Bell, the Anglican Bishop of Chichester. "Tell [Bell], that for me this is the end, but also the beginning."
WTS - Bonhoeffer was invited to teach at Union in New York City by professors who knew him to protect him from the Nazis. Yet, he returned home to Germany when he could have stayed safe in the US. He knew his life was in danger if he returned to Germany - why was "truth-telling" so important to him that he took this brave step? 
Dr. Snyder: Bonhoeffer's return to Union Seminary (where he had once been a student) was short-lived and as soon as he arrived he knew it was a mistake. Bonhoeffer was convinced that if he was to participate in the rebuilding of Germany and the German Church after the war, he had to live through the war with the German people. He returned to do his part as a pastor and a resistor.
WTS - If Bonhoeffer had survived the war, what do you think his charge would be to seminarians, theologians and pastors today in the US currently living in the "post-truth" world?
Dr. Snyder: Well, fortunately, we don't have to speculate. In late 1933, Bonhoeffer leaves his post at the University of Berlin and accepts a pastorate of two German-speaking congregations in London. As a kind of "farewell" he writes "What Should a Student of Theology Do Today?"
The "today" part is important since 1933 was the year Hitler was elected Chancellor. It may surprise some that there he writes that "in such times" its better to err on the side of being too quiet rather than too loud.
Assurance in the gospel, Bonhoeffer says, rarely sounds like the loudest voices. He also is clear that we theologians stand among those who are deceived, who are guilty, and wandered off course. We should pray that God's forgiveness comes to us theologians and pastors same as does for those who so quickly embrace the chants of fake news or those who knowingly spread lies. In trying times Bonhoeffer would say it's time to go back to the basics (for him the Bible and Luther) and be the kind of theologian that speaks truth in love.
WTS -What do you hope students will take away from your course on Bonhoeffer?
Students in the course will get to read parts of Bonhoeffer's writings across his entire life. They'll get a sense of the major theological questions Bonhoeffer and others were struggling with in his day and together we will try and discern what Bonhoeffer's witness offers theology and ministry today.
Registration for "Bonhoeffer in a Post-Truth World" and all our summer courses (all online) is now open. Our Fall course registration is also open, with a mix of online and hybrid courses. Wesley Administration will move Fall courses to an all-online class format, as required by the CDC to prevent the spread of COVID-19. 
For more information, contact Admissions at (202) 885-8659 or admissions@wesleyseminary.edu or chat with our Admissions staff via UChat on the Wesley website homepage, wesleyseminary.edu.