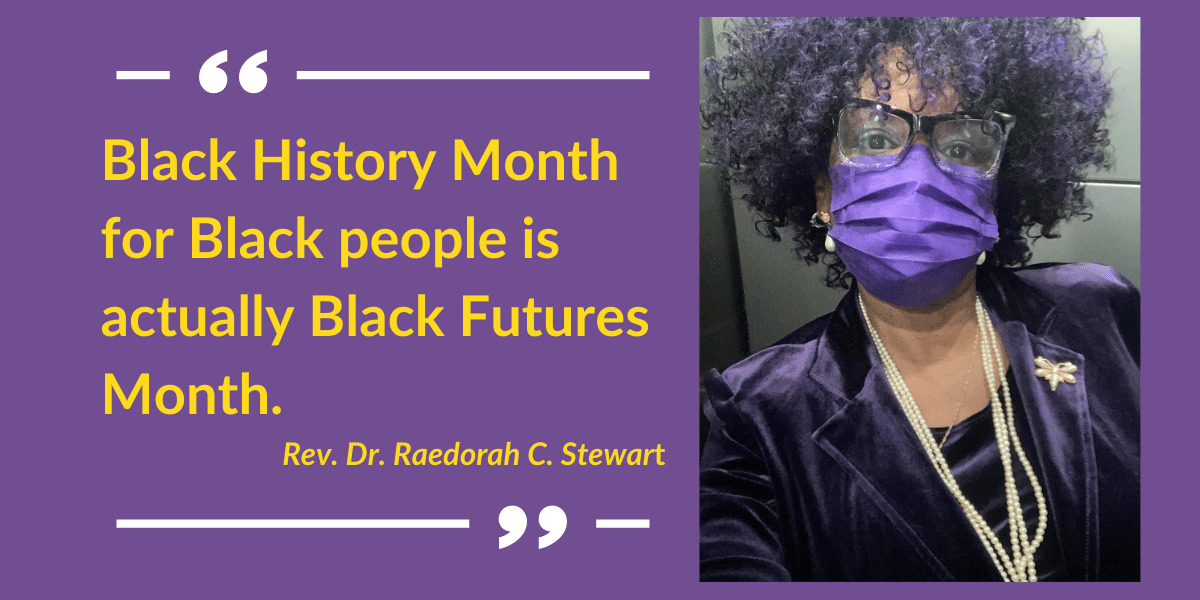 Wesley Diversity Officer and Writing Center Director Rev. Dr. Raedorah C. Stewart offers a personal reflection on Black Futures Month.
Black Futures in Film by Rev. Dr. Raedorah C. Stewart, Diversity Officer
Wesley Theological Seminary, February 2022
In a recent conversation, I explained that Black History Month on the calendar reminded white people that they are part of Black History, aka American History.  Logically, Black people do not have to be reminded of such as we revere our ancestors and revel in the legacy they left us to struggle and triumph. From my earliest remembrance to this day, I learned that my Black is beautiful and blessed, regardless!
Still, my comment evoked quizzical looks, and I went on to explain that Black History Month for Black people is actually Black Futures Month!  I know this term has not made its way into mainstream vernacular, but the essence of Black Futures continues to make Black History, aka American History! This month, we are a people that Sankoa–we look back only to retrieve what we need to thrive in the present and live in future generations.  For every book written, we thank Phillis Wheatly.  For every flick of a light switch, we thank Lewis Latimer.  For over three hundred ways to use peanuts, we thank George Washington Carver.  For seeding the Black Church, we thank Lemuel Haynes, Richard Allen, Peter Durret.  For birthing womanist theology, we thank Rev. Drs. Geneva Cannon, Delores Williams, and Jacqueline Grant.  For excelling in STEM programs, we hope in Black school girls.  For Academy Nominations and a key to the city, we thank Issa Raye.  For news now with no chaser, we thank Roland Martin.  And, the list of legacy makers goes on and on. 
While Black people attend to our Black futures this month, I encourage non-Black persons to binge-watch Black culture television and film by Black writers, directors, and producers to get a glimpse of our truth. Colette, a prolific female French author at the turn of the century, realizes the power of the pen when her husband enslaves her to ghostwrite novels under his pseudonym.  She comprises this seemingly innocuous sentence, "The hand that holds the pen writes history." However, Black Futures is fueled by pens dripping in Black storytelling.  We are more than the recycled stereotypical images that stoke racist imaginations. As one engages Black-produced film, stage plays, music, and the arts is to journey with us into the fullness of our humanity and hope that Black Futures bring.
I invite you to snuggle up with warm drinks and fuzzy socks for the next two weeks and learn more about Black people, Black history, and Black futures with me!  I welcome you into my world through Black stories in film:  14 Best Black History Movies on Netflix.  As you grow in awe and understanding, I am available as your conversation partner - feel free to email me at rcstewart@wesleyseminary.edu
#ourHistory #ourFuture #BelovedCommunity
Rev. Dr. Raedorah C. Stewart, Diversity Officer & Director of the Writing Center
"Love your neighbor–stay masked and get vaxxed."