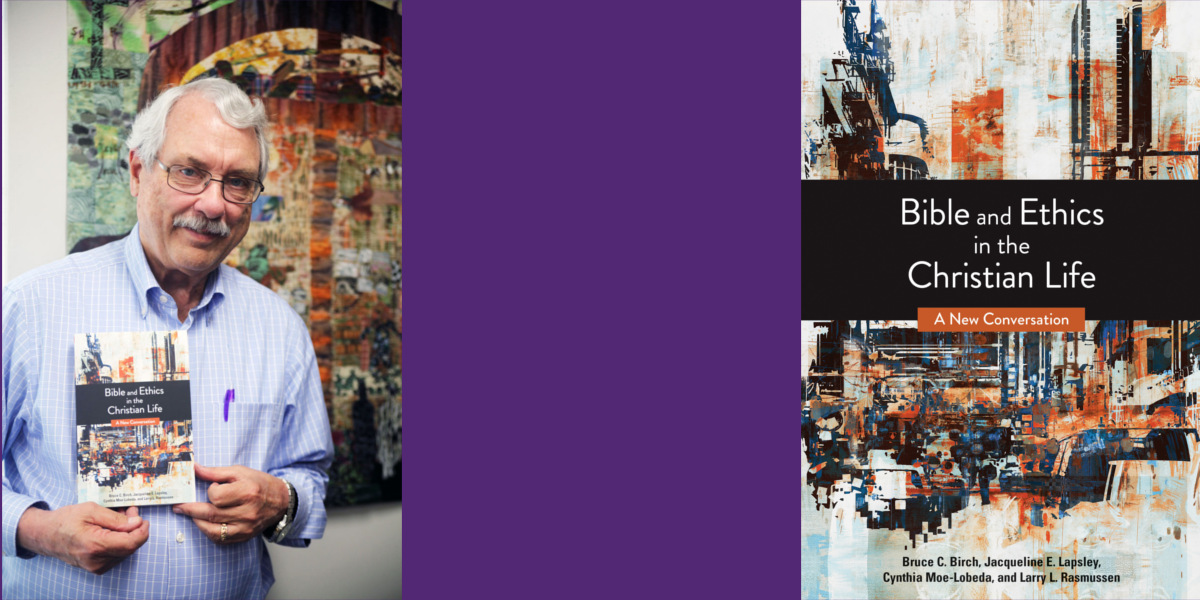 A new book, titled Bible and Ethics in the Christian Life: A New Conversation, by Wesley Dean Bruce Birch and three co-authors was released May 1. The book is written by Birch, biblical scholar Jacqueline E. Lapsley, and Christian ethicists Larry L. Rasmussen and Cynthia Moe-Lobeda. Together, they seek to use the lens of scripture to help guide the conversation of Christian ethics.
"We think scripture ought to be considered a fundamental moral resource," Birch said. "You can help people see perspectives in scripture that they may not want to see in their own lives, but if you are exposing them to things that are part of their foundational tradition, they may have to think about it."
For Dean Bruce Birch and his fellow authors, scripture is an important resource to answer the questions currently facing society and the church. 
"In this era that we have on our hands, the very world itself has changed radically and the church in the world has changed radically, so what does it look like to take up these questions in this changed context?" Birch said.
Subtitled A New Conversation, the book reaches back to Birch's and Rasmussen's project, Bible and Ethics in the Christian Life, which was first published in 1976 and revised in 1988. While informed by their previous work, the current undertaking is not a continuation of that project, Birch said.
"We would never want to talk about this book as drawn from the earlier one," he said. "This is not a new edition of that book. There is a relationship, but we felt that the conversation represented by the earlier book needed to happen again in light of the completely changed world and changed church that we now live in."
Three years in the making, the journey toward the completed book began when the four collaborators met with a Fortress Press editor to lay out the plan for the book.
Rasmussen and Birch first worked together when Rasmussen was a member of the Wesley faculty. Adding Lapsley and Moe-Lobeda to the project was a natural fit.
"They are both friends and colleagues and have worked in the area of relating scripture to ethics," Birch said. "We knew that they were colleagues who were already engaged in these questions and would have something to bring to the conversation."
While the book is meant to be read by a wide audience, it is also a resource to help clergy understand how scripture relates to the complex ethical questions of our day.
"The Bible will never work as a handbook for clergy to just open and get a moral decision," Birch said. "What you're really dealing with is a long-term formation process so that the sermons you preach, the teaching occasions where you use the Bible, even the hearing of scripture week to week, should be thought of in terms of shaping the community over the long haul to become more responsible moral agents."
The book offers numerous examples as teaching points for moral and ethical living.
"In a book like this, you can't just talk about methodology," Birch said. "We've taken all of our examples of ethical issues out of the arenas of race, gender, poverty, and environment. In one chapter, we discuss Pope Francis's Encyclical on the environment as an excellent example of someone in the Christian community context taking scripture seriously in terms of its impact on important moral issues of the world."
Editor's Note: Bible and Ethics in the Christian Life: A New Conversation is available for purchase here. Jacqueline E. Lapsley is associate professor of Old Testament and director of the Center for Theology, Women, and Gender at Princeton Theological Seminary. Cynthia Moe-Lobeda is professor of theological and social ethics at Pacific Lutheran School of Theology, Church Divinity School of the Pacific, and the Graduate Theological Union. Larry L. Rasmussen is Reinhold Niebuhr Professor Emeritus of Social Ethics at Union Theological Seminary.