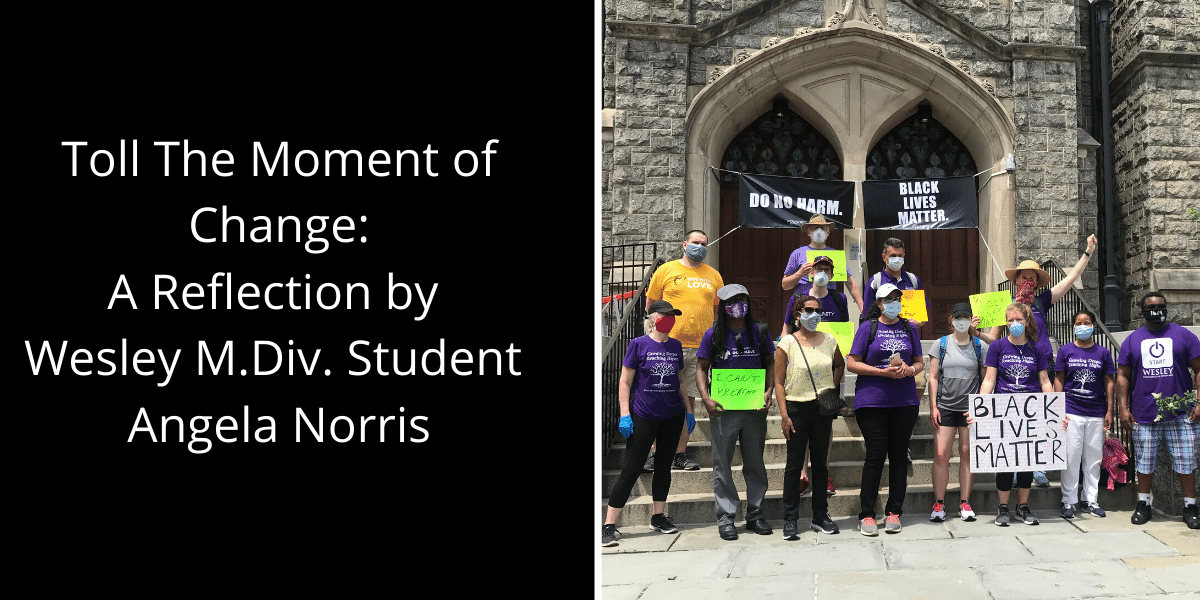 (Photo: Wesley students, alumni and faculty gathering in front of Foundry UMC in Washington, D.C., as they prepare to join protesters in front of the White House, Saturday, June 6, 2020. Photo: Cassandra Lawrence.)
Angela M. Norris, 2nd Year Master of Divinity student and Wesley Community Engagement Fellow, was the lead organizer mobilizing Wesley students and faculty for the June 6, 2020 protest in Washington that marched for justice for George Floyd and an end to current policing practices, in support of Black Lives Matter and an end to racism in America. She shares her reflection, entitled "Toll the Moment of Change."
Wednesday, June 10, 2020
My mind raced throughout the day to find the words to convey all of my internal thoughts and emotions in reflection on Saturday's participation in mass demonstrations in Downtown DC sparked by the murder of George Floyd, an African American man, asphyxiated by the knee of Caucasian American police officer in Minneapolis Minnesota, on May 25, 2020.  Thoughts seemed to flow effortlessly earlier during the day, but as evening wore on and I began to formulate my words in earnest, I realized that I only wanted to convey – silence. 
Silence to grieve and mourn the loss of another black soul abruptly and violently erased from this earth merely because of his brown skin. History on display in the United States of America yet again as it has been for more than 400 hundred years now.  Silence to give my overwhelmed heart, soul and spirit a moment's peace from the daily trauma caused by repetitive play of Floyd's callous murder; and, to brace myself for another day's painful recapitulation of on-going and historic accounts of merciless brutality against black people at the hands of bigoted white people.  Silence to steady my violently racing heart that beats clamorously in sync with ancestral drums in striking rapidity with every personal flashback and witnessed experience of racism.  From being hock-spit on in the face by a white man on 9/27/2019, and suffering the indignities of an unnecessarily invasive TSA body search in a Vermont airport a week earlier, to recalling the various insulting denigrations and condescension I have endured from my white peers and strangers throughout various stages of my life, and sadly even here at Wesley.  Silence to crawl into the presence of our God and beg once more, "why?" And to cry out in anguish, "how much longer?" 
Finally, I desired a reflection of silence to remember and despise what silence feels like.  Silence kills... It is as powerful as a high-powered assault weapon shot at point blank range; as unforgiving as the nylon rope that has hung countless black men, women and children; and, as strong as the iron-clad bars that wrongfully target for jail black and brown people through a bias, corrupt, unbalanced judicial system.  Silence is dissociative yet defensive; it makes excuses for the bad behavior of one's peers; it anchors itself in ignorance; it takes solace in denials and lies; it fails to seek accountability in self and others; it is unrepentant; it is deflective; it is evasive; it fails love; it negates God's Word of Imago Dei...  
As I heard the Foundry UMC bells toll the noon hour on Saturday, as I watched our small group of Wesley students and faculty engage each other, as I watched the steady current of people flow down 16th street - I felt a measure of hope.  As I became enveloped in the mass of masked people walking together (despite risks of COVID-19) from the Capital's Dirksen Senate Building crying out for justice, for George Floyd, for Breonna Taylor, for democracy, for an end to racism, and more - I felt hope in action.  Silence kills but Action Liberates....
This is a time when we must all act and "be renewed in the spirit of [our] minds, and to put on the new self, created after the likeness of God in true righteousness and holiness" (Eph. 4:23-24, ESV). We must continue whatever efforts we can to end racism.  We are all called and commissioned to seize every opportunity to correct, transform and eradicate every manner of evil that exists in the form of persons and systems that oppose the inalienable dignity, respect, value, and holiness embodied in the life of every person God has created on this earth.  To appropriate VP Dean Lee's word's, we must "Create the Change [We] Seek".  As Dean Aldridge reminded me, "Blessed are those who hunger for righteousness, for they shall be satisfied" (Matt 5:6, NRSV).  May God work through us divine grace and power to lead Christ's example in this world as "salt and light", to strive for truth and justice, to live by faith and trust, to hope for what we seek, to love unreservedly, and to give of ourselves freely in service to one another, to God, and for God's Kingdom...
Additional reflections, photos and video from the Wesley Community will be added here as they become available in the next days.