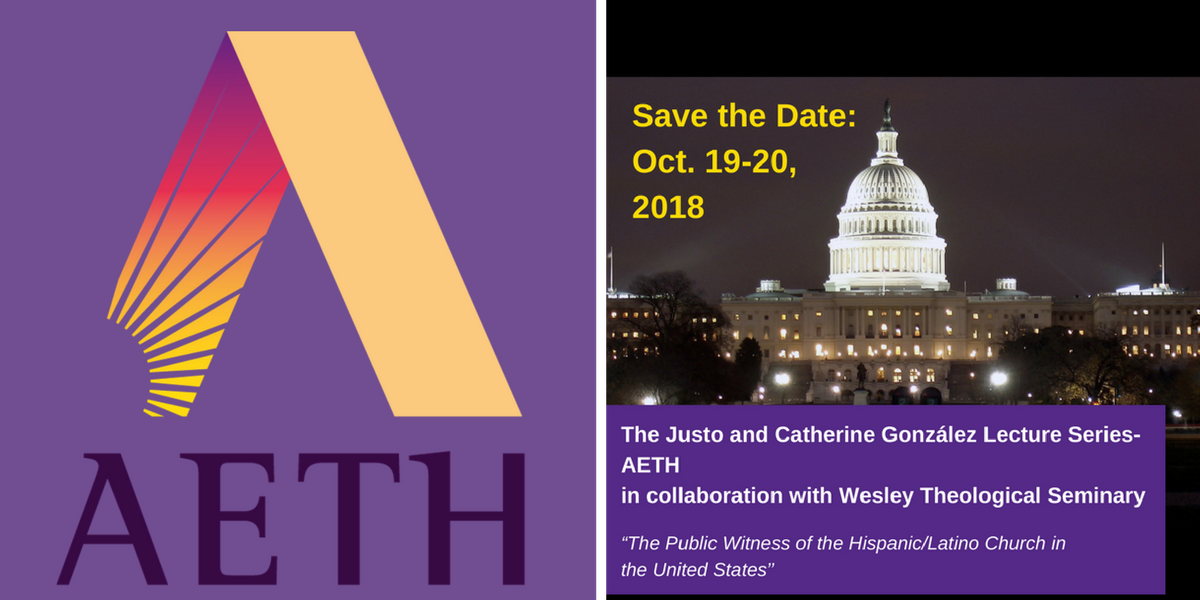 Wesley will host the upcoming Justo and Catherine González Resource Center Lecture Series on Oct. 19-20, 2018
This event is done in partnership with Asociación para La Educación Teológica Hispana (Association for Hispanic Theological Education or AETH). This lecture series will highlight the role of Hispanic/Latino ministry in the United States and will focus on the theme of "The Public Witness of the Hispanic/Latino/a Church in the United States." Named after church historians Justo and Catherine González, this year's lecture series will include highly regarded theologians, respected clergy and lay leaders from across the country. First presented in 2011 in AETH's home in Orlando, Fla., the Justo and Catherine González Resource Center Lecture Series  has been hosted throughout the country. The event was last held at Princeton Theological Seminary in 2016.
Dean Bruce Birch, professor of biblical theology and personal friend of Justo González, leads Wesley's efforts to bring together more than 100 scholars, theologians, clergy and lay leaders who will participate in this important event that carries on González's legacy.
"Justo González is probably the most famous Hispanic-American, Spanish-speaking, religious scholar in the world," Birch said. "A world-renowned church historian, he's published in both English and Spanish. He's a major figure and is revered." Birch and González became friends while studying together at Yale University. That connection continues as González has visited Wesley as a guest lecturer numerous times.
Carlos Reyes Rodriguez (M.Div. 2016), a provisional deacon serving as coordinator of Hispanic-Latino ministries in the Peninsula-Delaware Conference of the United Methodist Church, helped cast the vision for this upcoming lecture series at Wesley. He hopes to be a resource for both Wesley and AETH during the conference.
"My goal is to be a bridge between Wesley, AETH and those who will be attending the conference," he said. "I am happy to greet, usher, or serve in whatever way I can."
Rodriguez is grateful for his time at Wesley and hopes the conference helps the seminary community see what a rich opportunity there is in opening new avenues for members of the Hispanic/Latino community to study at the seminary, he said. That could be accomplished through increased access to scholarships for Hispanic/Latino students or by offering bilingual classes at the master's level and/or in the Course of Study curriculum, Rodriguez said.
"I hope one thing the community will understand after this conference is that we can connect without knowing another language," he said. "We can connect over our common understanding of the Gospel of Jesus Christ and its ability to draw together people of all backgrounds." 
For Fernando Cascante, executive director of AETH, Wesley as the host of this year's Justo and Catherine González Resource Center Lectures made perfect sense. "Dr. González is an ordained pastor and we have utilized a wide variety of seminary settings previously but felt that it was important to include a Methodist institution."
When the conference theme, "The Public Witness of the Hispanic/Latino/a Church in the United States," was selected, Wesley in Washington, D.C., became a natural choice, he said.
Cascante hopes this year's conference results in an agenda of topics to pursue, not just for Hispanic/Latino organizations and churches but also for theological institutions, he said. In Cascante's view, the role of theology and theological education needs to become more central in the witness of the church in the world.
"The critical question is, are we having an impact as God's people – as salt and light in the world?" he said. The upcoming conference in October will engage this question.
Editor's Note: Please save the date for the Justo and Catherine González Resource Center Lecture Series on Oct. 19-20 at Wesley. More information is available here; conference registration is now open.