(October 7, 2020)

At Wesley, our entire curriculum is animated by a spirit of public concern and a sense that the Gospel calls us to participate in God's transformation of the world.  We believe in critical thinking that resists the temptation to cynicism, and passionate faithfulness that leads to a compassionate public witness.  We also have unique resources, given our location and relationships in Washington, D.C., to host meaningful conversations and facilitate reflective action through our Center for Public Theology (CPT), part of our Community Engagement Institute (CEI).
On Wednesday, October 7, you can join the CPT and CEI at Wesley for a Vice Presidential Debate Watch Party.  We are honored to host an accomplished and insightful set of panelists who will help us think about faith, justice, and public life in this moment:
Rev. Leah Daughtry, Former DNC Chair and CEO of the Democratic National Convention Committee
Melody C. Barnes, Esq., Former Director of the Domestic Policy Council and Director of the Democracy Initiative at the University of Virginia
Rev. Brenda Girton-Mitchell, Former Director of Faith-Based and Neighborhood Partnerships at the Department of Education, and former Associate General Secretary for Justice and Advocacy, National Council of Churches
I hope to hear from you soon!
Rick Elgendy
Associate Professor of Christian Ethics and Public Theology
---
The Community Engagement Institute & Center for Public Theology at Wesley Theological Seminary Presents:
"Public Theology, Politics, and Debate : The VP Edition"


The 2020 Vice Presidential Debate Watch Party
Moderated by:
Dr. Rick Elgendy, Associate Professor of Christian Ethics and Public Theology
Wednesday October 7, 2020
Time : 8:15 PM - 10:45 PM (Eastern)
Register Here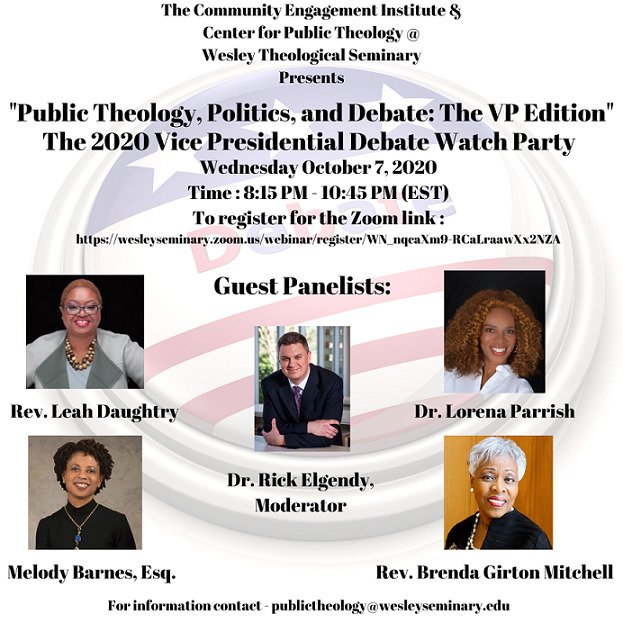 Wesley President David McAllister-Wilson has prepared a website page that brings together many of our multimedia resources, much of it original content developed for our alumni and friends. We will be adding pieces regularly as well
as offering
ways to participate in chapel and in some of our live events.
With this is a new initiative from the President's Office: "

Presidential Conversations

," long-format intimate dialogues where the president engages thought-leaders in the Wesley Community and beyond.
We invite you to visit
https://www.wesleyseminary.edu/engage-in-these-times/
Jaleesa Hall, a native of Miami, FL, is a 2019 MDiv graduate of WTS after having earned a Masters in Public Administration from American University with an undergraduate degree in Mass Media from Clark Atlanta University.
It was at CAU that Jaleesa formed the seeds of what would become the Raising a Village Foundation, whose mission is "To build safe, healthy and whole communities by increasing access to education, health and wellness, and the arts in underserved areas."
This mission can be challenging at any time but COVID-19 has presented additional hurdles., Wesley checks in with Jaleesa to see how she and the Foundaion have coped with COVID-19 and continued its ministry over the past few months.

The Lewis Center for Church Leadership's Leading Ideas offers articles by thoughtful, cutting-edge leaders on subjects you care about — navigating change, reaching younger people, financing your ministry, communicating effectively — to help you be the leader God is calling you to be.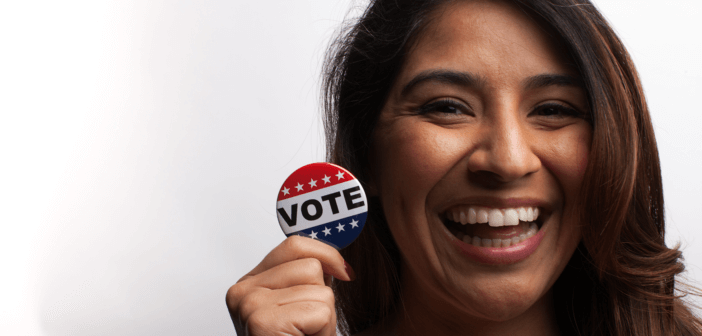 The Church and Election Day
Although congregations are prohibited from endorsing candidates or parties, Doug Powe and Ann Michel of the Lewis Center staff say there is much a church can do to encourage people to vote, ensure that voting occurs in a safe and secure manner, and encourage hope and civility in this polarized time.
How can youth ministry be more than fun and games? In this episode we speak with Andy Root about how youth can find identity and deep joy in shared narratives and inter-generational connections.
How can your congregation initiate conversations about race? And how can pastors prepare themselves for this important work? In this episode Michael R. Fisher Jr. shares perspectives, questions, and resources that can help church leaders confront the challenging issues of structural racism and white privilege during these turbulent times.
Henry Luce III Center for the Arts & Religion at Wesley
New Online Workshop: Poetry
Online October 22, 2020 | 4:30 - 6 pm EST
In an essay published in Image Journal, Nate Klug writes: "Poetry begins less in discovery than a faithful kind of resistance; it refuses to succumb to the sacrificed attention that comprises most of our lives." A UCC-Congregationalist minister and poet, Nate recently published his third poetic volume, Hosts and Guests (Princeton University Press, Sept. 2020). For this workshop, you are invited to join Nate for readings of his work, interspersed with reflections on the intersections of poetry and ministry. The session will end with a prompt for our own writing.
Instructor: Nate Klug
Wilhelm Hammershøi, Interior with Young Man Reading, 1898.
Within our Oxnam Resources exists a Prayer Wall where you can pray for others and request prayer. Please join us in prayer this and everyday as we seek God for wisdom, comfort, healing, and the blessedness of God's kingdom and will to be done. 
Ready to begin your studies?
Visit our "Try a Class" page or email us to learn how to begin your studies: admissions@wesleyseminary.edu
During this time, we are praying for you and with you. Be safe and healthy, Beloved Community.