(Published May 20, 2020)
---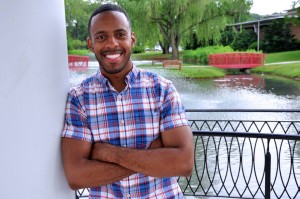 Happy Wednesday!
It is my hope and prayer that you all are well in this season! So much has changed in the short time since we've last heard from one another. Flowers have gone into full bloom, our weather has taken on a consistent flow of warmth and rain, states have begun to slowly reopen their various doors, and we will soon celebrate Pentecost Sunday! What a year it has been thus far, I need not remind you of all that we have faced, but we have done so together. It has been quite the joy amidst our crisis, to witness many church's and ministries adapt with urgency to the climate of our nation. Faith communities have truly embodied what it is to "rethink church" (shameless plug for our very own Professor of Evangelism Dr. Doug Powe)  and have done so in a way that represents what it means to be the church lived out.
I believe that now more than ever, we have come to recognize that who we are called to be, in whatever way we are called to be, may take a reimagining, or a restarting, to do so as effectively as possible. I am reminded of a time in my teenage years where I asked my mother about how she as a parent, had the flexibility to raise four very different personalities all at once, and how she did so with such excellence. She said to me "My being a mother does not change, it is who I am to all of you, it is my purpose in your lives. However, how I do so with each of you, is dependent on the ways that I see that you need to be loved and nurtured. All of you are my children, and I love you all with all of my heart at the same time, but I recognize that, that love manifested in your lives must adapt in a form that each of you need." This lesson from my mother taught me that in our purpose, the source from which we draw our strength (for us, God) will always be present, and filled with power. Yet, let us instead recognize that in order to be effective with this power, we have to be willing to adapt it to a form in which it is needed.
As we continue to rethink and reimagine church, may we not lose hope or sight of our purpose and the Holy source of God from whom we draw our power. Let us continue to be innovative and transformative, with the love of our creator as our source of power, and our purpose  lived out in whatever way the world needs, as our love for community and the world over!
Peace and blessings,
Elijah S. Ferebee
PS. Join us this Thursday evening for a conversation about how you can engage the community outside of the church walls as a student at Wesley! Register here.
We bring to you a poignant message from our "Moment of Grace" series which offers a timeless reflection drawn from one of our Tuesday morning worship services. We hope you can pause with us for a moment of grace from Dr. Ryan Danker, Assistant Professor of the History of Christianity and Methodist Studies.
Wesley Summer 2020 Online Class:
CF-240-OL "Theological Foundations of Youth Ministry" is part of the Youth Ministry Specialization for degree programs and the Certificate for Children and Youth Ministry and Advocacy (CYMA) offered at Wesley.
For more CYMA information:
Click the video link to learn more about the upcoming course.
Fall 2020 Course Highlights (*Recommended courses for first-year students, †fulfills requirements for UM students)
NEW COURSES JUST ANNOUNCED FOR FALL
CM -247-OL On Visiting the Sick: Methodist Responses to Disease and Pandemic (Online)
RA-260-OL

Jewish Art From the Bible to Today

Culture (Online)
PW-125-B

Foundations of Preaching

(Baltimore)
ST-229-HB

Theologies of Resistance & Liberation: Martin

Luther King, Jr. & Mohandas K. Gandhi

(Hybrid-Baltimore and Online)


---
Email us if you have questions or are ready to apply: admissions@wesleyseminary.edu
Fall 2020 Course Highlights (*Recommended courses for first-year students, †fulfills requirements for UM students)
---
*

†

BI-101-OL

Introduction to Hebrew Bible 1 (Online)

*

†

BI-171-HB

Intro New Testament: Gospels (Saturdays)
BI-485-0 Grounded in the Living Word: Pastoral Practices and the Hebrew Bible (prereq: Intro to Hebrew Bible) (Tuesday evenings)

*

PC-111-HB Pastoral Care + Counseling in Context (Monday nights) 

*

CF-133-0

Teaching and Learning in Christian Education (Thursdays)

*

CF-205-0 Spiritual Gifts for the Contemporary Church (Tuesday evenings)
CF-290-HB Cultivating Mental Health through Spiritual Practice (Hybrid: Online/Weekends) 

*

†

CM-273-OL

Evangelism + Emerging Generations (Online)
*

†

CH-101-OL The Church in History: Early Church To Reformation (Online)
CM-130-0 Reviving Dying Churches & Communities (Thursday evenings)

*

†

CM-248-0

United Methodism: History, Doctrine And Polity I (Tuesdays)

*

†

PW-125-0 Foundations of Preaching (Thursday evenings)
RA-144-HB Scripture in Literature (Hybrid)

*

RA-176-0 The Rest of the Story: Parables and Parallel Stories (Thursday evenings)
RA-196-0 Liturgical Dance Theory and Practice (Wednesday evenings)
ST-242-0 The Black Theology of James Cone (Monday evenings)

*

†

WR-201-0

World Religions As Resource for Christian Theology & Church Ministry (Thursdays)
Email us if you have questions or are ready to apply: admissions@wesleyseminary.edu

Thursday, May 21, 2020: Engaging the Public
Do you feel called to ministry beyond the church walls? Join this conversation with alumni engaged in nontraditional ministries in chaplaincy, government, academia and the non-profit world. 
Join us for an information session: Engaging the Public.
6:00 p.m.-6:45 p.m. 

Home Alone Together is both an exhibition and a journal. Through the eyes of twenty-five artists around the world—from their 20s to their 90s—it explores the shared, bounded environment in which people across the world now live. Click here to for information on the exhibit



Delivered every Wednesday, The Lewis Center for Church Leadership of Wesley Theological Seminary offers a free e-newsletter, Leading Ideas, including articles by thoughtful, cutting-edge leaders on subjects you care about — navigating change, reaching younger people, financing your ministry, communicating effectively — to help you be the leader God is calling you to be.
Explore: The Right Start: Beginning Ministry in a New Setting — COVID-19 Supplement  
The Right Start: Beginning Ministry in a New Setting — COVID-19 Supplement 
The arrival of a new pastor is a critical juncture in the life of a church. A pastor's successful transition lays the groundwork for a fruitful tenure. The Lewis Center has helped many pastors navigate this important time of transition with resources to plan a smooth departure from one ministry setting and an effective entry into the next.
Your pathway to a degree by way of Baltimore, MD
Avoid a move or commute! Students can combine weeknight hybrid courses in Baltimore with online classes, or weekend hybrid online courses on our main campus in Washington, D.C. to move toward a degree program at Wesley.
Please pray with us: Oxnam Resources
Within our Oxnam Resources exists a Prayer Wall where you can pray for others and request prayer. Please join us in prayer this and everyday as we seek God for wisdom, comfort, healing, and the blessedness of God's kingdom and will to be done. 
Please remember that during this time, We are praying for you and with you. Be safe and healthy, Beloved Community.
Want To Try A Class At Wesley?
Join us for a class and experience studying at Wesley! View the summer 2020 course preview and more...