(Published April, 8, 2020)
Grace and Peace,
Thank you for joining us for our installment of Wednesdays with Wesley. We invite you to enjoy the video devotion from Elijah Ferebee, MDV '18, Recruiter with the Office of Admissions.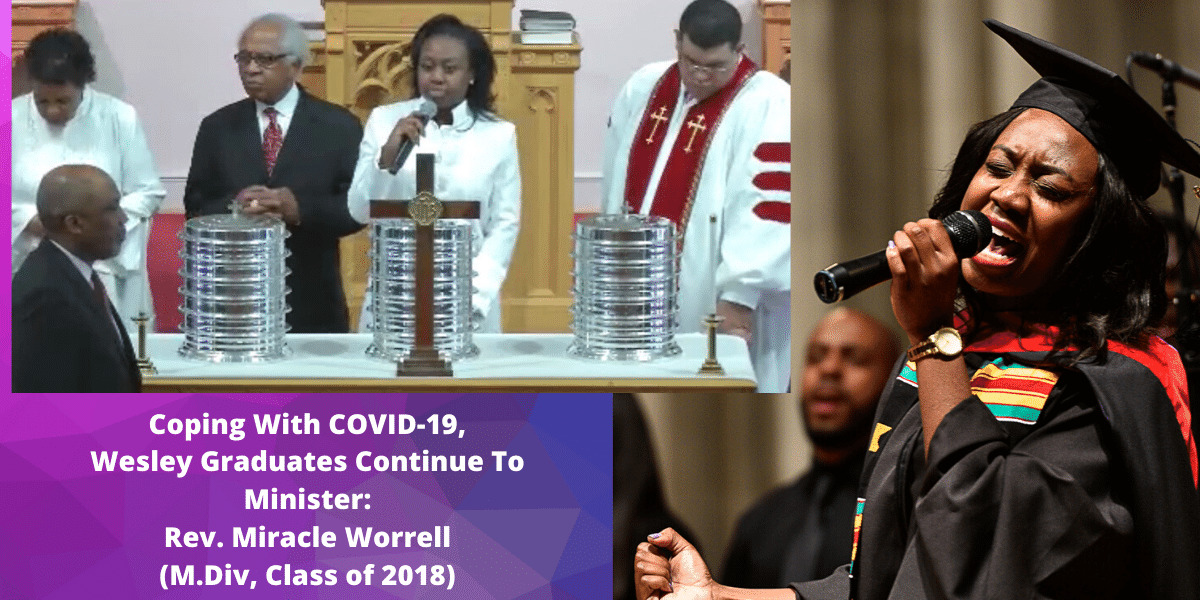 In "Coping with COVID-19," we speak with a number of Wesley graduates as they find their way to minister in the time of COVID-19. This time, we speak with Rev. Miracle Worrell, Assistant Pastor of Mt. Olive Baptist Church in Arlington, VA. Rev. Worrell is a 2018 Master of Divinity graduate and serves as both Assistant Pastor and Minister of Christian Education.
Read about her ministry in the time of a global pandemic at https://www.wesleyseminary.edu/coping-covid-ministry-miracle-worrell/
Online open house providing a "window" into Wesley's beloved learning community.
Learn everything you need to know about Wesley's Masters degree options and specializations
10:00 a.m. - 11:30 a.m. EST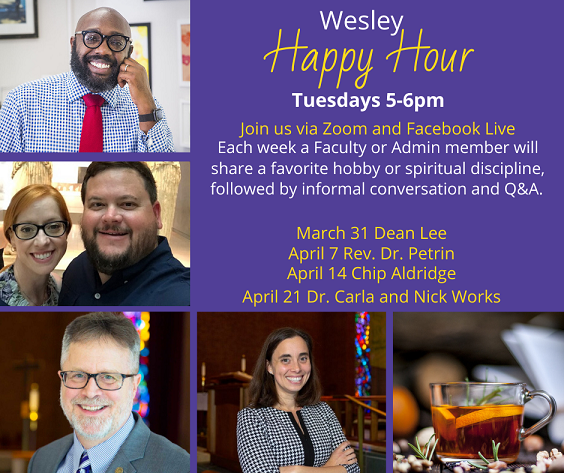 Wesley Happy Hour
Student Council/Community Life Online have joined forces to present to the Wesley Community, Wesley Happy Hour.
April 14 Chip Aldridge (Sharing about his love of origami & will include a quick tutorial)
April 21 Dr Carla and Nick Works (Sharing their favorite travel stories.)
Register in advance for this meeting (you can register for all of them or only a select few through this same link):
https://zoom.us/meeting/register/u5Ytf-6prjMu_5-gLAQVFVhqtgBL_7kk7g
We hope that you will enjoy a throwback video of our 2018 Holy Week Chapel offering of a dramatic reading of the Passion.
Summer and Fall 2020 Course Registration is Open
Summer and Fall 2020 registration is now open. Learn more about how to try a class here: https://www.wesleyseminary.edu/admissions/try-a-class-2/. 
Or, connect with us here.
Sample of Summer 2020 Online Courses:
Online:
RA-175-OL Biblical Storytelling - Dr. Tracy Radosevic
ST-231-OL Bonheoffer in Post Truth World - Dr. Timothy Snyder
ST-247-OL Howard Thurman, Mystic, Prophetic, Theologian - Dr. C. Anthony Hunt
CF-133-OL Teaching and Learning in Christian Education - Dr. Jana  Strukova
CM-239-OL Ministry & Self-Care - Dr. Matthew Braddock
CM-251-OL Polity of the UMC  -  Dr. Jonathan Lemaster-Smith
CM-270-OL Praxis of Holistic Evangelism - Dr. Scott T. Kisker
Sample of Fall 2020 Online/Hybrid Courses
BI-101-OL Introduction to Hebrew Bible 1 - Dr. Paul Cho
BI-171-HB Intro New Testament: Gospels (Saturday) -  Dr. Carla Works
CF-290-HB Cultivating Mental Health (Saturday) - Dr. Jana Strukova
CH-101-OL Church Hist: Early-Reformation - Dr. Charles Harrell
CM-135-OL Personal Finance for Rel. Prof - Dr. Lovett Weems
CM-273-OL Evangelism + Emerging Generations - Dr. Doug Powe
MM-101-HB Spiritual Formation for Ministry 1 
NC-114-OL Academic Writing Seminarians - Rev. Raedorah Stewart
PC-111-HB Pastoral Care + Counseling in Context (Monday nights) - Dr. MIchael Koppel
We'd love to Connect with You!
Let us know if any of the links above really struck your interest, because we'd be happy to connect you with a faculty member and/or current students!
Please remember that during this time, We are praying for you and with you. Be safe and healthy, Beloved Community.
Want To Try A Class At Wesley?
Join us for a class and experience studying at Wesley! View the summer 2020 course preview and more...