(Published April 15, 2020)
Grace and Peace,
Thank you for joining us for our weekly installment of Wednesdays with Wesley. 
We invite you to enjoy the video devotion from Elizabeth Pruchnicki, MTS '20, Recruiter with the Office of Admissions.
The Lewis Center for Church Leadership of Wesley Theological Seminary

Leading Ideas Talks brings to the table cutting-edge leaders on subjects you care about — navigating change, reaching younger people, financing your ministry, communicating effectively — to help you be the leader God is calling you to be.
Explore Episode 52: Pastoral Care in the Coronavirus Crisis (right) or more episodes here.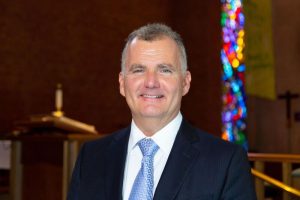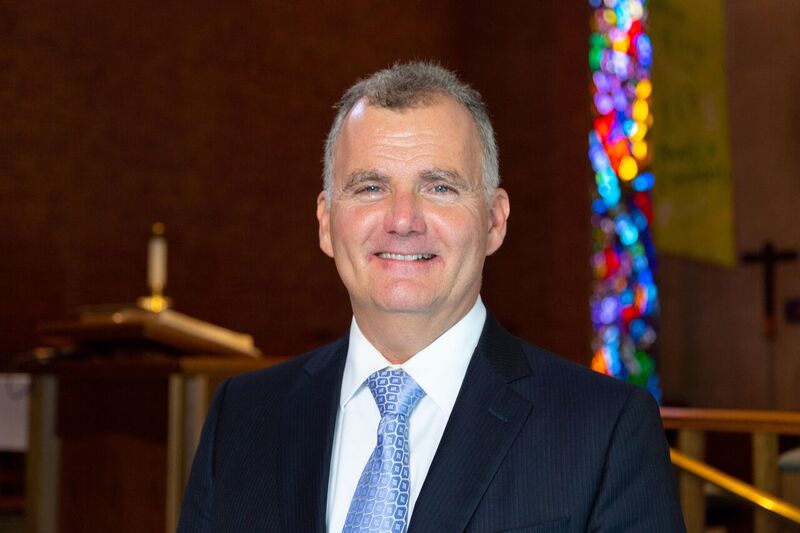 A
Episode 52: "Pastoral Care in the Coronavirus Crisis" featuring Michael Koppel
How can your church help congregants deal with fears, anxiety, and economic stresses in this unprecedented time? In this episode we speak with Wesley Theological Seminary Professor Michael Koppel about congregational care needs and responses in light of the challenges of the coronavirus crisis.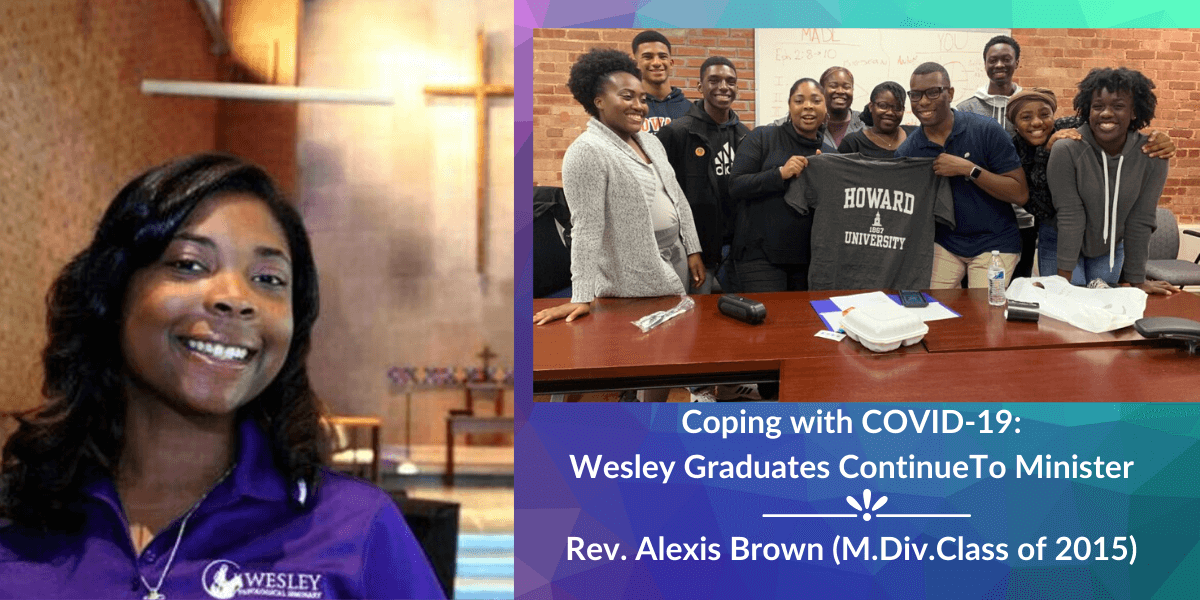 Today in "Coping with COVID-19," we speak to Rev. Alexis Brown, a Wesley MDiv Class of 2015 graduate. Rev. Brown currently serves in a dual appointment, as a Chaplain at Howard University and an Associate Pastor at Asbury United Methodist Church, located in Washington, DC.
Read about her ministry in the time of a global pandemic at https://www.wesleyseminary.edu/coping-covid-ministry-alexis-brown/
Continuing Easter in union:
Easter Sunday, April 12th, 2020- Bishop LaTrelle Easterling, Wesley's Board of Governor, and Bishop of the Baltimore Washington Conference of the United Methodist Church, delivered a powerful Resurrection message. Click on the image to watch the video.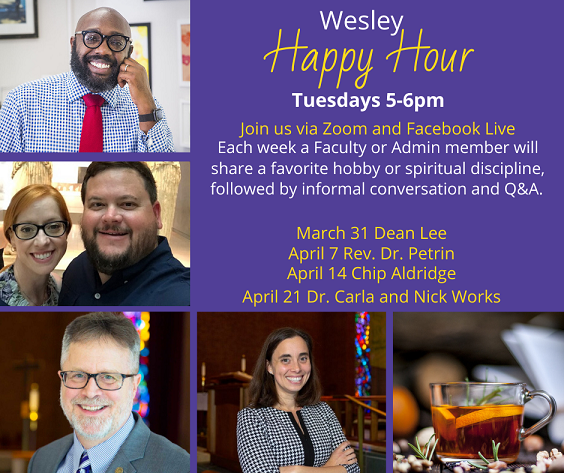 Wesley Happy Hour
Student Council/Community Life Online have joined forces to present to the Wesley Community, Wesley Happy Hour.
April 21 Dr Carla and Nick Works (Sharing their favorite travel stories.)
Register in advance for this meeting (you can register for all of them or only a select few through this same link):
https://zoom.us/meeting/register/u5Ytf-6prjMu_5-gLAQVFVhqtgBL_7kk7g
Sample of Fall 2020 Online/Hybrid Courses
BI-101-OL Introduction to Hebrew Bible 1 (Online)
BI-171-HB Intro New Testament: Gospels (Saturdays)
PC-111-HB Pastoral Care + Counseling in Context (Monday nights) 
CF-290-HB Cultivating Mental Health (Hybrid) 
CM-273-OL Evangelism + Emerging Generations (Online)
Email us if you have questions or are ready to apply: admissions@wesleyseminary.edu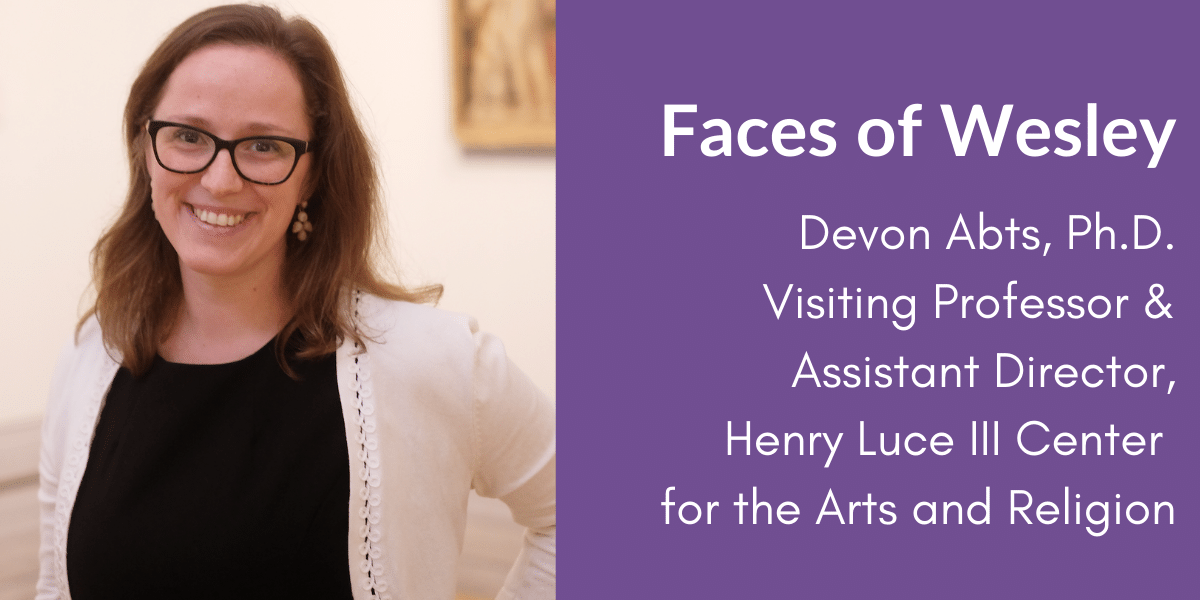 Faces of Wesley: Meet Dr. Devon Abts
"I am thrilled to be part of a community which takes the arts seriously as a vital resource for all aspects of ministry, from leading in worship to the pursuit of social justice," said Dr. Abts. She looks forward to "nurturing students in their theological formation by empowering them to use their God-given creative gifts in service of the Church and wider world. Read more about her here
Or, take a class with her this summer: RA-141-OL (online) Faith on Film, 7/27/2020-7/31/2020
Online open house providing a "window" into Wesley's beloved learning community.
Learn everything you need to know about Wesley's Masters degree options and specializations
10:00 a.m. - 11:30 a.m. EST
Please enjoy our Oxnam Chapel Resources, developed and curated by our own Chapel Elder Petrin who states:
When we worship in these times, it is important to remember that while we may be "by ourselves" we are never alone. We are gathered in prayer and joined together with all Christians across the world in the presence of our living God! Thank you for joining us in prayer. We are so glad that you are here: https://www.wesleyseminary.edu/oxnam-online/
Please remember that during this time, We are praying for you and with you. Be safe and healthy, Beloved Community.
Want To Try A Class At Wesley?
Join us for a class and experience studying at Wesley! View the summer 2020 course preview and more...