WEDNESDAYS WITH WESLEY
Embrace the Wesley community from your home. An e-newsletter from the Office of Admissions
(Published March 18, 2020)
Grace & peace,
We hope that you know that God is still calling you, even amidst the COVID-19 crisis. Take a moment today to reflect on the many ways that God is at work in your life.  While our physical campus is shut down, the Office of Admissions will send out an email every Wednesday including relevant information, a devotional and scripture passage that we will all pray about together, as well as a link to a faculty lecture to help get you in the spirit of seminary. If you enjoy the message and want to learn more, we'll put you in contact with the professor! We hope that these emails will help bond us together and let us continue to be a worshipping community. 
Please remember that during this time, We are praying for you and with you. Be safe and healthy, Beloved Community.
Join us for a virtual Window on Wesley next Tuesday, March 24th at one of two convenient times: 9:00 am-10:30 am or 6:30 pm-8:00 pm. Experience a virtual tour of campus, learn about our degree programs and  speak with a member of the faculty who we're happy to connect you to after the event so you can continue the conversation. 
Each week, you are invited to watch a message from one of our faculty members. Click the graphic (right) with the prayer that asks God, "help us to hear where are calling us to go. Today, we invite you to hear from Wesley's New Testament professor, Dr. Carla Works on the increased faithfulness that comes from growing in theological knowledge and wisdom. Enjoy the message, "Gospel & Empire: In God We Trust" - Dr. Carla Works at A Day with Wesley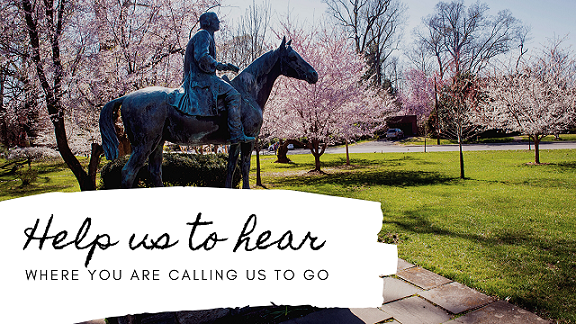 We are still able to receive applications and process them toward studies which begin in Summer or Fall 2020. The extended deadline for scholarship consideration is April 15th. Prospective students who are facing difficulties providing materials required by the application due to COVID-19 are able to reach out to the admissions office. Each applicant will be handled on a case-by-case basis. Click here to access your application. Email Admissions@wesleyseminary.edu for assistance.
Before you go, we invite you to continue your devotional time by reading today's message in the Wesley community 2020 Lenten Devotional (click the graphic below).


Want To Try A Class At Wesley?
Join us for a class and experience studying at Wesley! View the summer 2020 course preview and more...