Kapikian's vision of art and theology on display at Wesley
For Catherine Kapikian, founder of Wesley's Henry Luce III Center for the Arts and Religion and distinguished artist-in-residence, the two subjects of arts and theology are inextricably linked. "There are deep correspondences between various stages of the creative process and deepening spiritual awareness," she said.
Those correspondences begin with a profound awareness of Imago Dei. "We're born in the image of God," she said. "We are given, as part of our genetic endowment, the capacity to respond creatively. It's a celebration of our humanity."
Echoing Genesis, Kapikian noted that the artistic process involves, "times of utter and complete chaos." Those moments, however, do not only mirror the beginning of time. "It has a correspondence to the dark night of the soul," she said. "You don't give up, you don't stop. You live through it – to the dawn of a new day."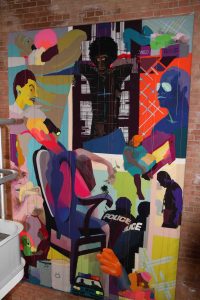 With that dawn comes artistic revelation. "The morning comes like the artistic breakthrough, the ah-ha moment, the insight," she said. "Then you have to really work at it, just like you have to work at your faith."
Kapikian was already a successful artist with regular commissions from churches and other institutions when she came to Wesley, receiving her Master of Divinity in 1979.
"I went to seminary not to become ordained, but to become theologically literate," she said. "While I was here I was shocked senseless to find there was no relationship to the arts, except for music. By the time I graduated I found I had a ministry on my hands."
The only student in her class to graduate Summa Cum Laude, Kapikian met all the written requirements of her courses while simultaneously asking her professors to accept more artistic responses to the texts being studied – to no avail.
After graduating, she met with Dean Philip Wogaman to propose herself as artist-in-residence, without compensation. Students were quickly drawn to her on-campus studio, and she began teaching a night course as an adjunct professor.
"I was so entrepreneurial," she said with a laugh. "I was so driven with this passion for a conceptually correct idea – to get the arts going."
In 1983, Kapikian founded Wesley's Luce Center for the Arts and Religion under the guidance and encouragement of President Douglass Lewis. Eight years later, she raised the funds to establish the Dadian Gallery.
"Washington needed a very fine small gallery," she said. "A gallery that lifts up religious works, works that are overtly conscious of the spiritual dimensions that can be communicated through the arts."
Throughout the years, Kapikian also created her own striking, deeply evocative work for religious spaces across the country. Designed by the artist, each piece is largely crafted by the congregations who hire her.
In the process, the community gains a new vision of themselves and of God. "It's a visual vocabulary," she said. "Line, shape, color, value and texture." That vocabulary is then used to explore concepts that are both artistic and theological.
"You begin to see how an artist takes those five elements and creates harmony, balance, movement, proportion, dominance and subordination," Kapikian said. "The visual arts is a form of theological proclamation."
Her standards are high, both for her work and for those who view it. "I want to create something that's not instantly readable, not mere illustration or propaganda for the church," she said. "It's not a question of looking at it, but seeing into it."
Kapikian's work can be experienced on the Wesley campus in the stairwell near the Oxnam Chapel, where visitors will find "Black Christ," inspired by Countee Cullen's poem of the same name.
While still a student at Wesley, Kapikian discovered the work of black poets like Cullen, Langston Hughes and others with the help of Professor Roy Morrison. In "Black Christ," Cullen equates a lynching with the crucifixion.
"How Calvary in Palestine,
Extending down to me and mine,
Was but the first leaf in a line
Of trees on which a Man should swing
World without end, in suffering
For all men's healing, let me sing."
Kapikian was deeply moved. "I went home and got beautiful black and brown fabric and just went at it with scissors and needles and started shredding it," she said. "It was just for me. It was therapeutic."
More than a decade later, Kapikian remembered the piece – and the experience – when she received a commission from Yale University.
"I got to thinking about Yale and its rarefied Georgian architecture and the horrible racism surrounding it in New Haven," she said. "So I decided to take it on." Building upon the earlier work, the new "Black Christ" was placed in Yale's Marquand Chapel.
Almost immediately, members of the Wesley faculty began a successful campaign to have the work returned to campus. It was first placed in the chapel's balcony, then in storage during a renovation period, where it remained forgotten.
"Then we got this wonderful gallery curator, Kiki McGrath," Kapikian said. "She hauled it out of storage one day and it was like new. So I got excited about it, and the rest is history."
Kapikian's work can be viewed on Wesley's campus and on the artist's website: www.catherinekapikian.com.
Ready to begin your studies at Wesley?
Email Admissions@wesleyseminary.edu or call (202)885-8653 to speak with an Admissions Recruiter today.