Farewell (and Welcome) from The Rev. Nick Works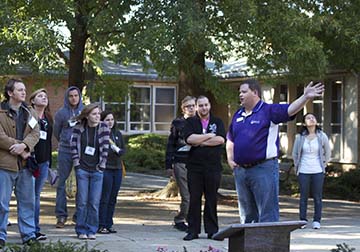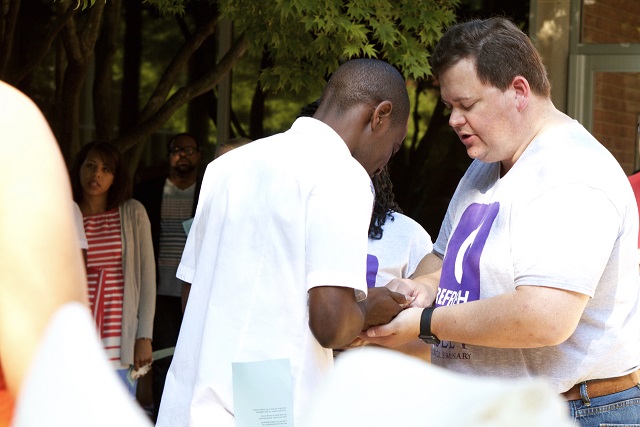 December 7, 2016
Friends,
                Advent greetings as we enter again the season of preparation for the joyous birth of Jesus, who came among us that we might know the fullness of God's love for all.
                I am writing to share with you news of a change in my ministry here at Wesley Theological Seminary.  For four and a half years I have served as Director of Recruitment – engaging with prospective students, like you, through emails, text, and phone calls.  I've enjoyed meeting you at your colleges or welcoming you to visit our campus here in Washington, DC for a Window on Wesley or a Welcome Table.
I've accepted a position in the Seminary's Office of Practice in Mission and Ministry.  As the Associate Director I will counsel with current students as they navigate their internships, church placement sites, inter-cultural immersions and student pastor appointments.  I will be working with Dr. Joe Bush and Ms. Desiree Barnes beginning December 9 of this year.  And I look forward to working with you as a degree candidate when you matriculate here at Wesley! 
                I have worked with many of you for several years as you have prayerfully discerned where you want to do graduate studies.  In this time of transition I want to assure you that I will still respond to your questions by cell at 240-751-6695 or email at nworks@wesleyseminary.edu.  
In the meantime you will continue to have access to our other staff:  Chip Aldridge, Marci Matthews and JaNice Parks.  Our team of student workers  will also welcome you to campus for a tour, a meal, worship or a class visit.
I want to remind you about upcoming priority deadlines:
                December 15, 2016 for Spring 2017 degree programs.  If you want to begin with a class or two as a Non-degree student you may apply up to Friday, January 6, 2017.  
                February 1, 2017 is the deadline to receive applications for Wesley Merit Scholarship consideration for Fall 2017.  Documents like recommendations and transcripts can arrive after this date.  February 1 is also our deadline to receive essays for Missional and Urban Fellows applicants.
                Our mission at Wesley Seminary – to equip you for Christian ministry and leadership in the church and world continues, and I am grateful that I will continue to be part of it. For those who are applying for Fall 2017 -- I look forward to greeting you when you come to campus for one of our Admitted Student Days during January, February or March.
Many Blessings,                                                                                                             

The Rev. Nick Works
PS – If you are joining Wesley Theological Seminary as a candidate for ministry in The United Methodist Church and will be licensed to preach – we have several annual conferences seeking Student Pastors for congregations within a reasonable commute of the campus.  There are also some associate and youth ministry jobs.  Let me know and I can help match you with one of these positions!